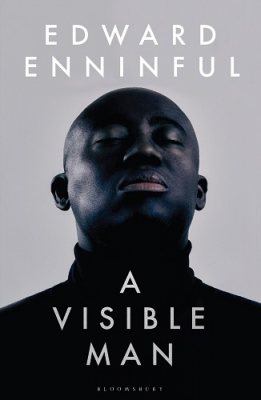 Hardback
288

Pages
Published: 06/09/2022
The groundbreaking first Black editor of British Vogue tells his story from working-class outsider to the apex of the fashion industry and how he has always championed inclusion and representation in the worlds of design and photography.
Shortlisted for The British Book Awards 2023 Non-Fiction Narrative Book of the Year
I set out to bring the 'othered' to the table. We're here to inspire and give people something to dream about as well as a sense of the possible here and now.
A Visible Man traces an astonishing journey into one of the world's most exclusive industries. Edward Enninful candidly shares how as a Black, gay, working-class refugee, he found in fashion not only a home, but the freedom to share with people the world as he saw it. Written with style, grace and heart, this is the story of a visionary who changed not only an industry, but how we understand beauty.
When Edward Enninful became first Black editor-in-chief of British Vogue, few at the heights of the elitist world of fashion wanted to confront how it failed to represent the world we live in. But Edward, a champion of inclusion throughout his life, rapidly changed that. Now, whether it's putting first responders, octogenarians or civil rights activists on the cover of Vogue, or championing designers and photographers of colour, Edward Enninful has cemented his status as one of the world's most important change-makers. And he's just getting started.
Publisher: Bloomsbury Publishing PLC
ISBN: 9781526641533
Number of pages: 288
Dimensions: 234 x 153 mm
---
MEDIA REVIEWS
Anyone interested in what it takes, from a beautiful human being's point of view, to change an industry from within, should read this book. Edward offers an insight only he can -- Idris Elba
Edward Enninful inspires a whole new generation to show us anything is possible when you work hard with love and passion . . . This book is a revelation and shows the genius and strength of this wonderful, pioneering, legendary man of fashion -- Donatella Versace
I had so much fun reading A Visible Man. Edward, as always, speaks from his very large heart -- Grace Coddington
His absorbing self-portrait gives us profound insights into growing up black and gay in Ghana, London, and in the fashion media . . . It's a terrific and, I think, important book -- Salman Rushdie
What fun! -- Kate Moss
Edward's story is a true beacon of inspiration, hope and change for the better. He has blazed a path for so many to follow, which sadly had never been possible before -- Claudia Schiffer
Edward's journey is a lesson for the culture and future generations to come -- Naomi Campbell
An inspiring and fascinating memoir about an extraordinary man who has become a major global changemaker . . . He writes about the highs and lows of his life and career with an admirably honest self-awareness about his own vulnerabilities . . . [and] a deep understanding of what it takes to succeed when you are considered an outsider -- Bernardine Evaristo
Inspiring, entertaining, ground-breaking -- Munroe Bergdorf
I knew very little of Edward Enninful's life before reading his new memoir. What a story! A fairytale that never shies away from the harsh realities of contemporary life. I wish he could be editor of the world!' -- Graham Norton
Edward's book is the proof that you that you can have a beautiful soul, an extraordinary eye, and a loving heart... and confirms that showing vulnerability can be inspiring and glamorous! -- Diana von Furstenberg
Edward Enninful is not just a local hero but a globe icon -- Steve McQueen
Edward is carrying out important work, leading change, and challenging the obsolete elements of the fashion system, while never disrespecting the legacy and the goals that fashion has achieved -- Giorgio Armani
A remarkable book' -- Krishnan Guru-Murthy
The memoir - beautifully written and compelling - depicts the story of a shy, studious boy from a conservative, high-achieving family whose talent and drive propelled him from nowhere to the top of the fashion world . . . He is a serious man, on a serious mission; complacency is not in his vocabulary * Irish Examiner *
What a book . . . I inhaled it . . . Inspirational . . . The book is wonderful . . . and it's not just for people in fashion -- Claudia Winkleman
Edward Enninful: The Waterstones Interview
Description
Fleeing from Ghana with his family at just 13 years of age, Edward Enninful arrived in London fully aware of the opportunities. And he took them. As we discover in this exclusive interview with Vogue's European editorial director and editor-in-chief of British Vogue, perpetual forward motion and an innate gift for storytelling have seen him rise to where he is today, whilst health scares have taught him the wisdom of self-care along the way.
Transcription
W: Edward, I want, if we can, to go way back to when you first arrived in London from Ghana. How old were you at that time?
EE: God, I think I was... just, yeah 13.
W: Do you remember what the overriding emotion was as you arrived in London, was it excitement was it...?
EE: Oh my god it was excitement, it was anticipation, it was fear of the unknown. But I remember just sort of seeing the buildings and seeing the people and just thinking oh my god this really is a new country. And even the weather was different. But it felt so exciting at that age.
W: You speak in the book about this sort of perpetual forward motion that you have in your life. You're always moving forwards. And I wondered how much of that was already within you because of your family upbringing and maybe your culture and how much of it came about because of fleeing something or from...
EE: Yeah, I mean to be honest you know I mean, I was sort of essentially born in a military base. We grew up in a military base and then we had to leave the military base to go to a city. And then we had to flee our country because in the book I talk about the coup and how my dad's life was in danger. So when you have to leave one country for another, one home for another, I guess you're eternally searching for a home, isn't it. So you're always trying to find it and I guess really that's what's also propelled my life. What's next? And also the idea of nothing being permanent, I guess. So you're living in London, then I moved out when I was 16, then I moved here. And you know I was always in perpetual motion because we always had to quickly leave a place.
W: And this idea of having a sort of engagement with style and then of course then later with I suppose with fashion, the idea of clothing; do you have an idea of how quickly you realised that that's where your passion lay?
EE: Yeah, I mean you know I always sort of worked with my mother, my mother was a seamstress, so I was always with her sort of sketching, helping her design. I always talk about sort of zipping women into their clothes and so I was always around that. But it wasn't until I met a stylist called Simon Foxton, who actually discovered me on the train and introduced me to this world of fashion in London at the time, sort of late 80s, that I realised this is really what I wanted to do. My mind was blown, I mean imagine London in the late 80s and early 90s, and I realised I had a real passion for it as well you know. I realised my god I really was very good at writing, I really was sort of good at this idea of this new profession called 'styling.' That I knew so much about clothes from my mother. So it must have been something that was there but definitely meeting sort of my mentor sort of brought it out.
W: As you say, Simon Foxton discovered you on the tube (yes) and you were given these amazing opportunities at iD Magazine but it did bring you into conflict with your own father and you describe this extraordinary moment when you were very young where he effectively threw your clothes out of the window and you took that moment to just leave didn't you? Why was it so important for you...?
EE: Because my my dad was sort of an African military officer essentially, so he was very, you know, very disciplined, very precise, and he had ideas for his children you know. We were going to be lawyers and doctors and sort of have um, be intellectuals essentially. So the idea of being in fashion and not following that course... also he was from a generation who didn't really know what the media was. So when I told him I hadn't been going to Goldsmiths University and I'd been working at iD, out went the clothes. But you know I was ready to leave I think.
W: You were 18 when you essentially took the reins of iD magazine (yes). That's incredibly young to have that kind of responsibility but it seems like you haven't really looked back.
EE: I haven't had a chance!
W: But that's part of that forward motion isn't it? (Yeah) constantly moving forward. iD seems like it was an amazing place to be at that time.
EE: Oh my god. iD was the most incredible place to work because I learned the job from all the different angles. One day I'll be shooting covers the next day I'll be writing the shopping pages and styling them and then another day I'll be sort of writing features. It was like a one-man training ground. Then I'd be in the art department laying out and I always say those days, without those days I wouldn't be here today. I really learned how to sort of operate a magazine from all the different... advertising, how they were selling. And we all sat in one room and we were all kids and so we just saw each other work and we learned from each other. It was an exciting time, the early 90s for iD.
W: That kind of chaos that you're describing I can see how that's really stimulating creatively and you talk about how you thought for a while that the personal chaos was maybe what was helping you to be so creative but it took you some time to realise that (yeah) the destructive things like drinking, whatever, were not actually helping. How long did it take I suppose to realise?
EE: I mean it took me almost, it took me quite a while because I was very shy growing up and sort of I discovered like oh my god when I drank I was funnier I was more outgoing and I would work like crazy. We'd go out to a nightclub, go home, go to work, do it again. Over and over. But you can do that when you're younger. It wasn't until I was sort of in my early 30s that I decided okay, I needed to sort of put the brakes on and really sort of focus on myself and my life and really gave up drinking for a very long time.
W: Because the chaos wasn't where the creativity was coming from you describe actually where it does come from, which is that often you wake up in the morning having dreamt the image or the idea. Is that still how you work?
EE: Yes essentially. And I learnt that you know, images came easily to me.
I guess most editors would go to the shows and they'll see a yellow dress and that yellow dress would form a story. But my my way was so different. I had to have a narrative, I had to have a character. Almost like a film. I had to have a character and she had to have an inner life. And it's almost like child's play. She has to have an inner life before I would even figure out what clothes she was wearing. And then I always say you know then I'll go to sleep, I'll pack it and then I'll wake up and see all these images. Where she should be photographed, how she should look, how the hair and makeup should be. And for years I battled with that. I thought oh my god it was a shortcut and I was cheating and you know and I wasn't really working as hard as other stylists to arrive at the solution. And I remember years later describing it to a friend and they were like 'oh, that's what you call a gift!' Right? So now I just literally, when things get really difficult, all right I'm taking a break and I'll come back to it. And it always sort of works.
W: What's really clear from the book as well is how much collaboration is important for you creatively whether that's with regular photographers like Stephen Meisler you describe your relationship working with him, but also I was surprised how much you work together with the models themselves (Oh yes). That's clearly a really important part of the process too.
EE: Yeah I mean you know I always talk about models, I was one. A very short time. I was discovered by Simon Foxton on the train and because I was a model you know I went through sort of the rejections as well as you know the successes. But I always say
nothing like modelling can make you feel uglier, make you feel more inferior. I think everyone looks around the models and thinks oh my god they're really beautiful so the world is their oyster, but it's really sort of, a lot of insecurity that you have to put up with. The rejections, the castings, you're not tall enough, you're not, you know, you're not light-coloured enough etc etc. So I had such a love for models that when it comes to work, you know I talk about Kate, I talk about Naomi, I talk about Kristen McMenamy and Linda. But we were all the same age in the 90s. So it was real collaboration. We'd talk about characters, we'd talk about where we should shoot. We'd figure out ideas together. And really when a model feels a part of the narrative they give you that much more. You know I always call them silent movie stars. You know, they don't speak but when a model's in front of a camera emoting whatever scene you've given them it's pretty incredible.
W: Obviously you've worked with the biggest budgets imaginable when you're working around Vogue and then when the pandemic hit suddenly that changes everything and you had to work in new ways without those budgets without those sets. And you said that actually creatively, that was quite useful because it took you back in a way to your iD days where you have to just. Which do you prefer?
EE: I mean of course I prefer now when I can see my team and you know when we can all work together. When the pandemic hit, I mean we found ourselves all over London, sort of communicating with zoom and having to put magazines, four issues out. You know we couldn't be together, we couldn't organise photoshoots, we couldn't send journalists to interview people. So yes, I went back to my iD days when, you know, you thought okay, what is it, 'necessity is the mother of invention.' We sent photographers to model's houses, we got a great photographer Jamie Hawksworth to literally follow essential workers around, they shot for the cover. We had Dame Judi Dench sort of isolated in the studio for a cover. We had photographers go to sort of 30 activists all around the world, go to their houses and photograph them for the cover. So we learned to work in a new way. We learned to dig into the Vogue archives to create new images. So even though you know it wasn't a great time creatively it was unbelievable. And those four issues we did: the Dame Judi Dench cover - oh one issue we did we thought you know what we need a break, we've been in lockdown for a while, so I said let's just have 14 landscapes on the cover. Like 14 of the best British artists so hopefully in 10 years time when you look back you'll see, you know, dame Judi Dench, you'll see the landscapes, you'll see the essential work cover and the activists. And really what I was hoping that it would be a slice of history. That you know generations can look back and sort of know what that time was like.
W: It sort of taps into what you say is the purpose I suppose of fashion and the work that you do which is that very often fashion is written off as being unimportant and actually it can be incredibly important (of course) in allowing people to see something. And you said that as you took over UK Vogue, this idea of giving people an idea of a new form of Britishness (yes). That's a really powerful thing to say. How well do you think that's going and is that still your sort of driving ambition?
EE: Yes I mean I was living in America, I moved to America where I was seeing Britain from the outside and then Brexit happened and all I heard from my American friends was 'Oh my god your country's so xenophobic. What a country!' And it was. But the Britain I remembered was one that welcomed my family, one that was so warm, and a country where, you know, I mean I grew up in Ladbroke Grove where on any given day you know you'll see Rastafarians, you'll see aristocrats, you'll see you know people from all walks of life all backgrounds. So I thought that really is the Britain I wanted to show, that was the Vogue I wanted to create, a Vogue where everyone was welcome. Sort of going back to the 70s. A Vogue where everyone could see themselves, regardless of race, regardless of age, religion, sexuality. Everybody had to sort of be embraced and that is going really strongly. And for me, the most beautiful thing now is when I look at the media landscape and I look at all the magazines now who are all talking about inclusivity and you know an industry that's really changing now and trying to sort of employ people behind the scenes you know, models of all colours now on the runway. We're not there yet, but at least it's on the way.
W: Sitting down to write a memoir means of course looking back on your life and you said that you look back at your early work and feel quite proud, even though you say you can see the growing pain (yeah). I wonder whether there's something about that time you were working in, where this is almost pre-internet (it was definitely pre-internet) and so you're working purely in the magazine form; when you were creating those covers which now seem very iconic, did they feel that they were going to be permanent at the time or were you, are you surprised...
EE: No, we we're just having fun! There's me, Kate and Naomi running down the the meat packing district with sort of drag queens everywhere, showing them how to walk or, you know, Björk having fun in a studio. We were just kids experimenting and now everyone talks about the 90s and for me it was just a period of growing up but the brilliant thing is that we were allowed to grow up. We were allowed to experiment, make mistakes. And now when I look back I'm like, you know, we did great work and the creativity was at its peak.
W: Do you think that makes it harder now for people who are coming up to be that creative, because we can see everything, there's a permanent record because of the internet.
W: I mean I always say yes and no. Yes because you know yes we had intense relationships with each other. We spoke to each other multiple times a day to create that image. We'd shoot a fashion story 10 pages over sometimes over three months, a picture a day. So the new generation doesn't have that but what they do have that we didn't have, they have an internet, you know. I see so many young people, photographers, hair and makeup who get employed by someone just sending them a message on Instagram or Facebook or whatever. And in my time you had to really go, you had to find an agent you had to... so I think you know yeah we had less so maybe we had to, we were forced to use our imaginations more maybe.
W: You also share a lot about the personal struggles you've had (yes) particularly with your health (yes). You work incredibly hard to the point of you know making yourself almost ill. But I just sort of wonder whether... is it hard to control that sort of creative urge as you say that desire to move forwards and to look after yourself occasionally. And is that any easier now that you're a married man? Have you got somebody who says just calm down.
EE: Oh my god my partner works harder than I do
I mean what I've learned now is I have to take care of myself. It's okay to take weekends off, it's okay to take time out for yourself, it's okay to go to the doctors regularly, it's okay to you know have even basically some you know massages. But self-care is now more important. I guess when I was younger because I was on such a forward mission and a forward trajectory, I didn't think there was a minute to stop. Someone should have just said sit down, take a few days off. But you know when you're young you don't really know that and also because I started so young, you know you can't say no, you want to sort of please everyone. You want to get everything done, you want to work 48 hours. But now I know when to stop and I know when to take a break and I know when to ponder on things. And you know it's age isn't it and now I'm married. Yeah, hopefully, I'll slow down. Back in Ghana as a child, one of one of your names was Asiamah, which means blessed child. I wonder, looking back, whether you feel that way.
EE: Oh my god, 100 percent. I mean you know Fate has played a very important role in my life. Whether it's you know leaving the country or being spotted on the train or the many, many opportunities I talk about in the book. So I'm definitely, I'm definitely, definitely blessed. But I also know that you know you can be blessed and you can have so many opportunities but you need to work. Whatever talent you're given you need to work at it. You need to just not take it for granted. You need to you know push it, experiment with it, know when things are working, know when things are not. Keep questioning it, you know, but never assume that it's here to stay. I never did, you know, so yeah it's very very important to know if you're blessed you still have to work.
You may also be interested in...
×
Download the Waterstones App
Would you like to proceed to the App store to download the Waterstones App?
Reserve online, pay on collection


Thank you for your reservation
Your order is now being processed and we have sent a confirmation email to you at
When will my order be ready to collect?
Following the initial email, you will be contacted by the shop to confirm that your item is available for collection.
Call us on or send us an email at
Unfortunately there has been a problem with your order
Please try again or alternatively you can contact your chosen shop on or send us an email at