​
In an age in need of heroes, 2016 has surely been the year of the heroine with Wonder Woman and Harley Quinn stepping up to bat and giving the usual suspects a run for their money.
As always graphic novels are a weathervane for our times and so it's perhaps no surprise that epic fantasy Saga is continuing its reign as the must-have book, with Vaughan and Staples continuing to subvert and surprise.
Fans of cult hit Stranger Things have a treat in store with the suburban cool hit Paper Girls whilst myth, fairy tale and fantasy collide in the beautiful heart-breaker The One Hundred Nights of Hero.
Gifts for Comic Books Fans
Vaults, Compendiums and Visual Encyclopedias
---
Pioneering Accomplishments
Literary Graphic Novels
---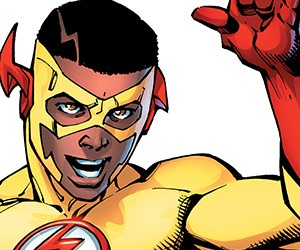 Graphic novels thrive on reinvention. Their artists and writers endlessly surprise readers with ingenious and unexpected reinterpretations. The characters morph over time, acquiring different, fascinating nuances and taking on ever-deepening cultural significance. Publishing powerhouse DC Comics - and their stalwarts such as The Joker, Batman and Superman - have never been more popular. Here to talk about the launch of their new Rebirth series, which enriches the backstories of many of the DC pantheon, is none other than writer and DC Comics Co-Publisher, Dan DiDio.
---
The Heroes We Need
DC Comics
---
'In a World Ruled by the Dead, We are Forced to Finally Start Living'.
The Walking Dead
---
Who Needs a Hero?
Graphic Novels with Powerful Super-powered Women
---
Independent Thinking
The Best Titles from Independent Graphic Novel Publishers