Terry Pratchett
Britain's most beloved creator of comic fantasy fiction, Terry Pratchett was the genius behind the Discworld series, as well as various other seminal story sequences.
Pratchett's debut novel, the children's book The Carpet People, was published in 1971 and was followed by the science fiction novels The Dark Side of the Sun and Strata. Whilst these volumes revealed Pratchett's gift for comic parody, it was not until 1983's The Colour of Magic that he truly found his metier. The first in the phenomenally successful Discworld series, it revelled in a particular kind of British wit and absurdity and introduced readers to a brilliantly realised fantastical world. Other instalments of the Discworld series include Mort, Night Watch, Wyrd Sisters and Hogfather, and featured comic creations such as Rincewind the Wizard, Commander Vimes of the Watch, Granny Weatherwax and a deeply sardonic Death.
Pratchett also penned three series for children – The Bromeliad, the Johnny Maxwell series and the Tiffany Aching series – as well as collaborations with Neil Gaiman and Stephen Baxter. Terry Pratchett died of Alzheimer's disease in 2015.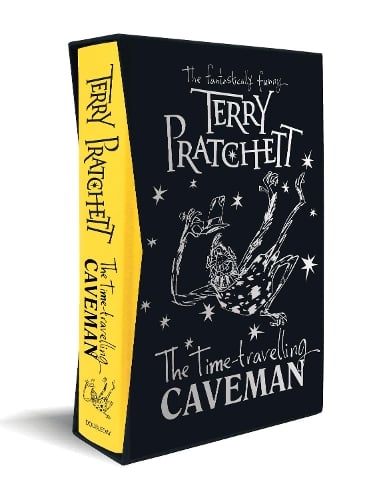 Hardback
Available
Collecting stories composed whilst Pratchett was a journalist in the 1960s and 70s, The Time Travelling Caveman is the final tantalising volume of the much-missed fantasy author's writing. Beautifully produced in a handsome slipcase, this deluxe edition also features an additional short story, called The Bed Scratcher.
See More
Discworld Gifts, Games and Special Editions
See All
Discworld Hardback Editions
The Bromeliad Series in Order
---
The Johnny Maxwell Series in Order
---
The Tiffany Aching Series in Order
---
The Long Earth Series in Order
---
Other Books by Terry Pratchett
---
Non-Fiction by Terry Pratchett
---
Biography
Only the mind of Terry Pratchett could have come up with something as ambitious, all-encompassing, magical, bonkers and brilliant as The Discworld. In 41 novels, published over 31 years Pratchett created an entire universe with a rich and diverse cast of characters; from the Machiavellian Patrician Vetinari (handy with a knife, expert crossword completer), magical practitioners of every kind (pompous, absent-minded wizards and stubborn, no-nonsense witches) to Death himself (a curry-loving, cat-friendly philosopher with a horse called Binky). His novels defy genre, proving that fantasy can say more about reality than the most heavy-weight of literary tomes.
"So much universe, and so little time"
The Discworld series began in 1983 with the publication of The Colour of Magic introducing a hapless trainee wizard called Rincewind. Since then the series has expanded to fill an entire world. There have been forty more novels, selling over 80 million copies, making Pratchett the UK'''''s bestselling novelist in the 90'''s. Waterstones across the country, long before Harry Potter, hosted midnight launches, Discworld parties, dressed up as witches, wizards, guardsman and assassins; even Death himself made the occasional appearance.
Oft-quoted and popular with readers of all-ages the series frequently sends-up not only the traditions of fantasy but also popular culture, music and classic works of literature as well as pertinently tackling a range of big issues including modern politics, race relations, philosophy, women'''s rights, trends in science, technology and major world-changing historical events – always with a recognisable Pratchett lightness of touch.
There'''s his lovely Shakespearian pastiche Wyrd Sisters (with lots of very satisfying and clever puns), his subversive take on the music business in Soul Music or his satirical look at the newspaper industry The Truth – to name just a few. As one critic put it: 'You never quite knew where the next association was coming from: you would find sideways references to HP Lovecraft, William Shakespeare, Beachcomber, Sellar and Yeatman, Thomas Hughes, Peter Shaffer (a good joke about Salieri), JRR Tolkien, Egyptology, vampirism, dragons.
"It is well known that a vital ingredient of success is not knowing that what you're attempting can't be done"
At his death in 2015 from Alzheimer's, Pratchett had yet more novels planned and a seemingly endless catalogue of ideas for a fantasy world with as many stories in it as the real one.
Repeatedly and seemingly effortlessly, Pratchett did what most writers struggle to do in a lifetime – he held a mirror up to life, to people of all kinds, warts and all and, most skilfully of all, he did so whilst making people laugh. As Pratchett himself put it:
"All fiction is fantasy, and of fiction, how can I put it?... People will always need heroes."
×
Download the Waterstones App
Would you like to proceed to the App store to download the Waterstones App?
Please note that owing to current COVID-19 restrictions, some of our shops are closed. Find out more by
clicking here
.
Thank you for your reservation
Your order is now being processed and we have sent a confirmation email to you at
When will my order be ready to collect?
Following the initial email, you will be contacted by the shop to confirm that your item is available for collection.
Call us on or send us an email at
Unfortunately there has been a problem with your order
Please try again or alternatively you can contact your chosen shop on or send us an email at