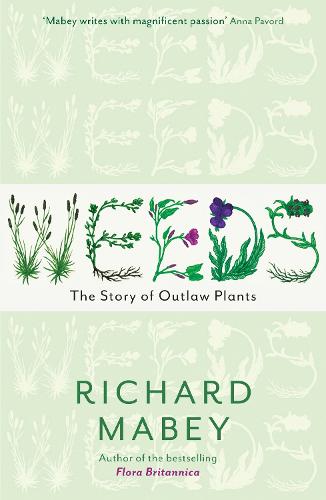 Weeds: The Story of Outlaw Plants (Paperback)
Richard Mabey
(author)
Paperback
336

Pages
Published: 08/03/2012
Ever since the first human settlements 10,000 years ago, weeds have dogged our footsteps. They are there as the punishment of 'thorns and thistles' in Genesis and , two millennia later, as a symbol of Flanders Field. They are civilisations' familiars, invading farmland and building-sites, war-zones and flower-beds across the globe. Yet living so intimately with us, they have been a blessing too. Weeds were the first crops, the first medicines. Burdock was the inspiration for Velcro. Cow parsley has become the fashionable adornment of Spring weddings.

Weaving together the insights of botanists, gardeners, artists and poets with his own life-long fascination, Richard Mabey examines how we have tried to define them, explain their persistence, and draw moral lessons from them.

One persons weed is another's wild beauty.
Publisher: Profile Books Ltd
ISBN: 9781846680816
Number of pages: 336
Weight: 240 g
Dimensions: 196 x 128 x 24 mm
Edition: Main
---
MEDIA REVIEWS
The nation's favourite nature writer. Mr Mabey is the kind of person you wish you had with you on every country walk, identifying, explaining, deducing, drawing on deep knowledge lightly worn. This book will open your eyes to the significance, wonder and exasperation felt about weeds. I couldn't put the book down once I started reading. Mabey offers a diversity and richness of fact, fiction, philosophy and fun Richard Mabey's journey through the realm of weeds is witty, learned and original. It says as much about us as these maligned plants, and is a surprising tale. His delightful book will not make weeding any easier but it will make it an intellectual activity and thus a philosophical one. The writing is stunning, the argument undeniable. Some plants and most people have a problem which will never go away. A fascinating display of personal knowledge of the history of different species and their changing status in the minds of our ancestors. Excellent. [Mabey] is the steward of a pastoral tradition in which highly personal responses to landscape are matched by expert environmental concerns; his ideas have become standard with no loss of urgency ... he deepens symbolic value by combining close attention to details with a more sweeping sense of things. In Weeds, Mabey has written a memorable hymn to the marginal. Mabey weaves social history, psychology, literature and art into his clear rendering of plant biology. Explanations of evolution sit alongside explorations of flower symbolism in Shakespeare. Told with delight in the "sheer opportunism" of weeds, and their right to do what all living things do - to grow, whenever and wherever possible. A treat. Enraptured, visionary, witty and erudite ... firmly in the Gilbert White tradition. Why, by the way, can English writers do this better than anybody else? A fascinating read. A witty, wise insight into the floral world and our capricious relationship with some of its more boisterous inhabitants. Delightful and casually learned. Mabey's amble through the low-level, high-rise world of weeds is rich in lore and usefulness. As in all his work, what comes across is his abiding passion for plants and the sustenance they give both imaginatively and spiritually. Richard Mabey writes about weeds with the confident affection of someone discussing old friends ... this [book] is as much a celebration of the vexed coupling between mankind and plantlife as it is a fine marriage between subject and author. Mabey is the gardener's greatest comforter. A fascinating read. You read this book you will never look at weeds in quite the same way again - Richard has done them a service and us by enabling the reader to join him in this entertaining and insightful book. A newish sort of nature has flourished: desolate, unruly, even rank and unwelcome, but suited to an age of ecological decline and catastrophist visions. Richard Mabey is in several senses the modest eminence behind this almost-movement ... As ever with Mabey there's a poetry to all this creeping ecology. Even the book's glossary of plant names is a verbal joy ... He's a precise and witty writer The best book on British wild flowers in a decade ... Read this quietly enthralling book and you will never again look at these most familiar plants in quite the same way. Mabey is incapable of writing a tedious sentence and this book strays into as many byways as the seed of rosebay willow herb ... completely riveting ... he's at his best in the most unexpected areas. His strength lies in his ability to view his subject not dispassionately, for he writes with magnificent passion, but in a way that removes us, the true interlopers as the most important characters in the plot. Weaves together his unrivalled botanical knowledge with tales from history. Mabey is as well versed in the literature of weeds as in the botany, richly weaving his own observations with the words of others; Shakespeare on nettles, Ruskin on poppies, Thoreau on brambles and Will Self on 'blisterweed'. Mabey uses weeds as a way to explore wider ideas about the natural world and how humans interact with it ... a profound and sympathetic meditation. You'll look at weeds in a whole new way. A fascinating and eye-opening book, one that makes you view the world around you afresh. A fantastic cultural history of vagabond plants ... fascinating and truly eye-opening. Profound stuff A delightful and quietly funny read He never disappoints - buy this book for the gardener in your life, and convert them to the wonder of weeds As long as humanity has tried to control nature, weeds have been our unwanted companions. In this fascinating, richly detailed book, Richard Mabey gives weeds their full due, chronicling their changing relationship to us from the ancient world to the age of invasive species and genetically modified plans. Weeds are not just a particular collection of plants, Mabey makes clear; they are, instead, a reflection of our own culture - perhaps, our own weediness. Weeds are persistent, ubiquitous, and, to the uninitiated, annoying, but they are also biological marvels that have evolved side by side with human civilization. Richard Mabey's personal, historical, and cultural viewpoint converts weeds into intellectually stunning wild flowers! Richard Mabey is Britain's leading natural history writer, and this is his witty and beguiling meditation on weeds and their wily ways. Mabey suggests that weeds and wild flowers, those ruthless "gatecrashers of civilization" are really part of nature's secret immune system, rushing in to repair our damaged planet. Provoking and affectionate, this extraordinary book challenges notions of both culture and agriculture. You will never look at a weed, or flourish a garden fork, in the same way again.
You may also be interested in...
×
Download the Waterstones App
Would you like to proceed to the App store to download the Waterstones App?
Reserve online, pay on collection


Thank you for your reservation
Your order is now being processed and we have sent a confirmation email to you at
When will my order be ready to collect?
Following the initial email, you will be contacted by the shop to confirm that your item is available for collection.
Call us on or send us an email at
Unfortunately there has been a problem with your order
Please try again or alternatively you can contact your chosen shop on or send us an email at