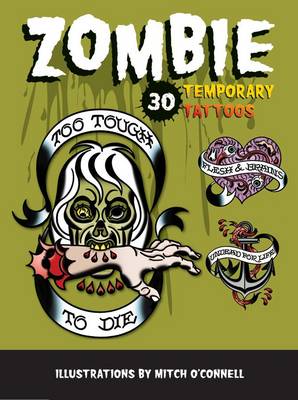 Other merchandise
Published: 11/08/2010
Click

&

Collect
From your local shop
SALES HANDLE: Tattoo yourself zombie style. Expanding upon Chronicle's growing zombie/monster publishing, these tattoos offer a fun and interactive format for zombie lovers. HOT TREND: Currently, the zombie reigns as the king of monsters, as is evidenced in the serious increase in zombie movies and publishing (movies: Zombieland, 28 weeks later, Zombie Diaries, I am Legend; Books: The Zombie Survival guide (642K, 2003) , World War Z (334K, 2007) and Chronicle's own Pride and Prejudice and Zombies, which has grossed 820K). --There are several Hollywood zombie movies currently in the works, including a World War Z movie (based on the book; to be released in 2010), Pride and Prejudice and Zombies (to release in 2011), 28 Months Later---the third part of the '28 Days Later' trilogy (to release in 2011). The past year alone has seen the release of 11 zombie video games, with more to be released in 2010 (including Dead Island, which may already have a movie deal in the works). --In the same funny vein as Archie Mc Phee's zombie products (see compeition), these temporary tattoos will appeal to zombie lovers of all ages. VALUE: Our matchbook format is distinctive and a great value (30 tattoos for $9.95!) NOTABLE AUTHOR: Mitch O'Connel's distinctive retro-inspired illustration style is a perfect fit for these all-time classic tattoo designs with a zombie twist. Reminiscent of old school tattoo art, but with a contemporary twist, his work is very popular and has been described as cool, clever, weird, wacky, cutting edge, pop surrealistic, and pop culture kitsch. Mitch's work has appeared in numerous publications, including Newsweek, The New York Times, Playboy, and more. In 2007 Last Gasp published a book of his tattoo designs 'Mitch O'Connell: Tattoos (Bookscan: 3,565) According to Entertainment Weekly Mitch O'Connell is 'The master of skin deep kitsch.' RELEVANT SALES: Our Zombie publishing is growing and resonating! Pride and Prejudice and Zombies (780K), Zombies book (20K).
Publisher: Chronicle Books
ISBN: 9780811876773
We would love to hear what you think of Waterstones. Why not review Waterstones on Trustpilot?