We regret that due to the technical limitations of our site, we are unable to offer eBooks or Audio Downloads to customers outside of the UK.
For further details please read our eBooks help.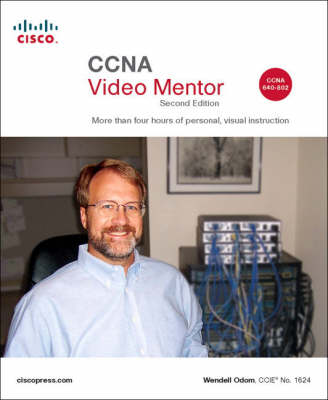 CCNA Video Mentor: (CCNA Exam 640-802) (Mixed media product)
Wendell Odom
Mixed media product
Published: 20/12/2007
CCNA Video Mentor Second Edition More than four hours of personal, visual instruction CCNA 640-802 Wendell Odom, CCIE(R) No. 1624 CCNA Video Mentor is a unique video product that provides you with more than four hours of personal visual instruction from best-selling author and instructor Wendell Odom. In the 20 videos presented on the DVD, Wendell walks you through common Cisco(R) router and switch configuration topics. Designed to develop and enhance hands-on skills, each video guides you through essential configuration tasks for both the CCENT and CCNA(R) certification exams, including router and switch configuration, IP subnetting, RIP, OSPF, and EIGRP configuration, configuring VLANs, IPv6, PAT, PPP and CHAP, and access lists. Lab Layout: Each video lab presents suggested reading lists, detailed objectives, lab diagrams, and video captures. Audio instruction throughout offers tips and shortcuts that truly make learning easy. Network Animation: Animated network diagrams show you lab setup, device addressing, and how traffic flows through the network. Command-Line Interface (CLI) Video: Video screencasts of router and switch CLI demonstrate command entry, configuration techniques, and device response. System Requirements: * Microsoft Windows XP, 2000, or Vista * Apple OS 9 or later * Linux operating systems that have a web browser with Flash 7 or later plug-in * Speakers or headphones * Color display with a minimum 1024x768 resolution *1 GHz or faster CPU recommended * DVD drive Category: Cisco Certification Covers: CCNA Exam 640-802 "The real-time examples and explanations were right on target with the subjects at hand." -Justin Loucks, Senior Network Engineer "I was quite impressed with the teacher's presentation and how well the dialog was thought out in advance." -John Ainsworth, Network Administrator "Wendell did a great job...I think you have hit a home run with this one!" -Bob Conner, Channel Account Manager Wendell Odom, CCIE(R) No. 1624, splits time between writing books for Cisco Press and teaching authorized Cisco classes for Skyline ATS (www.skyline-ats.com). He has been involved with the networking industry for more than 25 years and was one of the first certified Cisco instructors. Additionally, Wendell has worked as a network engineer and as both a pre-sales and post-sales technical consultant. His current titles include the best-selling CCNA Official Exam Certification Library (CCNA Exam 640-802), Third Edition, as well as exam certification titles for the QoS and CCIE R/S written exams. This product is part of the Cisco Press(R) Video Mentor Series. The video products in this series present expert training from industry-leading instructors and technologists. This dynamic learning environment combines animations, screencasts, and audio instruction to help users bridge the gap between conceptual knowledge and hands-on application. Booklet Cover ICND1 Lab 1: Navigating a Router/Switch Command-Line Interface (Video Length: 12:50) Lab 2: Router Configuration and Managing Configuration Files (Video Length: 12:15) Lab 3: Switch Basics: Learning, Forwarding/Filtering, and Interface Settings(Video Length: 10:32) Lab 4: Finding the Subnet Number (Video Length: 6:03) Lab 5: Finding the Broadcast Address and Range of Addresses in a Subnet(Video Length: 8:44) Lab 6: Finding All Subnets of a Network with Less Than 8 Subnet Bits (Video Length: 7:15) Lab 7: IP Subnet Design and Implementation (Video Length: 15:13) Lab 8: Static and Connected Routes (Video Length: 13:15) Lab 9: RIP Configuration (Video Length: 13:54) ICND2 Lab 1: Configuring VLANs (Video Length: 10:10) Lab 2: VTP Servers and Clients (Video Length: 15:44) Lab 3: RIP with Split Horizon, Route Poisoning, and Poison Reverse (Video Length: 12:22) Lab 4: Single Area and Multi-area OSPF Configuration (Video Length: 18:02) Lab 5: EIGRP Configuration and Operation (Video Length: 11:33) Lab 6: Understanding EIGRP Metric Calculations (Video Length: 12:26) Lab 7: NAT Overload (PAT) (Video Length: 13:27) Lab 8: IPv6 Subnetting and Address Configuration (Video Length: 18:16) Lab 9: PPP and CHAP Configuration (Video Length: 12:25) Lab 10: Access Lists (Video Length: 9:32) Lab 11: Access Lists II (Video Length: 10:43)
Publisher: Pearson Education (US)
ISBN: 9781587201912
You may also be interested in...