​
Joseph Cornell at the Royal Academy of Arts
Waterstones Cardholders can save £2 on adult tickets to Joseph Cornell: Wanderlust at the Royal Academy of Arts - until 27th September 2015.
---
About the exhibition
Joseph Cornell: Wanderlust
4th July – 27th September 2015
Royal Academy of Arts

From a basement in New York, Joseph Cornell channelled his limitless imagination into some of the most original art of the 20th century.
Cornell never left the USA, yet the notion of travel was central to his art. His imaginary voyages began as he searched Manhattan's antique bookshops and dime stores, collecting a vast archive of ephemera to make his signature 'shadow boxes' – miniature masterpieces which transform everyday objects into spellbinding treasures. Together they reveal his yearning for distant places and times, and his fascination with subjects as diverse as ballet and astronomy.
Entirely self-taught, Cornell won the admiration of artists from Marcel Duchamp and the Surrealists to Robert Motherwell and the Abstract Expressionists. Echoes of his ideas can be seen in Pop and Minimalist art, and continue to reverberate today.
Joseph Cornell: Wanderlust is the first solo exhibition of Cornell's work to be held in the UK for a generation. Bringing together 80 of his most remarkable boxes, assemblages, collages and films, this landmark show invites you to step into the beguiling world of an incomparable artist.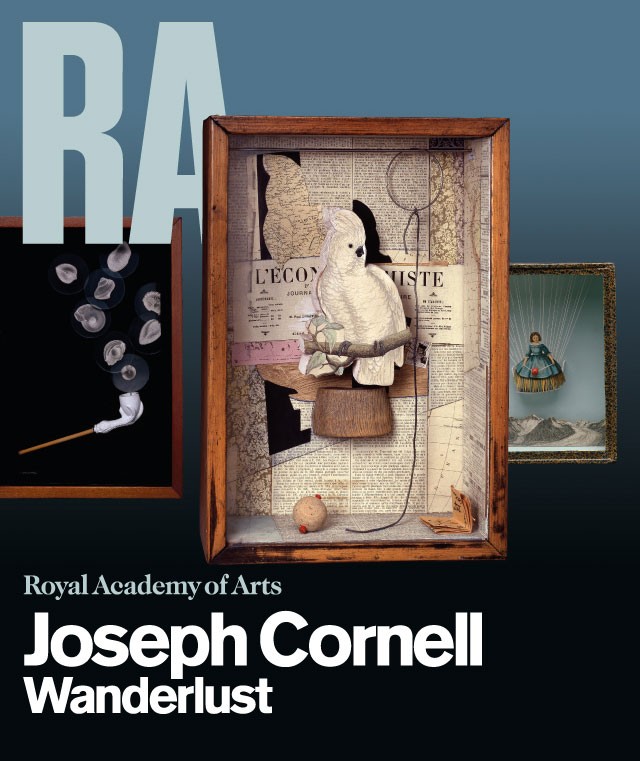 ---
Claim the offer
The offer is available on full-price adult tickets only. Tickets, usually £10 each, are just £8 with the offer. Tickets are subject to availability.
In person
The offer can be redeemed in person when you visit the RA ticket desk. You must show your Waterstones Card to redeem the offer.
Online
Use WATER15 (all capitals) as a promotional code during checkout on the exhibition website.
A valid Waterstones Card must be presented at the RA Ticket Desk along with the offer voucher to redeem the ticket discount.
---
Terms and conditions

Offer applies to Waterstones Cardholders only.
Offer is valid from 4th July – 27th September 2015.
Offer allows Waterstones Cardholders to claim a £2 discount on a full price adult ticket (£10) to Joseph Cornell: Wanderlust.
Offer can be redeemed by using promotional code WATER15 when booking online.
To buy online visit the exhibition website, click on 'Book Now' and select a date and time. Enter WATER15 (in capitals) in the promotional code box, click the promotion button, the offer will appear. Exhibition tickets are subject to availability. A transaction charge applies to all online bookings.
This offer cannot be used in conjunction with any other offer and is only valid for Joseph Cornell: Wanderlust.
Tickets cannot be exchanged and duplicates will not be issued for lost tickets.
The promoter reserves the right to cancel this offer at any time.
Merchant address: Royal Academy of Arts, Burlington House, Piccadilly, London W1J 0BD
Image caption:
All works by Joseph Cornell. From left: Observatory: Corona Borealis Casement, 1950. Box construction, 46 x 30 x 14 cm. Robert H. Bergman,Chicago. Photo Michael Tropea, Chicago; A Parrot for Juan Gris, 1953-54. Box construction, 45.1 x 31 x 11.7cm; Tilly Losch, c. 1935-38. Box construction, 25.4 x 23.5 x 5.4 cm. Collection of Robert Lehrman, courtesy of Aimee and Robert Lehrman. Photo Collection of Robert Lehrman, courtesy of Aimee and Robert Lehrman. Photography: Quicksilver Photographers, LLC. All works © The Joseph and Robert Cornell Memorial Foundation/VAGA, NY/DACS, London 2015.
Exhibition organised by the Royal Academy of Arts, London, and Kunsthistorisches Museum, Vienna.