Kindle Fire HD Support
Here at Waterstones we're committed to giving you the best eReading experience available. On these pages we hope you'll find everything you need whether you want advice to get started, download the user manual or need help fixing a problem. Click below to get started:
Connecting your Kindle Fire to Wi-Fi
Your Kindle Fire connects wirelessly via Wi-Fi, allowing you to download and stream content right to your device.
To download and stream content to your Kindle Fire HD, you need to connect to a Wi-Fi network. Once items are downloaded, you can use them without a Wi-Fi connection.
The first time you use your device, you'll be guided through The Wi-Fi setup process.
To connect:
Swipe down from the top of the screen and tap Wireless.
Ensure that Airplane Mode is Off.
You'll see a list of detected networks. This may take a moment to appear.
Tap a network to connect. If you see a lock icon, a network password is required. Enter the Wi-Fi network password using the onscreen keyboard.
Tap Connect.
Once you have successfully connected to a Wi-Fi network, your Kindle Fire will automatically reconnect to it when it detects a signal from that network.
Register your Kindle
After you've successfully connected your Kindle Fire wirelessly, register your Kindle Fire to access, search, and shop for books, movies, music, apps, and more.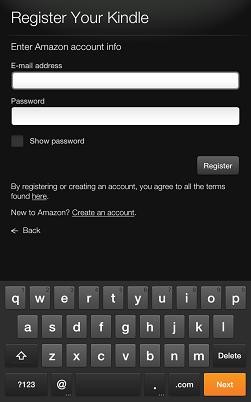 If you already have an Amazon account: Tap this option. Enter the e-mail and password associated with your Amazon account. Tap Register. Your name will appear as the Registered User when registration is complete.
If you do not have an Amazon account: Select this option and follow the onscreen instructions to set up a new account. If you create a new Amazon account, you'll also enter a payment method you'll use when you shop for Kindle content from your device.
Learn to navigate your Kindle
Using the hardware controls
Learn how to navigate your Kindle Fire HD, including the onscreen keyboard.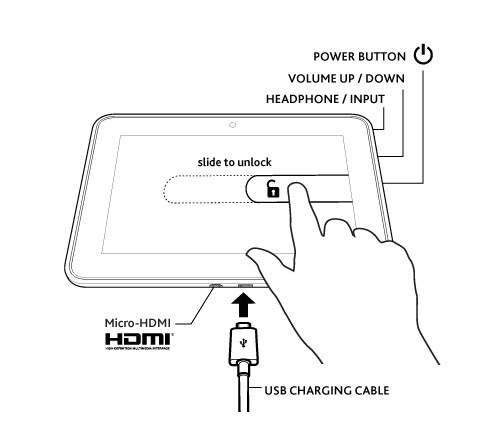 Kindle Fire HD has the following hardware features:
Dolby audio and dual-driver stereo speakers
Microphone
Headphone Jack
Screen: 7" 1280x800 HD
Camera: 1.3MP front facing camera.
Ports: Headphone, microUSB, micro-HDMI
Buttons: Power, volume up/down
Using the Touchscreen
Learn how to navigate your Kindle Fire HD, including the onscreen keyboard.
To navigate the touchscreen:
Swipe your finger to view menus, turn pages, and scroll up or down within a screen.
Tap to select buttons or text, and to enter your selections using the onscreen keyboard.
Swipe or tap to turn pages.
Adding content to the Kindle Fire
Your content libraries, like Apps, Books, and Games include content that's available both in the Amazon Cloud and content you've downloaded to your device. You can choose to access your content through the Cloud while your Kindle Fire HD is connected via Wi-Fi, or to download your content to your device for easy access even when your device isn't connected wirelessly.
Downloading content from the Cloud to your Kindle Fire:
1. Tap the Cloud tab within the Games, Apps, Books, Music, Videos, Newsstand, Audiobooks, Photos, or Docs libraries.
2. Tap an item in the Cloud to download it to your Device tab.
Connecting your Kindle Fire to your computer:
Plug the larger end of USB cable into a USB port on your computer. Connect the other end to the micro-USB port on the bottom of the Kindle Fire.
When connected the Kindle Fire will go into USB drive mode and its battery will be recharged by the computer.
Wireless service is temporarily shut off. Receiving subscriptions and reading on the device is unavailable while you in USB drive mode.
Transferring content to your Kindle Fire device:
1. Once you've connected your Kindle Fire to a computer with the USB cable, your Kindle Fire will appear in the same location as external USB drives. For Windows users, this is typically in the "Computer" or "My Computer" menu. For Mac users, the drive will appear on the desktop.
2. On your Kindle Fire drive, double-click Internal Storage.
3. On your computer, locate the file you want to transfer and drag and drop it into the applicable content folder inside Internal Storage, such as Video, Music, or Pictures
4.Safely eject your Kindle Fire from your computer.
Remember, your Kindle device will only recognise the files you've transferred if:
The file is a supported file type.
Files are transferred to the correct folder for their type.
Files are free of digital rights management (DRM) software.
Simply reserve online and pay at the counter when you collect. Available in shop from just two hours, subject to availability.
Thank you for your reservation
Your order is now being processed and we have sent a confirmation email to you at
When will my order be ready to collect?
Following the initial email, you will be contacted by the shop to confirm that your item is available for collection.
Call us on or send us an email at
Unfortunately there has been a problem with your order
Please try again or alternatively you can contact your chosen shop on or send us an email at