​
Key Stages explained
The National Curriculum states which subjects children must study at school. It also divides them into age groups called Key Stages.
The National Curriculum means exactly what it says... that a child anywhere in the country should be taught the syllabus for their age group in school in every subject. This curriculum covers Key Stages 1 to 4 so that means all children from five years old to 16 are taught in the same way.
It makes for a much more cohesive form of education and if children have to move school the reports will tell the new school exactly at which stage of the curriculum the child is in every subject.
The Key Stages are explained in more detail below...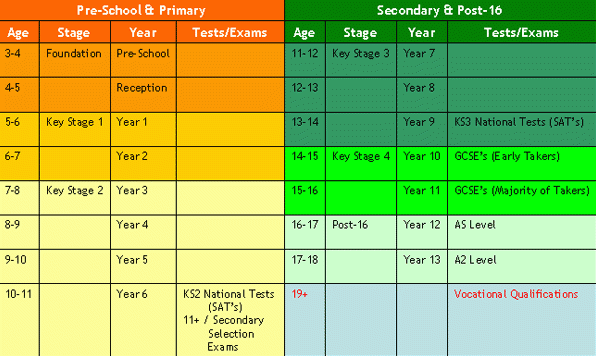 Foundation Stage
Foundation Stage covers the years they spend from the beginning of nursery or pre-school to the end of reception class in primary school. It probably won't feel like learning - most children see it as just fun and play.
As they get to grips with speaking and listening, singing and dancing, stories and counting, they'll be gaining all the basic skills that will get them off to a flying start when they reach Year 1.
Key Stage 1
Key Stage 1 covers Year 1 and 2 at primary school, from ages five to seven. There are tests when the children reach Year 2 to make sure that each child has reached a certain level in literacy and numeracy and are ready to progress to the next Key Stage.
As a parent or carer, you have a very important role to play in helping your child learn, and your child's teacher will be able to guide you on giving further support.