​
Save 25% on tickets to Germany: memoirs of a nation
Waterstones Cardholders can save 25% off full priced adult tickets to Germany: memories of a nation at the British Museum from 16th October 2014 - 25th January 2015.
About the exhibition
Germany: memories of a nation
16th October 2014 - 25th January 2015
Entry £10 (Waterstones Cardholders £7.50), members and under 16s free

---
A 600-year history in objects
This exhibition will examine elements of German history from the past 600 years in the context of the fall of the Berlin Wall 25 years ago. From the Renaissance to reunification and beyond, the show will use objects to investigate the complexities of addressing a German history which is full of both triumphs and tragedies.
Navigate through Germany's many political changes - from the Holy Roman Empire through unification in the 1870s and the troubled 20th century to today's economic powerhouse at the centre of Europe. Explore art by the likes of Albrecht Dürer, Hans Holbein, Caspar David Friedrich and Gerhard Richter, and marvel at technological achievements through the ages which gave the world Gutenberg's printing press, outstanding Meissen porcelain, the Bauhaus movement and even the modern design icon the VW Beetle.
In association with a major BBC Radio 4 series presented by British Museum Director Neil MacGregor.
Sponsored by Betsy and Jack Ryan
With support from Salomon Oppenheimer Philanthropic Foundation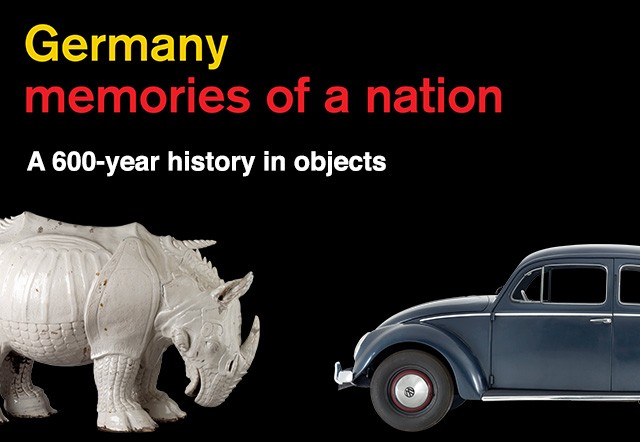 Porcelain rhinoceros based on Dürer's print. Made by Johann Gottlieb Kirchner, Meissen factory, 1730. Porzellansammlung, Staatliche Kunstsammlungen Dresden. Photo: Herbert Jäger. Volkswagen Beetle Type I, 1953. Beaulieu Motor Museum.
---
Claim the offer
Waterstones Cardholders can purchase full-price adult tickets for just £7.50 (saving 25%).
The offer can only be booked online or over the phone. Advance booking is strongly recommended, exhibition entry is by timed entry. This offer is valid until 25th January 2015 with a maximum of two tickets per transaction. Subject to availability.
Use the code or quote: "waterstonesgermany"
Book online or by phone: 020 7323 8181.
---