​
Save 25% on tickets to Ancient lives, new discoveries at the British Museum
Waterstones Cardholders can save 25% on full-price adult tickets to Ancient lives, new discoveries at the British Museum from 22nd May - 12th July 2015.
Exhibition extended due to popular demand - until 12th July 2015.
About the exhibition
Ancient lives, new discoveries
The British Museum
22nd May - 19th April 2015
www.britishmuseum.org/ancientlives
Entry prices
Standard entry: £10
Waterstones Cardholders: £7.50
Members and under 16s: free

---
Think you know mummies? Think again...
This exhibition will introduce you to eight people from ancient Egypt and Sudan whose bodies have been preserved, either naturally or by deliberate embalming. Using the latest technology, the exhibition will unlock hidden secrets to build up a picture of their lives in the Nile Valley over a remarkable 4,000 years - from prehistoric Egypt to Christian Sudan.
From a priest's daughter to a temple singer, a middle-aged man to a young child, a temple doorkeeper to a woman with a Christian tattoo, find out how they lived and what happened to them after they died. Using interactive technology, discover new information about each mummy, from their state of health to how they were embalmed and preserved. Unravel the mysteries of mummification and gain a unique insight into these people's lives.
Sponsored by Julius Baer
Technology partner Samsung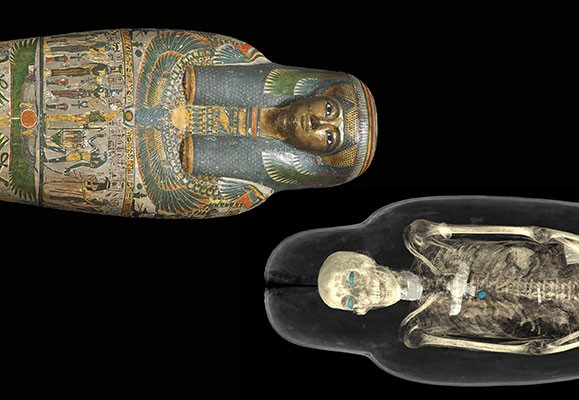 Mummy of a priest's daughter named Tamut in a painted case, and CT scan of the same mummy. From Thebes, Egypt, 22nd Dynasty, c. 900 BC. © The Trustees of the British Museum.
---
Claim the offer
Waterstones Cardholders can purchase full-price adult tickets for just £7.50 (saving 25%).
This offer is valid until 19th April 2015 with a maximum of two tickets per transaction.
Subject to availability.
Book in person
At the British Museum's Ticket Desk simply present your Waterstones Card.
Book by phone
Call 020 7323 8181 and quote 'Waterstones offer'.
Book online
Enter the promotion code 'waterstones' when prompted.
Read before you go