Terry Pratchett
Welcome to Terry Pratchett's Discworld – a world as flat as a pancake resting on the back of four elephants, standing on a tortoise, flying through space. Let Waterstones introduce you to some of the greatest (and funniest) characters in modern fiction; from the inept, luckless wizard Rincewind, bursting into being in The Colour of Magic, to the steadfast and brave witch-in-training Tiffany Aching closing the curtain in Pratchett's final outing The Shepherd's Crown, this a series destined to stand the test of time.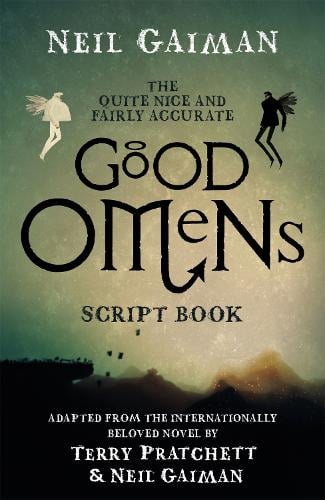 Hardback
Usually dispatched within 24 hours
Sometimes, even the best laid plans go awry. When that plan involves the Antichrist and the End of Days, things are bound to get a little messy. Almost three decades on from its publication, the mercurial Neil Gaiman adapts Good Omens for television, the 1990 fantasy classic he co-wrote with that much-missed magus of words, Sir Terry Pratchett. The Quite Nice and Fairly Accurate Good Omens Script Book contains Gaiman's complete screenplay and much, much more, our exclusive Waterstones edition brimming with bonus content and scenes that escaped the final cut.
See All
Discworld Hardback Editions
The beautiful new cover artwork by illustrator, Joe McLaren make these hardback editions a must for any Pratchett collection.
See More
Discworld Gifts, Games and Special Editions
"You can't ask questions, it's magic. It doesn't explain anything, it's magic. You don't know where it comes from, it's magic! That's what I don't like about magic, it does everything by magic!"
Go deeper into the murky depths of the Discworld with gift books, maps, games and calendars - everything the canny Discworld tourist needs to keep ahead of the crowd (and avoid a nasty hot sausage in a bun incident).
City Watch Series
"He hated being thought of as one of those people that wore stupid ornamental armour. It was gilt by association."
An old-fashioned copper with a chip on his shoulder as big as a boulder, Commander Sam Vimes leads the unruly rag-bag of the good, the bad, the undead and the incompetent that is the City Watch, guarding (or at least supervising) the mean streets of the Discworld capital Ankh Morpork.
---
Death Series
"You're having a near death experience... Don't mind me. Carry on with Whatever you were doing. I have a book."
The Reaper Man, harvester of souls, horseman of the apocalypse Death may be a looming skeleton with a stare like galaxies exploding and a wickedly sharp scythe but he also likes kittens and he could murder a curry. So to speak.
---
Wizards Series
'The truth isn't easily pinned to a page. In the bathtub of history the truth is harder to hold than the soap, and much more difficult to find...'
Rincewind is the Disc's most useless wizard, so useless he spells it 'wizzard' nevertheless magic follows him like a bad smell, along with all the other nearly-as-useless wizards of Unseen University, seeking truth, seeking magic, seeking knowledge, seeking… well, lunch, mainly.
---
Witches Series
"Good and bad is tricky… I ain't too certain about where people stand. P'raps what matters is which way you face."
There are many things the witches of the Discworld have no truck with; they include vampires, fairies, gods of any kind and FUNNY BUSINESS. Following in the footsteps of Granny Weatherwax (the greatest of the leaders they definitely don't have) the witches keep an eye on things, armed with Nanny Ogg's strong brew and very sensible knickers.
---
Tiffany Aching Series
"I'll make it my business. I'm a witch. It's what we do. When it's nobody else's business, it's my business."
Tiffany Aching is the only witch of The Chalk, people say you can't build a witch on chalk but she's out to show them you can, with the help of some little blue men (the Nac Mac Feegle thrown out of fairy land for being drunk and disorderly) and Granny Weatherwax she might just become the greatest witch of all. After all, under chalk, there's flint.
---
Industrial Revolution Series
"An education was a bit like a communicable sexual disease. It made you unsuitable for a lot of jobs and then you had the urge to pass it on."
In the city of Ankh Morpork, city of dreams, city of opportunity, city of stench, the spokes in the wheels of development grind ever onwards driving everything from the invention of the moving picture to music with rocks in it and the locomotive engine with a mind of its own. Things are bound to get messy.
---
Biography
Only the mind of Terry Pratchett could have come up with something as ambitious, all-encompassing, magical, bonkers and brilliant as The Discworld. In 41 novels, published over 31 years Pratchett created an entire universe with a rich and diverse cast of characters; from the Machiavellian Patrician Vetinari (handy with a knife, expert crossword completer), magical practitioners of every kind (pompous, absent-minded wizards and stubborn, no-nonsense witches) to Death himself (a curry-loving, cat-friendly philosopher with a horse called Binky). His novels defy genre, proving that fantasy can say more about reality than the most heavy-weight of literary tomes.
"So much universe, and so little time"
The Discworld series began in 1983 with the publication of The Colour of Magic introducing a hapless trainee wizard called Rincewind. Since then the series has expanded to fill an entire world. There have been forty more novels, selling over 80 million copies, making Pratchett the UK'''''s bestselling novelist in the 90'''s. Waterstones across the country, long before Harry Potter, hosted midnight launches, Discworld parties, dressed up as witches, wizards, guardsman and assassins; even Death himself made the occasional appearance.
Oft-quoted and popular with readers of all-ages the series frequently sends-up not only the traditions of fantasy but also popular culture, music and classic works of literature as well as pertinently tackling a range of big issues including modern politics, race relations, philosophy, women'''s rights, trends in science, technology and major world-changing historical events – always with a recognisable Pratchett lightness of touch.
There'''s his lovely Shakespearian pastiche Wyrd Sisters (with lots of very satisfying and clever puns), his subversive take on the music business in Soul Music or his satirical look at the newspaper industry The Truth – to name just a few. As one critic put it: 'You never quite knew where the next association was coming from: you would find sideways references to HP Lovecraft, William Shakespeare, Beachcomber, Sellar and Yeatman, Thomas Hughes, Peter Shaffer (a good joke about Salieri), JRR Tolkien, Egyptology, vampirism, dragons.
"It is well known that a vital ingredient of success is not knowing that what you're attempting can't be done"
At his death in 2015 from Alzheimer's, Pratchett had yet more novels planned and a seemingly endless catalogue of ideas for a fantasy world with as many stories in it as the real one.
Repeatedly and seemingly effortlessly, Pratchett did what most writers struggle to do in a lifetime – he held a mirror up to life, to people of all kinds, warts and all and, most skilfully of all, he did so whilst making people laugh. As Pratchett himself put it:
"All fiction is fantasy, and of fiction, how can I put it?... People will always need heroes."
Simply reserve online and pay at the counter when you collect. Available in shop from just two hours, subject to availability.
Thank you for your reservation
Your order is now being processed and we have sent a confirmation email to you at
When will my order be ready to collect?
Following the initial email, you will be contacted by the shop to confirm that your item is available for collection.
Call us on or send us an email at
Unfortunately there has been a problem with your order
Please try again or alternatively you can contact your chosen shop on or send us an email at