Students earn 10 points in our shops and online
Sign up in-store for free with student ID and collect 10 points for every £1 you spend*
We're delighted to introduce a brand new version of Student Rewards for students. It offers all the core benefits of Waterstones Rewards with one key enhancement - you'll collect a whopping 10 points for every £1 you spend*.
Each point is worth a penny, so that's 10% towards your next shop at Waterstones, whether you're topping up on textbooks, escaping your studies in the bestseller list or treating yourself to some stylish stationery.
*Some exclusions apply including gift cards and concession items. Please see the term 10 of the terms and conditions for full details. 7 points per €1 in Europe and ROI. Each point is worth 1.5cents.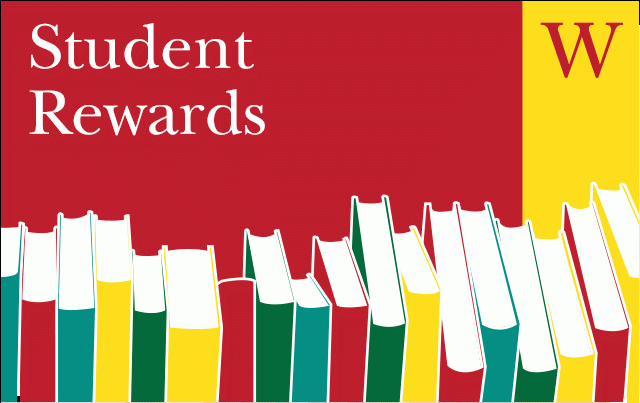 How do I sign up?
First, download our app or sign up to Waterstones.com, then visit any Waterstones shop, with a valid photo student ID and one of our booksellers will sign you up. You can start earning points immediately for all your purchases in our shops, using the barcode found in the app or within your online account.
Will I need to renew my Student Rewards?
Yes, you'll have to renew your Student Rewards each academic year.
The current Student Rewards is valid until 31st October 2015. Visit a shop after October 2015 with a valid ID proving your student status for the next academic year, and we'll update your app, retaining your existing balance.
If you are no longer a student at this point your balance will still be available through the Waterstones app. You will get all the same benefits, but collect 3 points per £1.
UNiDAYS offer: please note our Student Rewards points offer does not work in conjunction with our UNiDAYS offer which rewards students with a 10% discount on Waterstones.com. You can still use your Waterstones Student Rewards in conjunction with the UNiDAYS offer, but you will only earn the standard 3 points per £1, rather than the higher 10 points per £1 student rate. For more details on UNiDAYS please see here.
---
Terms and conditions
These terms and conditions apply to the Waterstones Student Rewards Scheme. You can view the terms and conditions for the standard Waterstones Rewards Scheme.
Waterstones Booksellers Limited ('WBL') whose registered address is at 203/206 Piccadilly, London W1J 9HD and certain of its associated companies (together 'Waterstones') are promoting a student points card ('Waterstones Student Points Card' or 'WSPC') with a view to offering more value to its student customers (the 'WSPC Scheme'). The WSPC Scheme is distinct from the Waterstones Points Card Scheme, for which separate conditions apply, although it is possible to transfer points between the two card schemes. The following terms and conditions apply to the WSPC Scheme and to any person who holds a WSPC (a 'Cardholder').:-
The WSPC Scheme
1. Correspondence relating to the WSPC Scheme should be sent to WBL, 203/206 Piccadilly, London W1J 9HD, or, if the customer is in Eire, to Waterstones, 56-58 Dawson Street, Dublin 2, Eire. Your WSPC and any replacements are issued by and remain the property of WBL.
2. The WSPC Scheme is free of charge to all Students (as defined below) who purchase goods in participating branches of Waterstones and its associated shops and on a date to be agreed by WBL, on Waterstones.com. WBL reserves the right to alter, without prior notice, products included or excluded from the WSPC Scheme and it reserves the right to change the number of participating shops at any time. Cardholders can redeem and collect points but will not be able to join the WSPC Scheme at Hatchards shops or Southwold Books.
3. To apply for a WSPC and take advantage of the WSPC Scheme you must be aged 16 years or over and a Student. A "Student" means someone who is in full or part time education at a recognised learning establishment, or on a recognised apprentice scheme. All decisions as to who is or is not a qualifying Student will be taken by WBL whose decision is final.
4. To join the WSPC Scheme, you must present evidence of your current and continuing status as a Student to a bookseller in a participating branch of Waterstones and complete an application form. Your name, postal address and email address must be provided for a WSPC to be given to you and registered. If you do not register your WSPC you will not be able to redeem your points. You may request the transfer of accumulated points on an existing Waterstones Points Card onto the new WSPC. The WSPC will be valid for an academic year and will be clearly marked with an expiry date at the end of the academic year in which it was issued, Upon expiry, the WSPC will no longer be capable of use, and to obtain a replacement you must present the expired WSPC with evidence that you will continue to be a Student for the next academic year to a participating branch of Waterstones with a request for a new WSPC, whereupon the points on the existing WSPC will be transferred to the newly issued WSPC. If you are not continuing as a Student after expiry of a current card, then you may apply for a Waterstones Points Card in a participating Waterstones shop, and you can transfer the accumulated points from the expired WSPC to the new Waterstones Points Card.
5. Your WSPC cannot be used as a credit card or a guarantee card. The WSPC Scheme is only for consumer use by bona fide Students. The WSPC cannot be used for any transaction where the purchaser or ultimate beneficiary is a business entity. If you cease to be a Student prior to expiry of the WSPC, you must not use the WSPC.
6. The WSPC can only be used by the person whose signature is on the WSPC. Neither the WSPC nor the points thereon are transferable to other Cardholders but the points on a Waterstones Points Card can be transferred to a WSPC and vice versa where the registered user is the same person.
7a. If you breach, or if WBL reasonably believes that you have breached these terms and conditions your WSPC may be terminated without prior notice and any accumulated points or vouchers will be forfeited. WBL reserves the right to take any action deemed necessary where a Cardholder is found to have abused the WSPC Scheme.
7b. A Cardholder can choose to leave the WSPC Scheme at any time by giving written notice to WBL, or by leaving his/her WSPC at a Waterstones shop. By leaving the WSPC Scheme a Cardholder forfeits all and any points or vouchers already accrued or issued unless the points or vouchers are legitimately transferred to a Waterstones Points Card.
7c. A Cardholder who, for a consecutive period of 36 months, does not collect or redeem any points, or check their balance in a Waterstones shop or request transfer of points to a Waterstones Points Card will have their WSPC account and any associated points or voucher balance terminated without notice, and will need to reapply for new membership of the WSPC Scheme or of the Waterstones Points Card Scheme should they be eligible and wish to re-join and begin collecting again.
8. In addition to paragraph 7 above, WBL reserves the right on notice to Cardholders to (i) stop issuing WSPCs at any time; (ii) amend the benefits of the WSPC Scheme at any time; (iii) alter or amend these terms and conditions and the operation of the WSPC and/or WSPC Scheme; and (iv) withdraw or cancel the WSPCs and/or the points (including the redemption and issue of such) and/or terminate the WSPC Scheme. For the purposes of this paragraph, and any other paragraphs which contain a right for or an obligation upon WBL to give notice, the period of notice, will be for such duration, if any, as WBL in its absolution discretion decides and will be considered adequately given if (a) sent to the Cardholder at the email address (if any) held by WBL for that Cardholder and (b) by WBL placing a copy of the notice on its website, Waterstones.com.
How to collect and redeem points
9. To collect points for a transaction in one of our shops, Cardholders must present their WSPC at the till at the time of purchase or within 30 days of the date of purchase. In the latter case, proof of purchase, using a validated till receipt, will be required for the points to be credited to the WSPC. When the WSPC Scheme is activated for purchases on waterstones.com, to collect points for a transaction online, the unique number on your WSPC must be linked to your Waterstones.com account at the time of purchase. Cardholders cannot claim points on purchases made before they joined the WSPC Scheme.
10. Points will be awarded on, and can be redeemed in participating Waterstones shops, or on Waterstones.com against, all merchandise sold with the exception of:
Gift vouchers, electronic gift cards, book tokens, theatre tokens and stamps;
In shop purchases from Waterstones concessions and online purchases from Waterstones Marketplace and Waterstonesaccountsales.com
And such other products as WBL may decide upon, in its full discretion, from time to time.
Cardholders can redeem and collect points but will not be able to join the WPC Scheme at Hatchards shops and Southwold Books.
11. Cardholders will receive points on qualifying transactions. In the UK and online, points are currently awarded at a rate of 10 points for every £1.00 spent or a pro rata amount rounded down to the nearest point. In participating Waterstones shops in the Republic of Ireland (ROI) and the rest of Europe, points are calculated at a rate of 7 points for every €1.00 spent or a pro rata amount rounded down to the nearest point. These can be altered at the discretion of WBL on reasonable notice to you. The number of points issued may vary between qualifying purchases.When used in conjunction with our online UNiDAYS offer points will be applied at the standard rate of 3 points per £1 or 2 points per €1.
12. Each point has a redemption value against qualifying purchases of 1p in the UK and online (when the WSPC Scheme is activated online) and 1.5c in the participating ROI and other European shops. WBL reserves the right to vary the rates at any time on reasonable notice to you. There is no minimum amount of points, and, subject to paragraph 13, Cardholders can redeem at any time.
13. Points will usually be loaded on to a WSPC instantly in shops, except in circumstances of system failure when it is expected that points will be loaded within 48 hours. For customer orders and pre-orders in shops, points will be earned on collection of the order. In most circumstances any bonus points earned will be loaded onto the WSPC 72 hours after the date the goods are purchased. When the WSPC Scheme is activated on waterstones.com, points from Waterstones.com transactions will be automatically loaded within 72 hours of goods being shipped and will not show on the Cardholder's initial online order confirmation. Points cannot be redeemed until loaded on to the WSPC.
14. Points can be used as part or full payment for goods. The full points value on an item will only be earned if no points are redeemed as part of the transaction. When points are redeemed as part of the transaction, points will be awarded on the cash balance.
15. Points have no cash redemption value and cannot be exchanged, sold or transferred. If overpayment is made using points, no change or credit will be given. WBL will reverse the associated points earned or redeemed if a transaction on which points are earned or redeemed is cancelled or reversed or when a product is returned (in accordance with the Waterstones Returns Policy). For shop purchases, the Cardholder must present their WSPC to sales staff so that the points awarded can be debited from or credited to the WSPC for the product being returned.
Data Protection and your details
16. These terms and conditions and the Waterstones Privacy Policy, a copy of which can be obtained from any bookseller or in the Help section of Waterstones.com, governs WBL's use of personal data collected from Cardholders. WBL will not pass your details on to any third party unless you have agreed that it may pass your details onto other companies.
17. By signing up to the WSPC Scheme and giving us personal details, Cardholders will be sent Waterstones updates and special offers unless they subsequently notify us otherwise. If you notify us that you would like to receive such information, we will share your information with third parties so that they may contact you with information and offers. We will also use your details from the application form and information on what you buy to help us manage the WSPC Scheme more effectively.
18. It is important that your contact details are kept up to date in order that WBL can operate the WSPC Scheme effectively. Please keep your details up to date by visiting Waterstonescard.com or your local shop if your details are incorrect or become out of date. You can also update your details (including your email address) at any time by contacting Waterstones Customer Support.
General
19. If your WSPC is lost, stolen or, for whatever reason, not working, you should notify a member of staff at a Waterstones shop or contact Waterstones Customer Support, contact details for which can be found on our website at Waterstones.com. WBL cannot be held liable for lost, stolen or damaged WSPCs, nor for any points accrued on or redeemed from the WSPC without your knowledge. WBL reserves the right not to issue a replacement WSPC in any circumstances.
20. The WSPC Scheme cannot be used in conjunction with the online UNiDAYS offer.
21. If any provision of these terms and conditions is held to be invalid in whole or in part, that part shall be deleted and the validity of the remaining terms shall not be affected.
22. These terms and conditions and the WSPC Scheme are subject to the laws of England and Wales.
Simply reserve online and pay at the counter when you collect. Available in shop from just two hours, subject to availability.
Thank you for your reservation
Your order is now being processed and we have sent a confirmation email to you at
When will my order be ready to collect?
Following the initial email, you will be contacted by the shop to confirm that your item is available for collection.
Call us on or send us an email at
Unfortunately there has been a problem with your order
Please try again or alternatively you can contact your chosen shop on or send us an email at