The Man Booker Prize
Waterstones Alumnus Graeme Macrae Burnet in the Running for Man Booker Victory
Although seven hopes may have been cruelly dashed at this week's revelation of the Man Booker Prize 2016 shortlist, for us at Waterstones we can't help but feel a little partisan as one of our own sprints into the final six. Ex-bookseller of our fine Scottish flagship Glasgow Sauchiehall Street, Graeme Macrae Burnet now finds himself very much in the running for his masterful novel of criminal trial, His Bloody Project. Described by the Telegraph as '…an astonishing piece of writing… a voice that sounds startlingly authentic,' Burnet's tale takes us to the heart of nineteenth-century prosecution and intellectual prejudice, as a young Highland crofter stands trial for three brutal murders. Despite the defendant's own memoir lying at the heart of the tale, deft shifts to parallel points of view provide a very different account of the possible truth. It's a read that combines the best of a robust legal thriller with confident, literary depth and Burnet discusses the novel's background.
With giants such as two-time Booker winner J.M. Coetzee and sometime Booker judge A.L. Kennedy now gone in the shortlist reckoning, the field has now been blasted open to reveal an intensely even-handed field that is ripe for intense speculation. The remaining titles are of course exceptional and several weeks of reading pleasure beckons until the next point on the Booker calendar, cutting straight to the chase on the evening of Tuesday 25 October when the winner will be revealed.
---
The Man Booker Dozen 2016 is Served
No event in the literary calendar carries the weight or literary intrigue as the Man Booker Prize. Since its inception back in 1969, what was originally known as the Booker–McConnell Prize has courted prestige and controversy in sometimes equal measure and its list of winners reads as a map to the stars of international fiction.
In this its 48th year, a healthy mix of the established (including one two-time Booker winner) and those new to the fray pave the way toward a fascinating summer of reading. In the words of our fiction buyer Chris White, ''I couldn't argue with the inclusion of any of the books I've read and that makes me all the more eager to read the others. I can't wait to see what appears on the shortlist. There's a special place in my heart for My Name is Lucy Barton but the field seems more open than ever and I wouldn't be surprised to see any of these novels make the final cut.'
---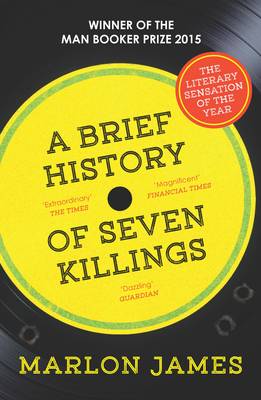 The 2015 Winner is A Brief History of Seven Killings
Diversity is a bendy word – it has to be, to accommodate such variety. And it turns out that the English language is more diverse - more elastic- than previously imagined. Marlon James, the winner of this year's Man Booker Prize, has tested that elasticity to its limit – and then shown us that limit is in fact the centre for some.
His winning novel, A Brief History of Seven Killings, is a hymn to reclaiming language, to authenticity and to identity. It takes the traditional form of The English Novel and blows it open - takes old familiar words and animates them with vibrant, Jamaican rhythms.
A Brief History of Seven Killings, is a soaring, blistering read. It comprises multiple narrators and weaves reggae and patois, high and low, life and death to create a truly unique representation of violence in Jamaica.
The book is polyvalent, bold and vivacious – and arguably, it is as much about voice and cadence as it is about crime and violence.
The Man Booker Prize finalists were, arguably, the most diverse the prize has ever seen, this year. For the first time, it could be said that this English language prize suggested the full spectrum of English dialects.
As Michael Wood, the chairman of the judges, said in his speech at the presentation ceremony, when you read A Brief History of Seven Killings, more than anything else, you will think: I didn't know a novelist could do that.
Related articles