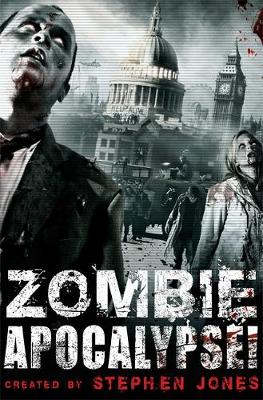 Zombie Apocalypse! - Zombie Apocalypse! (Paperback)
Stephen Jones
Paperback
Published: 14/10/2010
Click

&

Collect
From your local shop
A "mosaic novel" set in the near-future, when a desperate and ever-more controlling UK government decides to restore a sense of national pride with a New Festival of Britain. However, controversial plans to build on the site of an old church in South London releases a centuries-old plague that turns its victims into flesh-hungry ghouls whose bite or scratch passes the contagion on to others. Even worse, the virus may also have a supernatural origin with the power to revive the dead. Despite the attempts of the police, the military and those in power to understand and contain the infection commonly referred to as "The Death", it soon sweeps across London, transforming everyone who comes into contact with it. With the city - and the country - falling into chaos, even a drastic attempt at a "Final Solution" to eradicate the outbreak at its source fails to prevent it from spreading to Europe and then quickly throughout the rest of the world. Soon there is no more news coming out of Britain ...and it is up to those survivors in other countries to confront the flesh-eating invaders within their midst. Will humanity triumph over a world-wide zombie plague, or will the walking dead ultimately inherit the Earth? Told through various disparate and overlapping eye-witness accounts, through texts, e-mails, blogs, letters, diaries, transcripts, official reports and other forms of communication, a picture builds up of a world plunged into chaos - where the dead attack the living, and only one of them can be the ultimate victor. Written by some of the biggest and best-known names in horror and science fiction, these interconnected narratives create a unique vision of the End of the World brought about by a plague that may have its origins in both science and the occult. Praise for Stephen Jones: 'Horror's last maverick.' - Christopher Fowler 'Stephen Jones ...has a better sense of the genre than almost anyone in this country.'- Lisa Tuttle, The Times Books 'The best horror anthologist in the business is, of course, Stephen Jones.' - Roz Kavaney, Time Out 'Edited by Stephen Jones, a member of that tiny band of anthologists whose work is so reliably good that you automatically reach out and grab hold of any new volume spotted if you are wise.' - Gahan Wilson, Realms of Fantasy 'One of the genre's most enthusiastic cheerleaders.' - Publishers Weekly
Publisher: Little, Brown Book Group
ISBN: 9781849013031
You may also be interested in...
"decent"
This book is a real page turner but it does have a weak beginning and ending
"Zombie Apocalypse!"
I have rather mixed feelings about this book. On the one hand it takes the zombie legend and molds and crafts it into something that is not quite zombie but not quite sci-fi apocalypse plague but is somewhere between... More
"Book review"
I read this in under a month. I read about 10 to 20 pages a day because it was just amazing; full of action, humour and I live the way it's been written. Eye witness narratives and every little bit makes perfect... More
We would love to hear what you think of Waterstones. Why not review Waterstones on Trustpilot?