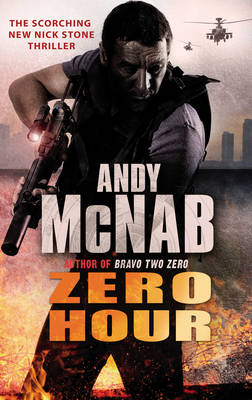 Zero Hour: (Nick Stone Book 13) - Nick Stone Thriller 13 (Hardback)
Andy McNab
Hardback
Published: 25/11/2010
When the beautiful 20-year-old daughter of a Moldovan businessman goes missing from her university, British Intelligence will do anything in its power to track her down. Only one man is skilled and ruthless enough for the job - but for the first time in his life Nick Stone doesn't want to play ball...FACT: On 5 September 2007, Israeli jets bombed a suspected nuclear installation in northeastern Syria. Syrian radar - supposedly state-of-the-art - had failed to warn of the incoming assault. FACT: Unknown to anyone but the Israelis and the radar's manufacturers, the commercial, off-the-shelf microprocessors within it contained a remotely accessible kill switch. But what is the raid's mysterious connection with the missing student? What is the secret to Britain's security to which she unwittingly holds the key? And when ex-SAS deniable operator Nick Stone is tasked to find and abduct her, why is he not on 'receive'? I stared at the tiny shadow on the scan. It was hard to believe that this little f****r was going to kill me. I'd always imagined it would be something bigger, the diameter of a fist, a rifle butt or a 7.62. Dying like this? It felt so...pedestrian. I tried to smile. 'I always wondered what a death warrant looked like. Does it have a 'use by' date?' As Nick walks from the Harley Street clinic, he's become a man with nothing to lose. And he wants to go down fighting...
Publisher: Transworld Publishers Ltd
ISBN: 9780593064986
You may also be interested in...
"low life expectancy"
The latest Nick Stone novel starts in an interesting place. Stone has finally made some money and is enjoying a penthouse flat and a very nice car. Sadly he hears some bad news from a doctor which suggests he may have... More
"Nick Stone is back with a bang"
Nick Stone is back with a bang in his most thrilling adventure yet and with nothing to live for all bets are off. I really loved his new novel in the Nick Stone series and with Andy McNab writing at his ultimate best... More
We would love to hear what you think of Waterstones. Why not review Waterstones on Trustpilot?