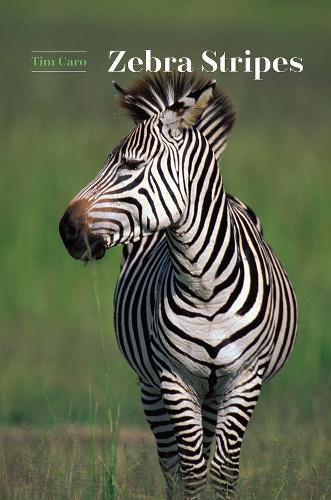 Zebra Stripes (Hardback)
Tim Caro
(author)
Hardback
320

Pages / Published: 07/02/2017
From eminent biologists like Alfred Russel Wallace and Charles Darwin to famous authors such as Rudyard Kipling in his Just So Stories, many people have asked, "Why do zebras have stripes?" There are many explanations, but until now hardly any have been seriously addressed or even tested. In Zebra Stripes, Tim Caro takes readers through a decade of painstaking fieldwork examining the significance of black-and-white striping and, after systematically dismissing every hypothesis for these markings with new data, he arrives at a surprising conclusion: zebra's markings are nature's defense against biting fly annoyance. Popular explanations for stripes range from camouflage to confusion of predators, social facilitation, and even temperature regulation. It is a challenge to test these proposals on large animals living in the wild, but using a combination of careful observations, simple field experiments, comparative information, and logic, Caro is able to weigh up, scientifically, the pros and cons of each idea. Eventually driven by experiments showing that biting flies avoid landing on striped surfaces, observations that striping is most intense where biting flies are abundant, and by his knowledge of zebras' susceptibility to biting flies and vulnerability to the diseases that flies carry Caro concludes that black-and-white stripes are an adaptation to thwart biting fly attack. Not just a tale of one scientist's quest to solve a classic mystery of biology, Zebra Stripes is also a testament to the tremendous value of longitudinal research in behavioral ecology, demonstrating how observation, experiment, and comparative research can reshape our understanding of the natural world.
Publisher: The University of Chicago Press
ISBN: 9780226411019
Number of pages: 320
Weight: 680 g
Dimensions: 229 x 152 x 25 mm
---
MEDIA REVIEWS
"The purpose of zebra stripes has perplexed science at least since Charles Darwin debated the matter with fellow Victorian naturalist Alfred Russel Wallace. Today, according to Caro, no fewer than four groups of researchers study the question. They do not lack for hypotheses: In Caro's new book, Zebra Stripes, he outlines nearly twenty of them. . . . He decided to test each of these ideas one by one, in the field, over a decade of summers. This was the scientific method on repeat: Trial and error after trial and error. And because studying large wild mammals is no easy task, Caro had to get creative. Coming up with experiments was, he said, 'the thing that taxed me most.' . . . Caro's [is a] systematic, sometimes wacky quest, which he refers to as a 'personal discovery.'"--Karin Brulliard "Washington Post "
"Caro's study exemplifies how one should conduct such an investigation. . . . This is an exemplary study. This is how science should be done: patient, systematic, careful and comprehensive. Charles Darwin referred to his work On the Origin of Species as 'one long argument' for evolution by natural selection. Caro's Zebra Stripes is one long argument also--for this is in essence a 300-page scientific paper--and as such makes a fine academic behavioral ecology monograph."--Tim Birkhead, University of Sheffield "Times Higher Education "
"A tour de force that characterizes the biology, morphology, physiology, and behavior of the equid genus as a starting point for examining in detail the unique features of its striped members. Caro clearly and succinctly presents the competing hypotheses put forward over the last one-hundred-fifty years (some even earlier) for why zebras are striped. The mix of methods with facts and interpretation is compelling, making what could be a complex and tedious presentation one that is clear, engaging, and to the point. Zebra Stripes is an easy read, full of authoritative documentation from the literature bolstered by clever experiments (with Caro putting himself literally in a zebra's shoes--or actually a pelt), and constructed in a didactic, hypothetical, deductive way that gives it credibility. Its completeness and attention to detail will make it a must read."--Daniel I. Rubenstein, Princeton University
"Zebra Stripes is an attempt to answer the mysterious, longstanding, and popular question of why zebra have stripes. A personal journey in addition to a scientific appraisal of the evidence, it is highly original in its discussion of stripe hypotheses and its personal aspect; I am not aware of any work of comparable synthesis in depth or scope. It is comprehensive, up-to-date, and authoritative, and also contains a wealth of unpublished work and observations. Well written in a very readable style, interesting, and clear, Zebra Stripes will unquestionably be of importance to any specialist in the field and of much interest to biologists more broadly, especially those interested in animal coloration, behavior, and evolution. Highly successful."--Martin Stevens, University of Exeter, author of "Cheats and Deceits: How Animals and Plants Exploit and Mislead"
"In an era of big data, it might be considered quaint to spend over a decade studying a Victorian question, one that has been debated by Wallace, Darwin, and a cast of others: namely, the function of stripes on animals. And, indeed, why zebras, uniquely among equids (horses, zebras, and wild asses), have stripes. However, Caro's book Zebra Stripes is a testament to the power of comprehensive scholarship, logic, creativity, self-criticism, persistence, and passion, and shows that outstanding science can be done with limited support."--Daniel T. Blumstein, University of California, Los Angeles "Trends in Ecology & Evolution "
You may also be interested in...
Simply reserve online and pay at the counter when you collect. Available in shop from just two hours, subject to availability.
Thank you for your reservation
Your order is now being processed and we have sent a confirmation email to you at
When will my order be ready to collect?
Following the initial email, you will be contacted by the shop to confirm that your item is available for collection.
Call us on or send us an email at
Unfortunately there has been a problem with your order
Please try again or alternatively you can contact your chosen shop on or send us an email at