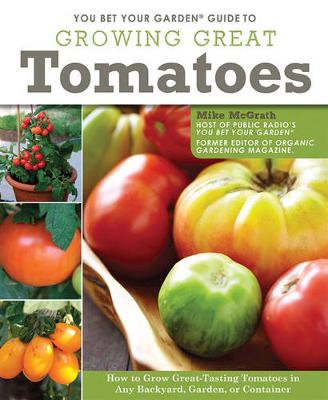 You Bet Your Garden Guide to Growing Great Tomatoes (Paperback)
Mike McGrath
(author)
Paperback
112

Pages / Published: 01/04/2012
This deliciously funny little book is also a serious guide on how to start and nurture an heirloom tomato patch. More and more gardeners are finding heirloom vegetables to be superior in flavour, colour and disease resistance to the more common hybrid commercial varieties. Based on McGrath's personal adventures in tomato growing, "You Bet Your Garden Guide to Growing Great Tomatoes" is a book for everyone who loves to laugh, loves to eat and loves to grow beautiful tomatoes.
Publisher: Fox Chapel Publishing
ISBN: 9781565237100
Number of pages: 112
Weight: 335 g
Dimensions: 7 x 9 x 10 mm
---
MEDIA REVIEWS
Growing Tomatoes: A Collectio of Expert Advice 5 Reasons You Should Be Growing Tomatoes Or on a lighter note, here are five reasons to grow your own ?maters, from You Bet Your Garden Guide to Growing Great Tomatoes, by the ever-amusing Mike McGrath: 1. There is honestly nothing you can compare to the taste of a fresh, vine-ripened tomato, plucked at the perfect peak of sweetness and eaten warm and sugary, tart and juicy, right there in the garden as you make a big mess all over your shirt. 2. If you actually get good at this (and you can ? I grow great tomatoes just about very season, and I barely have opposable thumbs), you?ll have access to the ultimate summertime bragging right: ?Oh, and would you like a slice of fresh tomato on that? Let me go out and pick a nice one for you.? 3. If you get really good at it, you can go for the gold: Having ripe, red tomatoes conspicuously hanging on your plants days before that pain-in-the-butt gardener down the block who's been showing off for years. 4. And then nirvana: Knocking on that gardener's door with a bag of ripe tomatoes while his first love apples are still green and saying, ?Here ? I noticed your plants don't seem to be doing very well this year, and we had more than we can eat for weeks now ...? 5. Start your own tomatoes from seed, and you can grow (and share and savor and really brag about) wonderful varieties that you just can't find already started for you at the garden center, much less in the supermarket, such as ?Tigerella, ? ?Brandywine, ? ?Big Rainbow? and ?Radiator Charlie's Mortgage Lifter.? Read more: http: //www.motherearthnews.com/Growing-Tomatoes-Expert-Advice.aspx#ixzz1saQPwZ2a
Home > Lifestyles > Home and Gardening > Home Gardening Headlines It's not too early to plant tomatoes. A new book will help you through the entire process By BARBARA RODRIGUEZ Special Contributor Published: 14 March 2012 06:51 PM Mike McGrath is a chatty sort of guy. One of the things he likes to yak most about are his tomatoes, not to mention his adventures in growing them. Based on his personal experiences, You Bet Your Garden Guide to Growing Great Tomatoes is rather like a long visit over coffee with a sometimes tedious uncle. The host of a nationally syndicated radio show airing out of WHYY-FM in Philadelphia, McGrath does seem to enjoy the sound of his own voice, but legions of listeners can attest they enjoy it, too. As a former editor of Organic Gardening magazine, the author does know what he's talking about. Chapters on choosing seeds, germinating, planting, staking, caging, nurturing, watering and harvesting are a quick read (the book is just 111 pages). The tone is light, sometimes irreverent, but the information is tried and true. Although the jokes that run throughout the book are not all that funny, one carries on reading for what is of most value: an expert's inside information. For instance, the page on how to use the calcium in eggshells as the ultimate preventive of blossom-end rot on tomatoes is worth McGrath's silliness. Equally useful are the whys behind a plentiful seeding of dos and don'ts: Don't feed, do compost. Don't trench. Do use bone meal. Do read fertilizer labels (and how to interpret them). Best tip of all: how, come fall, you can speed up the ripening of all those still-green tomatoes. So what if the tone is sometimes overly folksy? This is a how-to book that is as quick and easy to read as it is certifiably useful.
Tomatoes, whether or not we think of them as vegetables, are far and away America's favorite fruit, and the one most likely to be in a home garden. But disease, pests, soil "issues," too much or not enough water and flagrant user error often nip our homegrown harvest in the bud. You Bet Your Garden Guide to Growing Great Tomatoes can help. Author Mike McGrath is the host of the public radio show "You Bet Your Garden" and now your own personal backyard expert. No matter the skill level or size of garden (or container), anyone can grow healthy, delicious and gorgeous tomatoes. McGrath details how to pick the right variety, start from seed, plant, stake, cage, deal with pests and disease, practice "basic keeping-alive skills" and harvest the bounty. Wit and wisdom combine with big color photos, wacky cartoons and insider tips to help you grow serious gardening skill in no time.
The author treats a serious subject with a sense of humor.
Today, I pre-ordered You Bet Your Garden Guide to Growing Great Tomatoes: How to Grow Great Tasting Tomatoes in Any Backyard, Garden, or Container by Mike McGrath. He hosts a weekly garden radio show, on WHYY-Philadelphia, called "You Bet Your Garden." I listen to it religiously, for Mike's humor, sarcasm, and sage advice. While we don't see eye-to-eye on every nuance, we both think squirrels are the most evil creatures to wander the face of the planet. He's the undisputed king of compost, and I'm really excited for his new book. This third edition is re-edited, with new chapters and information. Looking forward to it, as a birthday present to myself.
The third edition of Mike McGrath's Growing Great Tomatoes is a "deliciously funny little book," but also a serious guide on how to grow an heirloom tomato patch, be it in the ground or in pots.
Mike McGrath, Radio Host of "You Bet Your Garden," shares his wit and gardening expertise in his newly revised and expanded edition of You Bet Your Garden Guide to Growing Great Tomatoes. Mike McGrath This fun, comical approach teaches readers how to grow heirloom beefsteaks, plums, cherries and other backyard beauties. McGrath, who also writes a monthly column for Organic Gardening magazine, explains with characteristic wit how to choose, plant, grow and harvest a variety of tomatoes. This expanded edition is perfect for anyone who's ever tried to grow tomatoes or faced the challenges of drought, hungry nighttime animals, insects, and disease. Readers learn how to start tomato plants from seed, about watering, how to stake and cage plants, feeding and how to prevent plant diseases. The book also offers tips on how and when to pick plants. With every page readers find the writing light and funny, yet rooted in years of experience and practice. You Bet Your Garden Guide to Growing Great Tomatoes (Fox Chapel Publishing, April 1, 2012) makes a great gift for anyone who's ever thought about growing their own tomatoes or simply wished their own crop looked and tasted better. About the Author: Mike McGrath is host of the weekly nationally syndicated radio show "You Bet Your Garden" as well as a widely published columnist. McGrath has been featured as a gardening commentator on The Today Show and has accumulated a base of fans that appreciate both his humor and knowledge. Along with serving as columnist and contributing editor for Greenprints, McGrath was editor-in-chief of Organic Gardening magazine from 1991 through 1997. He is currently editor-at-large and writes a monthly column, "Mike McGrath's Tall Tales" and answers questions on the magazine's website. McGrath's "You bet Your Garden" airs weekly on National Public Radio. McGrath has made frequent guest appearances on NBS's Weekend Today and NPR's "All Things Considered." McGrath is also the garden editor for WTOP News Radio in Washington, D.C., a post he has held for more than a decade. Read more: Growing Tomatoes Explained By Mike McGrath - The Hunt Magazine http: //thehuntmagazine.com/home-garden/2012/02/growing-tomatoes-explained-by-mike-mcgrath/#ixzz1mGz0WF00
You may also be interested in...
Simply reserve online and pay at the counter when you collect. Available in shop from just two hours, subject to availability.
Thank you for your reservation
Your order is now being processed and we have sent a confirmation email to you at
When will my order be ready to collect?
Following the initial email, you will be contacted by the shop to confirm that your item is available for collection.
Call us on or send us an email at
Unfortunately there has been a problem with your order
Please try again or alternatively you can contact your chosen shop on or send us an email at