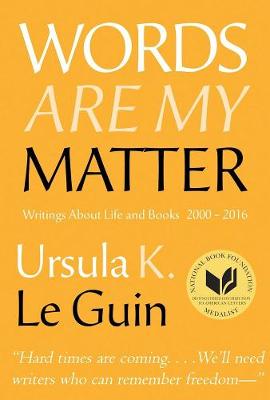 Words Are My Matter: Writings About Life and Books, 2000-2016, with a Journal of a Writer's Week (Hardback)
Ursula K. Le Guin
(author)
Hardback
352

Pages
Published: 03/11/2016
"Hard times are coming, when we'll be wanting the voices of writers who can see alternatives to how we live now, can see through our fear-stricken society and its obsessive technologies to other ways of being, and even imagine real grounds for hope. We'll need writers who can remember freedom -- poets, visionaries -- realists of a larger reality..." Words Are My Matter collects talks, essays, introductions to beloved books, and book reviews by Ursula K. Le Guin, one of our fore- most public literary intellectuals. Words Are My Matter is essential reading. It is a manual for investigating the depth and breadth of con- temporary fiction -- and, through the lens of deep considerations of contemporary writing, a way of exploring the world we are all living in. "We need writers who know the difference between production of a market commodity and the practice of an art. Developing written material to suit sales strategies in order to maximise corporate profit and advertising revenue is not the same thing as responsible book publishing or authorship." * Le Guin is one of those authors and this is another of her moments. She has published more than sixty books ranging from fiction to nonfiction, children's books to poetry, and has received many lifetime achievement awards including the Library of Congress Living Legends award. This year her publications include three survey collections: The Found and the Lost: The Collected Novellas; The Unreal and the Real: The Selected Short Stories; and The Complete Orsinia: Malafrena, Stories and Songs (Library of America). * From "Freedom" A speech in acceptance of the National Book Foundation Medal for Distinguished Contribution to American Letters.
Publisher: Small Beer Press
ISBN: 9781618731340
Number of pages: 352
Weight: 596 g
Dimensions: 229 x 153 x 25 mm
---
MEDIA REVIEWS
"The collection articulates Le Guin's belief in the social and political value of storytelling, as well as her fear that corporatization has made the publishing landscape increasingly inhospitable to risk-takers, to those who insist on other ways. This is a real problem, particularly if we can't count on fresh water from the well of Le Guin's imagination. In a year stalked by the long shadows of authoritarianism, ecological collapse, and perpetual war, her writing feels more urgent than ever." -- Zoe Carpenter, The Nation "In fact, it was the mainstream that ended up transformed. By breaking down the walls of genre, Le Guin handed new tools to twenty-first-century writers working in what Chabon calls the "borderlands," the place where the fantastic enters literature." -- Julie Phillips, The New Yorker "Spills over with insight, outrage and humor. In 'Making Up Stories,' Le Guin implores her audience not to ask where she gets her ideas: 'I have managed to keep the address of the company where I buy my ideas a secret all these years, and I'm not about to let people in on it now.' Of Dr. Zhivago, Le Guin confesses that 'I now realize how much I learned about how to write a novel from [Boris] Pasternak: how you can leap across miles and years so long as you land in the right place; how accuracy of detail embodies emotion; how by leaving more out you can get more in.'" -- Michael Dirda, The Washington Post "[W]hat she says of poetry--"Its primary job is simply to find the words that give it its right, true shape"--might well be said of all the shapely pieces in this generous, edifying, and invaluable collection."-- Michael Cart, Booklist (starred review) "Le Guin (The Real and the Unreal), an honored and prodigious fiction writer, will delight her many fans with these 67 selections of her recent nonfiction. The wide-ranging collection includes essays, lectures, introductions, and reviews, all informed by Le Guin's erudition, offered without academic mystification, and written (or spoken) with an inviting grace. Herself a genre-defying writer most associated with science fiction and fantasy, Le Guin frequently challenges the restrictiveness of genre-based value judgments that relegate science fiction to a "literary ghetto." Le Guin's book speaks both to readers, in the succinct and lucid reviews and introductions, and to writers, as in "Making Up Stories," in which she urges writers to be readers, and "The Hope of Rabbits," her journal of a week at a writers' retreat. Le Guin's nominal topic is often a book, but her subjects are more complex, reaching deeply into the nexus of politics and language, women's issues, the effects of technology, and books as commerce. In a resonating essay, "What Women Know," Le Guin discusses the differences between stories told by men and women, remarking, "I think it's worth thinking about." That's this collection in a nutshell: everywhere something to think about." -- Publishers Weekly "Collected nonfiction by the prolific, multiaward-winning writer.The author of novels (21), short stories (11 volumes), essays (four collections), children's books (12), poetry (six volumes), and translations (four volumes), Le Guin (Steering the Craft: A Twenty-First-Century Guide to Sailing the Sea of Story, 2015, etc.) also writes book reviews and occasional essays, delivers talks, and contributes introductions to other writers' works. These short pieces comprise a volume that, like many such miscellaneous collections, is uneven, but the few minor pieces are outweighed by several gems. Among the latter is an evocative memoir of the elegant, somewhat eccentric house in which the author grew up in California and where her family lived for 54 years, designed by the renowned architect Bernard Maybeck. The house was "remarkably beautiful, delightfully comfortable, and almost entirely practical." Not completely, however, since it lacked stairs to the basement, and those to the upper floors ended in steps so narrow, furniture movers "met their doom." Le Guin remembers the mellow, silken redwood of the interior, which imparted a special, pleasant fragrance. In another moving piece, the author recalls "what it was like to be twenty and pregnant in 1950," before Roe vs. Wade, risking being expelled from college and choosing to have an abortion rather than bring a child into a bleak future. Many pieces reflect her commitment to craft, her belief in the endurance of the book as physical object, and her objections to the "false categorical value judgment" that elevates "literature" above genre--which would include much of Le Guin's output of science fiction and children's books. "Literature is the extant body of written art," she writes. "All novels belong to it." One excellent piece, not previously published, rails against "the masculine orientation of discussion of books and authors in the press." In a review of Kent Haruf's Benediction, Le Guin remarks on a character's "humor so dry it's almost ether." That praise applies to Le Guin as well in a collection notable for its wit, unvarnished opinions, and passion." -- Kirkus Reviews Reviews for the new edition of Steering the Craft: A Twenty-First-Century Guide to Sailing the Sea of Story "A must-read for intermediate and advanced writers of fiction and memoir." --Library Journal, STARRED "A succinct, clear, and encouraging companion for aspiring writers." --Kirkus Reviews "It would be churlish to deny the benefits of this thoughtful, concise volume...In essence, Le Guin reveals the art of craft and the craft of art...this book is a star by which to set one's course." --Publishers Weekly, STARRED "There is no better spirit in all of American letters than that of Ursula Le Guin." -- Slate "Le Guin is a writer of enormous intelligence and wit, a master storyteller with the humor and force of a Twain. She creates stories for everyone from New Yorker literati to the hardest audience, children. She remakes every genre she uses." -- Boston Globe
You may also be interested in...
×
Download the Waterstones App
Would you like to proceed to the App store to download the Waterstones App?
Reserve online, pay on collection


Thank you for your reservation
Your order is now being processed and we have sent a confirmation email to you at
When will my order be ready to collect?
Following the initial email, you will be contacted by the shop to confirm that your item is available for collection.
Call us on or send us an email at
Unfortunately there has been a problem with your order
Please try again or alternatively you can contact your chosen shop on or send us an email at