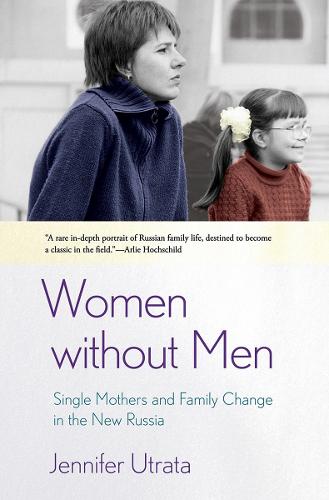 Women without Men: Single Mothers and Family Change in the New Russia (Paperback)
Jennifer Utrata
(author)
Paperback
288

Pages / Published: 21/05/2015
Women without Men illuminates Russia's "quiet revolution" in family life through the lens of single motherhood. Drawing on extensive ethnographic and interview data, Jennifer Utrata focuses on the puzzle of how single motherhood-frequently seen as a social problem in other contexts-became taken for granted in the New Russia. While most Russians, including single mothers, believe that two-parent families are preferable, many also contend that single motherhood is an inevitable by-product of two intractable problems: "weak men" (reflected, they argue, in the country's widespread, chronic male alcoholism) and a "weak state" (considered so because of Russia's unequal economy and poor social services). Among the daily struggles to get by and get ahead, single motherhood, Utrata finds, is seldom considered a tragedy. Utrata begins by tracing the history of the cultural category of "single mother," from the state policies that created this category after World War II, through the demographic trends that contributed to rising rates of single motherhood, to the contemporary tension between the cultural ideal of the two-parent family and the de facto predominance of the matrifocal family. Providing a vivid narrative of the experiences not only of single mothers themselves but also of the grandmothers, other family members, and nonresident fathers who play roles in their lives, Women without Men maps the Russian family against the country's profound postwar social disruptions and dislocations.
Publisher: Cornell University Press
ISBN: 9780801479571
Number of pages: 288
Weight: 482 g
Dimensions: 235 x 156 x 17 mm
---
MEDIA REVIEWS
"A babushka is more valuable to a mother than a man, but her work goes unrecognized. Such is a major finding of Jennifer Utrata's engaging and well-researched book on single motherhood in contemporary Russia. In it, she dissects the forces, in particular the discourses, that shape Russian families today, repeatedly challenging conventional wisdom and scholarly dogma aboutthe lives of single mothers.... Overall, Utrata's book is an exceptional discussion of many aspects of family life that clarifies a complicated environment without oversimplifying it. Her discoveries that challenge conventions of social science - particularly that the cure for single motherhood is marriage - should not be ignored. As Utrata notes in her conclusion, her research is relevant not only to the study of Russian society, but also American society, with its high rates of marriage, divorce, and single motherhood. This book is an important contribution to social science research, and also an informative and very readable overview of contemporary Russian family life that is valuable to anyone studying Russia today."
-- Lisa Woodson * Canadian-American Slavic Studies *
"Currently, family life in Russia is undergoing what Jennifer Utrata aptly calls a 'quiet revolution,'a shift from a two-parent to a single-parent family model. InWomen without Men,she presents a comprehensive and multidimensional portrait of this process. Overall, the text sheds light on the previously understudied topic of single motherhood in Russia, contributing not only to Russian studies but to the sociology of gender in general. It provides a useful look on how neoliberal policies affect families on the global scale, how families respond to it, and how changes in Russian family structure may help us to understand and contextualize similar developments in American families."
-- Alexander Novitskaya * The Russian Review *
"Even as I would have welcomed more discussion of single motherhood's impact on children; of fathers' treatment of children as a factor in mothers' decisions to leave or stay; and the historian in me a longer temporal perspective, I very much appreciated what Utrata does accomplish. For its illuminating treatment not only of single motherhood but also of Russia's contemporary gender order and the policies and rhetoric that have shaped it, I recommend her book enthusiastically."
-- Barbara Alpern Engel * Slavic Review *
"In Women without MenJennifer Utrata focuses on one of the most significant implications of Russia's transition from state socialism to market capitalism the growth of single motherhood.... In her study Utrata take the readers inside the modern Russian family illuminating how recent sociopolitical transformations affect people's private life."
-- Anna Shadrina * Journal of Soviet and Post-Soviet Politics & Society *
"In this engaging, deceptively unassuming work, Jennifer Utrata manages to challenge several bodies of scholarship and offer a persuasive argument for rethinking many key assumptions underlying theories of family life, poverty, and gender. Although, as the subtitle indicates, the book focuses on post-Communist Russia, Utrata's ultimate goal is to broaden the way in which we view single motherhood more generally, with particularly important potential consequences for poor women of color in the United States."
-- Judith Record McKinney * American Journal of Sociology *
"The post-Soviet Russian society is in transition from state socialism to neoliberal capitalism. Utrata (Univ. of Puget Sound) focuses on its implications for single motherhood, family life, and gender relations. Through case studies and respondents' voices, this comparative, insightful analysis emphasizes the cultural meaning of single motherhood. This excellent book makes a major contribution to family, gender, and Russian studies. Summing Up: Highly recommended."
-- D. A. Chekki * Choice *
"Women without Men is a well-written and persuasively argued book about a topic that is central to Russian society. Jennifer Utrata does an excellent job of placing the rising rates of single motherhood in broader historical, cultural, and political-economic contexts; she rightly captures the normalcy of this phenomenon and provides richly elaborated, multifaceted explanations of how Russian women make sense of single motherhood. This book has the potential to change the sociology of the family in a most profound way."
-- Michele Rivkin-Fish, University of North Carolina, Chapel Hill, author of
Women's Health in Post-Soviet Russia
"Four decades back, Soviet leaders gave out glorious awards to men who toiled in mines and factories to develop the Soviet economy-Stakhanovite awards they were called. In neoliberal Russia today, too, most public glory goes to men for paid work. But what of women's invisible labor at home? In this extraordinary book, Jennifer Utrata takes us inside the modern Russian family where women-young mothers and their babushkas-raise the next generation on their own with virtually no help from men or government. In truth, virtually all Russian mothers are single mothers, Utrata observes, who hold together a deeply damaged society-without a glorious award. Based on years of intensive interviews and fieldwork with over 150 Russians-even living with some families-Utrata offers a rare in-depth portrait of Russian family life, destined to become a classic in the field."
-- Arlie Hochschild, author of
The Outsourced Self
and
So How's the Family? and Other Essays
"One great strength of Utrata's book is that she speaks to populations adjacent to single mothers as well, engaging with grandmothers caring for their adult daughters' offspring, married mothers, and fathers. This work embeds her study of single motherhood in a larger landscape of transforming gender ideologies and gender relations. It also reveals that both men and women, regardless of age or marital status, share the belief that men are undependable and that womenare almost superhumanly strong. Approaching this study from multiple perspectives not only increases the depth and texture of answers to inquiries, but elicits new questions to be asked."
* Women East-West *
You may also be interested in...
Simply reserve online and pay at the counter when you collect. Available in shop from just two hours, subject to availability.
Thank you for your reservation
Your order is now being processed and we have sent a confirmation email to you at
When will my order be ready to collect?
Following the initial email, you will be contacted by the shop to confirm that your item is available for collection.
Call us on or send us an email at
Unfortunately there has been a problem with your order
Please try again or alternatively you can contact your chosen shop on or send us an email at