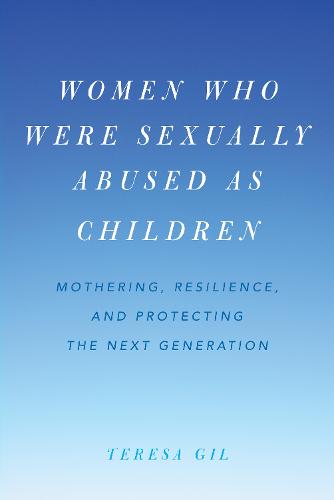 Women Who Were Sexually Abused as Children: Mothering, Resilience, and Protecting the Next Generation (Hardback)
Teresa Gil
(author)
Hardback
224

Pages / Published: 24/08/2018
Stories of mothers who survived sexual abuse as children reveal the struggles, challenges, and triumphs of this special group of women. Unraveling the veil of silence and capturing the experiences of mothers who were sexually abused as children, this book offers a first step in both supporting mothers and disrupting the cycle of intergenerational abuse that keeps these mothers isolated and alone in their mothering challenges and successes. Each story reveals the concerns, the needs, the difficulties, and the fears these mothers confront as they parent their children while struggling with their own past experiences. By examining the therapeutic needs and concerns of mothers who have survived child sexual abuse, Teresa Gil offers special insight into understanding and supporting these remarkable women. At issue is understanding what helps women who were sexually abused as children to survive and to parent effectively. Written for adult mothers who were victims of childhood sexual abuse, as well as for helping professionals, this book reveals the touching details of the pain and triumphs of mothering as a survivor and examines the protective factors that support resiliency and assist survivor/mothers to overcome challenges and to provide safe environments for the next generation.
Publisher: Rowman & Littlefield
ISBN: 9781538101773
Number of pages: 224
Weight: 481 g
Dimensions: 235 x 161 x 25 mm
---
MEDIA REVIEWS
Fortunately, as Gil discusses, a strong mother-daughter relationship, spiritual beliefs, and therapy can help prevent problems. There's a good index and a bibliography, which notes multiple studies. Expect comfort. * Booklist *
In Women Who Were Sexually Abused as Children: Mothering, Resilience, and Protecting the Next Generation, Teresa Gil pulls the curtain back on the transgenerational consequences of childhood sexual abuse. In this powerful book we hear the voices of brave women as they attempt to break free from their entanglement in cycles of despair and dysfunction. As a skilled and compassionate therapist, Gil provides clinical insights into strategies to witness, support, and treat the broad array of consequences of childhood sexual abuse. Reading this book provides insights into the heroic attempts of these women to be good parents and break the incapacitating feelings of shame and hopelessness that had served as an insurmountable barrier in their desire to connect and co-regulate with their children and to trust other adults in their lives. -- Stephen W. Porges, Distinguished University Scientist, Kinsey Institute, Indiana University
This topic has needed a book for years! Thankfully, Teresa Gil noticed and has filled the gap. It is a book that will be of use to survivor/mothers and their families and supporters, including their therapists. Adult survivors of incest/child sexual abuse who become mothers often lack role models due to the deficits in their own upbringing and the pervasive shame and sense of inadequacy that can result from such a history. Survivor/mothers often doubt their capabilities to adequately love their own children and are instead fearful of hurting them or of being unable to protect them. Gil thoroughly outlines the many issues at play that help in breaking the cycle of abuse and protecting the next generation. -- Christine A. Courtois, PhD, ABPP, Co-Author, "Treating Complex Trauma: A Sequenced, Relationship-based Approach" and Author, "Healing the Incest Wound: Adult Survivors in Therapy"
In this deeply compassionate, timely, and immensely practical text, Teresa Gil explores adulthood experiences of mothering by women sexually abused as children, drawing on interviews, clinical experiences and research to document vulnerabilities. More importantly, she identifies resiliency resources and ways to nurture these within and outside clinical settings, permitting women to care for themselves and their children in transformative ways. Informative for clinicians and accessible for the public, Gil's book should be read widely as a guide for recognizing the harms of this too common adversity, appreciating the healing power of our enduring capacity to love, and acting on policies for prevention. -- Ester R. Shapiro, associate professor, psychology department, University of Massachusetts, Boston
I am pleased to recommend this new book, Women with Histories of Childhood Sexual Abuse: Mothering, Resiliency, and Protecting the Next Generation, to both practitioners and the many women I have worked with as a lactation consultant who want to change the legacy of their childhoods and move forward in a positive way. Theresa Gil has written a lovely book that addresses the reality these women face but does so in a way that empowers them. So many books on this topic describe the negative effects of child sexual abuse, and they are many. This book does that but also offers women a way out. -- Kathleen Kendall-Tackett, IBCLC, FAPA; editor-in-chief "Psychological Trauma;" author, "Depression in New Mothers, 3rd Edition"
I've been wanting to read this book for my entire career: now it is finally available. I recommend it for mothers, but also therapists, healthcare workers, people who work in social service systems that serve families, and families of those who have survived sexual abuse as children. It radiates hope. -- Leslie Ann Costello, PhD, founder, WomanCare Psychological Services, Fredericton, New Brunswick, Canada
Abuse in childhood, is, sadly, all too common. Of the women I manage for perinatal mental health problems, as many as 70-80% have a background that includes emotional abuse or neglect and often physical and/or sexual abuse. Having a baby stirs these memories up, and can make the transition to parenthood even more difficult. Not only are they retraumatised--they don't feel they have the right role models to help them to do what is perhaps the hardest task many of us take on. How does one not repeat problems from the past, what does one need to do to be a "good enough" safe parent? Gil overts the very real fears and issues that many of these women face. While she focuses on sexual abuse, there is material here that will benefit all women--and men--whose childhoods were ones where they did not feel safe. Knowing you are not alone, and understanding what has happened and why it has come up again now, as a new parent, are critical steps in recovery, and will help women be the best parent they can be. A sensitive, thoughtful, in depth look at a problem that all too often gets swept under the carpet. -- Anne Elizabeth Buist, MBBS,MMed,MD,FRANZCP; professor, Women's Health Institute, University of Melbourne
It's clear from her new book that Teresa Gil is on a very important mission: How to help mothers who were sexually abused as children rise above their painful past so that they and their children can go on to lead meaningful and productive lives. Through her many years of experience treating mothers who were sexually abused as children, Teresa has grown keenly aware of their resilience and courage, and the human capacity to grow stronger in the face of adversity. -- Mark Katz, author, "Children Who Fail at School but Succeed at Life" and "On Playing a Poor Hand Well"
In this era of heightened awareness of sexual abuse against women, one group of women has up to now received too little attention. Psychotherapist Teresa Gil redresses this in her important book, which focuses on women who were sexually abused as children and then went on to become mothers. After 25 years as a clinical psychotherapist working with such women, she unravels the veil of silence and shame that kept them isolated and alone. By telling their stories, highlighting their struggles, and examining the factors that support resiliency in them and emotional health in their children, her book offers hope and practical help for these women, their family and friends who act as allies, and professionals in the field who work with this group of mothers and their children. -- Sally Wendkos Olds, award winning author
Gil has written a book that breaks the silence endured by many mothers who are also survivors of sexual abuse, normalizes their experiences, offers the potential of healing their shame, and provides a sense of hope for the future. With heartfelt compassion and clarity, Gil brilliantly combines theory and practical information for therapists with interviews and stories that clients can learn from and/or relate to their own life situations. -- Hope Langner, Director of Coach Training, CTI
Gil's book is the first to look specifically at the effects of childhood sexual abuse on mothering. The challenges that arise at different stages of development, single-parenting, learning new skills to make mothering easier, developing support systems - especially when families are not supportive, and preventing another generation of abused children are all addressed in this important and timely book. -- Mia Morosoff, LCSW
In her writing, Teresa Gil unravels the pain and fear of women victimized by childhood sexual assault. While powerful stories of trauma serve as the backdrop, it is the process of healing and breaking the silence of abuse that resonates throughout the book, highlighting the protective factors that promote resiliency and serve to stop the cycle of intergenerational abuse. The book brings to light the struggles and challenges of women striving to take back their agency, coming to terms with the potential long lasting implications of abuse. It is an insightful read for anyone affected by the trauma of assault as well as practitioners' efforts to support women. -- Todd M. Wysocki, PhD, Professor of Psychology, Hudson Valley Community College
For practitioners and survivors, this book brings awareness to the, often unrecognized, effects that sexual abuse survivors may experience when mothering. The narratives demonstrate the broad spectrum of reactions and normalize these experiences for survivors. However, the book also highlights the mind-body connections and the ways to foster resiliencies to help women heal. This is a must-read for every mothering survivor and every clinician that works with these women. -- Nicole Arduini-Van Hoose, MEd, LMHC, Assistant Professor, Hudson Valley Community College
You may also be interested in...
Simply reserve online and pay at the counter when you collect. Available in shop from just two hours, subject to availability.
Thank you for your reservation
Your order is now being processed and we have sent a confirmation email to you at
When will my order be ready to collect?
Following the initial email, you will be contacted by the shop to confirm that your item is available for collection.
Call us on or send us an email at
Unfortunately there has been a problem with your order
Please try again or alternatively you can contact your chosen shop on or send us an email at