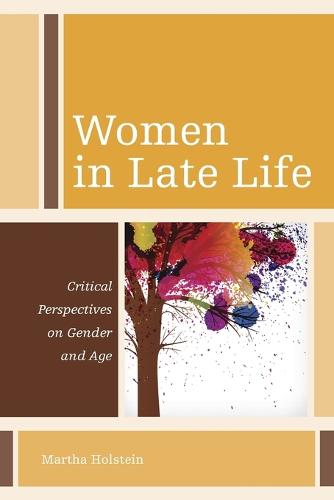 Women in Late Life: Critical Perspectives on Gender and Age - Diversity and Aging (Paperback)
Martha B. Holstein
(author)
Paperback
316

Pages / Published: 19/03/2015
In stock online

Free UK delivery
Contemporary old age is fraught with contradiction and complexity-women portrayed either as incompetent and cuddly grandmothers or as young women trapped in old bodies, images that rarely reflect how women actually see themselves. Women in Late Life explores the thorny issues related to gender and aging, including prevailing but problematic cultural expectations, body image, ageism, the experience of chronic illness, threats to Social Security and the very possibility of a secure retirement while challenging a long-term care system that disadvantages women. Author Martha Holstein writes from a critical feminist perspective, drawing on her many years of experience in gerontology, as well as interviews and personal experience as a woman now in her seventies. The book highlights how women's experience of late life is shaped by the effects of lifelong gender norms, by contemporary culture-from gender stereotypes to ageism-and by the political context. The book blends critique with proposals aimed at resisting damaging inequities resulting from being simultaneously old and a woman. She focuses on changes needed on multiple levels-societal, cultural, political, and individual. This interdisciplinary look at key questions around gender and aging is nuanced and beautifully written.
Publisher: Rowman & Littlefield
ISBN: 9781442222878
Number of pages: 316
Weight: 422 g
Dimensions: 226 x 154 x 17 mm
---
MEDIA REVIEWS
Holstein, a feminist scholar of aging, has written a compelling book about the distinctive challenges facing older women in the contemporary US. Older women share universal challenges ranging from biological aging to both subtle and overt ageism, yet their lived experiences vary widely based on their social locations-including race, social class, sexual orientation, (dis)ability status, and even physical appearance. The author integrates personal insights drawn from her experiences as a septuagenarian woman scholar with empirical social science research, critical gerontology theory, descriptions of cultural forces that (dis)empower older women, and informal interviews with the women of Mayslake, an independent living facility outside Chicago. The book builds on two additional themes. First, power informs both how one ages and the organization of resources, opportunities, and benefits afforded to older women. Second, `old' should not be a devalued and stigmatized status, but one that is celebrated and respected. These themes set the foundation for substantive chapters on ageism, chronic illness, long-term care, retirement, end-of-life care, and activism. Holstein provides a thought-provoking and intimate tutorial into the lives and challenges of contemporary older women. Summing Up: Highly recommended. Upper-division undergraduates and above. * CHOICE *
In many ways, this volume represents Martha Holstein's tour de force as a feminist scholar of aging, as an activist, and as an ethicist. Here we have a beautifully written book that combines the personal and the political; it employs both interdisciplinary and critical gerontological and feminist perspectives. Holstein does not shy away from the complexities and challenges of aging, including end-of-life issues. Yet she also empowers us to take charge of our aging and to shape it despite the powerful ageist cultural messages that permeate our daily lives. Indeed, she gives us a template for disrupting dominant ways of thinking about old age, in general, and thinking about old women, in particular. . . .Those of us who teach aging courses to both undergraduates and graduates would do well to require our students to read this book-the content alone justifies this requirement, but there is an added bonus in that the author provides a superb and compelling model of feminist scholarship and writing. . . .In this book Martha Holstein has not only given us a comprehensive, critical, and bold exploration of gender and age, she has additionally provided us a template for how to bring about much needed change. * The Gerontologist *
In her new book, Women in Late Life: Critical Perspectives on Gender and Age, author Martha Holstein has given educators, gerontologists, health professionals, and care-givers a beautifully written treatise on aging, women as we grow older (she's reluctant to use the term 'old'), and gender and age as the political and cultural issues they are in today's society....Women in Late Life is a valuable addition to the libraries of graduate students of gerontology, to healthcare providers in institutional, community and residential settings, to policy-makers in a variety of organizations serving women as they age, and to caregivers for women who are aging. The book is easily accessible without jargon or oppressive academic language, interspersed with engaging and authentic stories that bring life to the issues raised, and beautifully crafted for all audiences. * Educational Gerontology *
Holstein's outstanding book is eloquently argued, providing a novel critical and feminist perspective on gender and late life. Written by a feminist scholar, reflexive about her own aging, this carefully crafted, insightful book is destined to become a social science classic. -- Sara Arber, Professor, Co-Director, Centre for Research on Ageing and Gender (CRAG), University of Surrey, UK
Holstein provides an unflinchingly critical examination of dominant culture's construction of aging as a personal and moral responsibility to age "successfully." Her treatment of the subject is thorough, providing discussions of both the construction's resonance with the prevailing neoliberal political agenda and its numerous social and psychological costs, particularly for women. The book is a compelling and much-needed call for scholars and activists to challenge this construction and replace it with women's diverse, honest stories that can collectively bring about social change. -- Anne Barrett, Florida State University
When reading Martha Holstein's book, I felt that for the first time I could see myself through the lens of aging, which is a frightening yet liberating thing to experience. As a female gerontologist approaching 50, I find myself struggling with culturally embedded issues of aging in ways that my formal research training had not prepared me for. Although I thought I knew some things about later life, this book reminded me that there are deeply rooted complexities tied to age that threaten personal identity on the personal and political level. Framed by strong critical theory, the personal insights lends an authenticity and immediacy to discussions of ageism, productivity, chronic illness, and other topics. I want all of my students to read this book so that they work to dismantle the fictions about later life and advocate for change. -- Kate de Medeiros, PhD, Robert H. and Nancy J. Blayney Professor of Gerontology, Miami University, Oxford, OH
Martha Holstein has long been one of the best writers on the health care issues, politics, and ethics of aging. Her analysis in Women in Late Life is superb. -- Margaret Cruikshank, University of Maine Women's Studies (retired)
Reading this book makes me excited to teach Sociology of Aging again. Holstein accomplishes here what no other book in the field offers; by offering a comprehensive interdisciplinary text that is part personal and community narrative, part social science and ethics of aging, and part feminist gerontology. From page one, I felt like I was immediately pulled into a conversation with Holstein herself, as she reflected on and contextualized some of the most pressing contemporary aging issues such as aging bodies, care for elders, chronic illness, social security, dying, and more. I know that my students will appreciate being invited into this well-researched conversation with noted gerontologist and ethicist Martha Holstein, who has been "thinking about these issues for a long time," and it shows. -- Meika Loe, Colgate University; author of Aging Our Way: Independent Lives, Interdependent Realities
Martha Holstein has written a highly intelligent work that blends extraordinary scholarship with personal experience through a critical gerontological and feminist framework. It is a text on the phenomenology of women's aging, recognizing the impact of the past on present and future experiences. It is a manifesto to challenge gender and age bias, and a depiction of every woman's journey through uncharted paths of later life. This book is pertinent for all women and men to embrace (rather than evade) age as a valued "work in progress." -- Marcia Spira, Loyola University Chicago
Martha Holstein advances a brilliant interpretation of the challenges faced by women in old age, effectively deploying a feminist lens to illumine multiple social inequalities shaped, particularly, by gender and social class. The book's trenchant analysis is a call to justice for a population ignored and sometimes maligned in contemporary political and cultural discourses. Holstein's scholarly writing is augmented by her poignant personal voice, which serves to model the kind of storytelling the American public urgently needs to hear to appreciate the diversity of old women's lives. -- Frida Kerner Furman, DePaul University
Women in Late Life is a profound contribution to feminist scholarship and critical gerontology, vividly portraying the intersectionality of ageism, sexism, ableism, classism, and power; and critiquing gerontological paradigms of successful and productive aging influenced by our societal values of independence and privatization. Holstein's commitment to social change and collectivist public policy oriented toward social justice, to assuring that the voices of old women are heard by those with power and privilege, and to "owning" and reclaiming our aging despite the pervasiveness of ageism in our society are underlying themes. The book is a remarkable blend of the personal and the political, relying on women's voices and individual biographies intersecting with the scholarly evidence base on gender and aging. The reader will savor the deep wisdom and insights embedded in Holstein's eloquent writing and find the book hard to put down. This book is a gift in the finest sense of the word. -- Nancy Hooyman, University of Washington
It is critical that those of us who work with older women read Holstein's book. It will help build empathy and understanding of the many societal factors, including ageism, that have come together to form the expectations and structures in which older women live their lives. -- Robyn L. Golden, LCSW, Director of Health and Aging, Rush University Medical Center
Holstein has written one of the finest books now available on the lives and prospects of older women. She integrates a wide range of literature with her own personal experiences and those of many other women to create a captivating narrative about the world of older women as it is and how it could be made far more just and livable for everyone. Holstein carefully analyzes the economic, political, and cultural sources of disadvantage that make women twice as likely as men to be poor in their old age and far more dependent on Social Security. She also clearly delineates the kinds of policy and cultural changes that could greatly improve the lives of older women and men. Holstein has, in short, written a passionate and scholarly manifesto for a more just and equitable old age for everyone ,regardless of gender, race/ethnicity, or social class. -- Larry Polivka, Ph.D., Executive Director, The Claude Pepper Center and Scholar in Residence, Claude Pepper Foundation, Florida State University
This book is a tour de force. There is nothing like it. It is scholarly and personal, critical, and inspiring - all at the same time. Women in Late Life will appeal to public as well as academic audiences. And it is as important for men as it is for women. -- Thomas R. Cole, McGovern Center for Humanities and Ethics, University of Texas School of Medicine
In an account that is both erudite and personal - drawing on the written record from philosophy to popular culture, interspersed with her own personal experience and those of friends and associates, Holstein's new book sets an ambitious agenda: nothing less than redefining the meaning and circumstances of being an old women in America. She captures the rage of women who realize that others will inevitably "read" and interpret their old faces and bodies and marginalize them accordingly. She recognizes herself as a relatively privileged old woman as she considers social, professional, and family relationships, and gives ample consideration to low-income old women and the public policies that sustain or undo them. Though she offers few answers beyond a call for old women to own the topic and communicate about it privately and publicly, it is a must-read for gerontologists, and an antidote to scholars and commentators on aging among us who rarely write or utter the word "old." In contrast, Holstein unflinchingly embraces the term "old" and the task of redefining it. One hopes others will take up her challenge and carry this important work further. -- Rosalie A. Kane, University of Minnesota
You may also be interested in...
Simply reserve online and pay at the counter when you collect. Available in shop from just two hours, subject to availability.
Thank you for your reservation
Your order is now being processed and we have sent a confirmation email to you at
When will my order be ready to collect?
Following the initial email, you will be contacted by the shop to confirm that your item is available for collection.
Call us on or send us an email at
Unfortunately there has been a problem with your order
Please try again or alternatively you can contact your chosen shop on or send us an email at