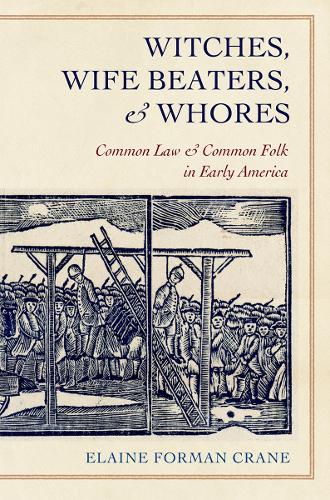 Witches, Wife Beaters, and Whores: Common Law and Common Folk in Early America (Paperback)
Elaine Forman Crane
(author)
Paperback
272

Pages / Published: 24/07/2012
The early American legal system permeated the lives of colonists and reflected their sense of what was right and wrong, honorable and dishonorable, moral and immoral. In a compelling book full of the extraordinary stories of ordinary people, Elaine Forman Crane reveals the ways in which early Americans clashed with or conformed to the social norms established by the law. As trials throughout the country reveal, alleged malefactors such as witches, wife beaters, and whores, as well as debtors, rapists, and fornicators, were as much a part of the social landscape as farmers, merchants, and ministers. Ordinary people "made" law by establishing and enforcing informal rules of conduct. Codified by a handshake or over a mug of ale, such agreements became custom and custom became "law." Furthermore, by submitting to formal laws initiated from above, common folk legitimized a government that depended on popular consent to rule with authority.
In this book we meet Marretie Joris, a New Amsterdam entrepreneur who sues Gabriel de Haes for calling her a whore; peer cautiously at Christian Stevenson, a Bermudian witch as bad "as any in the world;" and learn that Hannah Dyre feared to be alone with her husband-and subsequently died after a beating. We travel with Comfort Taylor as she crosses Narragansett Bay with Cuff, an enslaved ferry captain, whom she accuses of attempted rape, and watch as Samuel Banister pulls the trigger of a gun that kills the sheriff's deputy who tried to evict Banister from his home. And finally, we consider the promiscuous Marylanders Thomas Harris and Ann Goldsborough, who parented four illegitimate children, ran afoul of inheritance laws, and resolved matters only with the assistance of a ghost. Through the six trials she skillfully reconstructs here, Crane offers a surprising new look at how early American society defined and punished aberrant behavior, even as it defined itself through its legal system.
Publisher: Cornell University Press
ISBN: 9780801477416
Number of pages: 272
Weight: 454 g
Dimensions: 235 x 156 x 18 mm
---
MEDIA REVIEWS
"This enthralling, deeply researched work demonstrates vividly that early Americans lived in a world saturated by the law. Crane is interested specifically in the 'common folk' of her title; tavern keepers, merchants, a handful of witches, murdered and battered wives, an enslaved black man. To uncover how the law suffused their world, Crane employs the methodology of microhistory, an approach used with great success by historians seeking to discern the lives and mentalities of those often not able to speak for themselves. Crane has undertaken research in challenging sources. Even more impressively, she has taken snippets of information and woven them into engaging, moving, and occasionally riveting stories. Crane demonstrates through her painstakingly re-created life histories just how much 'legal culture and the routine of daily life were knotted together in early America.' . . . Crane's admirable book is likely to inspire many further studies that will help answer some important questions. In the meantime, she has blazed a trail with her exemplary study, demonstrating that it is possible to bring the dead to life even without the aid of a ghost. Instead, Crane offers us an engaging and detailed analysis of how ordinary people understood and deployed the law in the most adverse circumstances, drawing us in with stories that are sometimes heartbreaking, sometimes funny, sometimes confounding, but always intriguing and absorbing."-Common-place
"Elaine Forman Crane offers a new variation by using the common theme of legal interactions among Europeans and Africans in colonial North America to link six individual microhistories in a single volume. . . . The greatest strength of Witches, Wife Beaters, and Whores is Crane's discussion of trials from four very different colonies. . . . Crane's research, analysis, and storytelling skills are impeccable. Witches, Wife Beaters, and Whores provides readers with a vivid array of characters seemingly designed to walk into lecture halls and dinner-table conversations as illustrations of the rich and complex world of colonial America."-William and Mary Quarterly
"Crane's earlier microhistory, Killed Strangely, proved her mastery of the genre, and this new book moves us a step closer to understanding law's place in the construction of American society and institutions. A successful legal microhistory has four characteristics: The work must tell a compelling story; place the events in a larger historical context; analyze legal issues without losing the narrative thread; and explain how the case illuminates the rule of law in society. Crane succeeds in every respect. Her stories grab our attention, enlarge our understanding through the power of example, and leave us better equipped to identify significant trends. Morever, Crane offers us a master class in the scrupulous interpretation of court records. Her rigorous interrogation of her sources, exposing all their ambiguities and lacunae, furnishes a model for all who would practice the historian's craft."-American Historical Review
"Elaine Forman Crane has unearthed unique stories in local records across both space and time, from mid-seventeenth-century New Amsterdam and Bermuda to eighteenth-century New England to postrevolutionary Maryland. The matters these cases addressed were as diverse as the places they occurred, and Crane uses each chapter to craft a story about such issues as the power of words, domestic violence, rape, and loss of economic stability. Each vignette illustrates how ordinary people's negotiations of extraordinary circumstances helped create distinctively American legal cultures. . . . Crane's work pokes holes in such generalization as those on the rise of companionate marriage and the relationship between economic and legal power in early America. With this series of local studies Crane contributes even more evidence to support the argument that Americans shaped their law to meet needs peculiar to their own time and place."-Journal of American History
"Crane delves deeply into the historical record-particularly legal documents-to present sometimes salacious and always fascinating stories of illegal activities from the past and the ways that individuals and communities sought to right wrongs and mete out punishments. . . . Crane has selected remarkable stories and pieced together an incredible array of detail from the available documents."-Bridget M. Marshall, Early American Literature (2013)
"With sensitivity and imagination, Elaine Forman Crane recaptures little-known episodes of witchcraft, murder, sexual assault, and domestic violence. She skillfully explores how deeply ingrained understandings of law and legal culture shaped the behavior of ordinary people in early America--whether victims, perpetrators, or neighbors. The book is a model of how legal sources can be mined to illuminate the workings of property, power, race, and gender in everyday life."-Bruce H. Mann, Carl F. Schipper, Jr. Professor of Law, Harvard Law School, author of Republic of Debtors: Bankruptcy in the Age of American Independence
"In Elaine Forman Crane's deft retelling, tales of Bermuda witches, domestic violence and a rape accusation in Rhode Island, gossipers in New Amsterdam, and a Maryland ghost offer us revealing windows into the legal culture of early America. Her careful analyses will intrigue and enlighten all readers of this remarkable volume."-Mary Beth Norton, Mary Donlon Alger Professor of American History, Cornell University, author of Separated by Their Sex: Women in Public and Private in the Colonial Atlantic World
"Elaine Forman Crane writes with verve, wit, and clarity. Each chapter of this book is a little gem, a self-contained historical narrative that conveys both the larger context and the specific information necessary to understand the issues at stake. Readers will find themselves engrossed in a fascinating array of tales that range from a shocking instance of family violence in early New England, to an ambiguous case of purported interracial rape in Rhode Island, to the surprisingly persistent belief in witches in colonial Bermuda and Maryland."-Rosemarie Zagarri, George Mason University, author of Revolutionary Backlash: Women and Politics in the Early American Republic
You may also be interested in...
Simply reserve online and pay at the counter when you collect. Available in shop from just two hours, subject to availability.
Thank you for your reservation
Your order is now being processed and we have sent a confirmation email to you at
When will my order be ready to collect?
Following the initial email, you will be contacted by the shop to confirm that your item is available for collection.
Call us on or send us an email at
Unfortunately there has been a problem with your order
Please try again or alternatively you can contact your chosen shop on or send us an email at