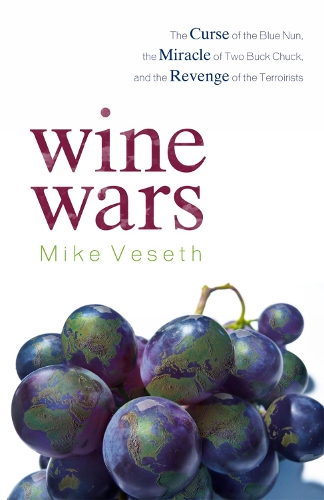 Wine Wars: The Curse of the Blue Nun, the Miracle of Two Buck Chuck, and the Revenge of the Terroirists (Paperback)
Mike Veseth
(author)
Paperback
264

Pages / Published: 16/10/2012
Writing with wit and verve, Mike Veseth (a.k.a. the Wine Economist) tells the compelling story of the war between the market trends that are redrawing the world wine map and the terroirists who resist them. Wine and the wine business are at a critical crossroad today, transformed by three powerful forces. Veseth begins with the first force, globalization, which is shifting the center of the wine world as global wine markets provide enthusiasts with a rich but overwhelming array of choices. Two Buck Chuck, the second force, symbolizes the rise of branded products like the famous Charles Shaw wines sold in Trader Joe's stores. Branded corporate wines simplify the worldwide wine market and give buyers the confidence they need to make choices, but they also threaten to dumb down wine, sacrificing terroir to achieve marketable McWine reliability. Will globalization and Two Buck Chuck destroy the essence of wine? Perhaps, but not without a fight, Veseth argues. He counts on "the revenge of the terroirists" to save wine's soul. But it won't be easy as wine expands to exotic new markets such as China and the very idea of terroir is attacked by both critics and global climate change. Veseth has "grape expectations" that globalization, Two Buck Chuck, and the revenge of the terroirists will uncork a favorable future for wine in an engaging tour-de-force that will appeal to all lovers of wine, whether it be boxed, bagged, or bottled.
Publisher: Rowman & Littlefield
ISBN: 9780742568204
Number of pages: 264
Weight: 413 g
Dimensions: 225 x 154 x 21 mm
---
MEDIA REVIEWS
Fascinating. . . . Political economist and blogger Veseth examines the wine world and analyzes its historical and present-day factors from the small to the large along with their potential impact on wine's future. He structures his overall argument into three major 'flights,' or selection of wines for tasting, the first being the effects of globalization. Looking at expansionist politics and economics, he examines retailing policies in domestic markets such as England, Germany, and the U.S. Veseth turns to the wine drinking market and its evolution, and the ever-expanding influence of wine criticism on both in the face of the rapid changes in bulk production. The last part of his analysis looks at terroir and the potential effect of climate change. . . . Veseth's analysis is provocative. * Publishers Weekly *
Seeking to view the global wine trade through an economist's lens, Veseth (international political economy, Univ. of Puget Sound; Globaloney: Unraveling the Myths of Globalization) takes readers through an engaging examination of international wine markets and the impact of consumers. Veseth carefully explains the construction of stores' wine walls, including the psychological, physiological, and economic impact of the placement of wines on them (think of reaching up for the 'top shelf'). Also included is an analysis and breakdown of the wine consumer market into distinctive groups, such as 'Satisfied Sippers,' 'Image Seekers,' and 'Wine Enthusiasts.' Veseth's basic premise is that the modern, globalized market now pits mass-made bargain wines against stuffy, epicurean standbys, creating limitless choices for certain types of consumers and turning the traditional model for what drives industry sales on its head. VERDICT This book will interest not only oenophiles but also general readers following the global economy or market analysis. * Library Journal *
This is a serious book about the future of the wine industry that does not take itself too seriously. The writing of wine experts has long been lampooned for its pretension and incomprehensibility to the layperson. Veseth (economics, Univ. of Puget Sound) avoids these traps, although readers disdaining puns may wish he had not. He has produced an accessible, insightful book that shows he obviously has both intellectual understanding of and emotional attachment to the topic. His main intent is to address the potential benefits and dangers of various developments in the wine industry. Has globalization meant more choices at affordable prices or the homogenization of the choices facing consumers? How will climate change impact the traditional wine centers in Europe and the newly established regions in the New World? Will competition divide the market into a broad base of cheap wine in cardboard boxes for the masses and traditional wines costing thousands of dollars per bottle for a few elites? Veseth maintains his optimism, even if the prevailing mood is more dismal, and his optimism should be infectious for both wine lovers and those simply looking for an informative, entertaining book about the economics of a particular market. Summing Up: Highly recommended. All readership levels. * CHOICE *
Wine is, first and foremost, a business, though the nuts and bolts of economic survival rarely make for good reading. Enter Mike Veseth, who brings the mind of a trained academic and the writing talent of a veteran blogger to this fascinating exploration of the macroeconomic forces shaping the global wine industry. He knows his subject inside and out, and after reading Wine Wars you will have a deeper understanding of the major trends that are shaping not only the business of wine but the actual flavors of the wines you drink. -- Paul Gregutt, columnist, blogger, and author of Washington Wines & Wineries: The Essential Guide
If we are what we drink, Mike Veseth knows the reasons have as much to do with market forces as mouthfeel. He is as at home with a winery's annual report as a vintner's tasting notes, and this delightfully unstuffy tour of the modern wine industry will fascinate anyone who wants to understand how business works today. -- Sasha Issenberg, author of The Sushi Economy: Globalization and the Making of a Modern Delicacy
In the fine tradition of insightful and accessible bestsellers like Freakonomics and The World Is Flat, Wine Wars provides a valuable service to wine enthusiasts everywhere. By combining a clear-eyed economist's point of view with globalization expertise, Veseth offers an insightful and accessible survey that will give readers an understanding not only of what's in the glass, but also how it got there, and what the future may hold as the borders of the global wine village draw closer. This is an important work and a fun read, too. -- Jeff Lefevere, writer, Goodgrape.com
Mike Veseth's Wine Wars is broader than simply a book on the economics of wine, but it definitely looks at the trends that shaped the global wine industry as it has become today from an economist's perspective. . . . These stories are fascinating and informative. . . . Anyone with an intellectual curiosity as to how all the factors came together to produce the wines available to us today will find much in Wine Wars to satisfy that curiosity. * New York Journal of Books *
Written by a wine economics expert who lives in Washington, this book provides fascinating history on the globalization of the wine industry-and why that is not necessarily a bad thing. Veseth convincingly makes arguments for why inexpensive wine is not a problem and why the wine world is unlikely to collapse on itself. All in all, it is a comprehensive, well-written and glass-half-full book. Frankly, I learned a great deal about wine, how it is made and the history of many wine regions. I learned a great deal about the Chinese market, as well as the problems going on in France and Australia. This was a hugely entertaining and valuable read. * Goodreads *
Of all the wine blogs in the wide, wide blogosphere, one that I look forward to reading the most is Mike Veseth's Wine Economist. There's nothing else quite like it. . . . As of this month, Professor Veseth's thoughts are available in long form. He's just published a book entitled Wine Wars in which he tackles economic forces as diverse as Two Buck Chuck (he's a fan), the oft-debated descent of 'real' wine into 'McWine,' and much else. It's more business book than guide to wine-but students of wine as well as the economy will find much to enlighten and even entertain, thanks to Professor Veseth's readable style. * The Wall Street Journal *
A clear-eyed and expansive take on globalism and big business in wine. It's a welcome addition to the wine book shelf. . . . For many writers, the wine business is handled as a dry, academic subject, but in the hands of Veseth (like Perdue before him) it's interesting and zippy reading (bordering on a fun vacation read) and an incredibly helpful primer for not only the newly wine interested to help them understand the wine wall at their grocery store, but also savvy veterans who have, perhaps, focused their learning in specific regions, not looking at the wine world in totality and from a business perspective. * Good Grape *
Wine Wars is no dry textbook. Rather, it's a well-written story about what is-and isn't-happening to the world of wine. Every wine lover will find the stories and history of what is in their glass fascinating. * The News Tribune *
Should wine be a beverage for everyone, or should it be an artisanally nurtured nectar, whose pleasures are available only to those with sophisticated noses and the deepest pockets? Veseth documents how these two contradictory approaches dictate what wines appear on shop shelves. The apotheosis of wine-for-all is the famous 'Two Buck Chuck,' a wine made ubiquitous in America by a German-owned chain of stores. At the same time that a mass market for wine has burgeoned, newly knowledgeable consumers have become increasingly aware of 'terroir,' the unique characteristics that come from wine grapes grown in specific soils and carefully bottled and aged to bring out their most distinctive and subtle qualities. Nevertheless, outsize profits lure vintners to make their products attractive to consumers of average taste. The appearance of new markets in China and elsewhere challenges small winemakers to expand or disappear entirely. * Booklist *
Veseth takes a sideways look when discussing The Curse of the Blue Nun, The Miracle of Two Buck Chuck, and the Revenge of the Terroirists (the sub-title of the book and the three sections in which is it divided). The first two parts help understand what's different about shopping for wine at Trader Joe's and Costco, and that was enough to keep my attention. Veseth is an economist and that's one of the reasons I subscribe to his blog feed. . . . I wish there were more books like this focused on beer. * Appellation Beer *
Mike Veseth has applied his economist's perspective, his understanding of global affairs, his clear understanding of the business of wine and his crystal clear writing style to assemble one of the best wine books of 2011. . . . Veseth's analysis is thorough, sound and matter-of-fact. This is a well and tightly woven story, well-told by a creative thinker. . . . A fascinating read, this book has pace, humor and insight. * The Winesights Reader *
Veseth expertly presents the economic forces that are shaping wine consumption, and he frets about the beverage's future, particularly with the pushback seen by 'terroirists'-people who are obsessive about a wine's 'terroir,' that its identity reflect its unique growing conditions and place. The battle for wine's future isn't only about money, he posits, but also about power struggles between vintners, retailers, and governments. . . . In his artful and sometimes amusing analysis of the 'wars' taking place within the wine world as a result of all these skirmishes. Veseth untangles a complicated issue and provides a cogent summary of an industry's challenges. For anyone who appreciates a good glass of wine-or who's been disappointed by a bad one, despite a high sticker price-Veseth's insights will prove tantalizing. * Foreword Reviews *
Economist Mike Veseth is an authority on the global wine market and here presents his view of the three forces shaping the wine world today. . . . Ultimately, his view is optimistic. . . . Any consumer keen to understand how the wine world works-and may develop-will find this a highly readable, comprehensive account. * Decanter *
Mike Veseth's latest book gives an economist's perspective on the globalization of wine. The conflict he writes about is that between the globalists and the terroirists; between mass-produced and handcrafted wines; between the large multinational corporation and the small, family winery; between the wines that critics love and those that consumers purchase. . . . Fortunately, he doesn't write like an economist. Anyone familiar with his blog, The Wine Economist, already knows that he writes about wine markets in a way that non-economists can easily understand. Reading the book, I kept thinking about Freakonomics, another popular book [that] uses the principles of economics to explore and explain a variety of social phenomena in a way that anyone can understand. Mike Veseth does the same thing but focused on the wine industry. * I-Winereview Blog *
Bottom line . . . this is an informative, well-written, and interesting book that I would recommend to any wine lover interested in what a wine economist has to say. * Wine Berserkers *
This book is a lively, globe-trotting treatise. To sum up using wine reviewers' parlance: Wine Wars opens with a witty bouquet and a note of didacticism. On the palate it is well-balanced and juicy, and it has an optimistic finish that lingers. Cheers! * Kitsap Sun *
I don't even like wine, and I found Veseth's book lively and engaging. * The Seattle Times *
It's said that wine is bottled poetry, but Mike Veseth knows it is also big business. Veseth, a professor of international political economy at the University of Puget Sound in Washington, has pulled together his love of wine and economic sensibilities to write a book that is an interesting, accessible read. Veseth is clearly enthusiastic about both wine and economics, and as a self-proclaimed 'wine economist' he explains the intersection of these interests with verve. It's a quick tour of the field, and for the purposes of his discussion, he sticks to big names and describes the successes of Yellow Tail, Charles Shaw, Blue Nun, Costco, Tesco and even Olive Garden with admiration. As an economist he sees the benefits of globalization, including more choices for consumers and a stabilizing effect for an industry that reacts slowly to changes in supply and demand. * Wine Spectator *
Globalization, corporatization, and terroir-ization of the fermented grape juice industry are all uncovered in this unveiling of the dark business side of winemaking by the market-minded yet engaging writer behind WineEconomist.com. . . . [A] gift your wino will love. * Santa Barbara Independent *
Spritely written, easy to read and full of information about the history and growth of the global wine industry. . . . While dozens of fine new wineries start up in the U.S. each week and hundreds of wines can now be found on the wine wall of every large grocery store, Veseth worries that most wine drinkers never get past the few McWine makers that rule the industry. . . . He pins his hopes on winemakers he calls terroirists-those who care about the idea that wine should embody the unique tastes, aromas and characters of the place where it was made and the winemakers themselves. He believes many of those new wine drinkers will eventually graduate from lower priced bulk wines to higher priced hand-crafted local wines. Hopefully enough to support a rich and diverse market of wines for every occasion. * The Wenatchee World *
Money makes the wine go round, and Wine Wars helps to make sense of it all. . . . Not to spoil the end of the story, but Veseth remains hopeful in the end about the mix of wine dynamics. Despite the seemingly crushing power of global price-cutting and homogenization, he thinks distinctive, even quirky wines have a bright future-in other words, something for everybody. . . . Along the way, his overview of economic forces that have shaped wine's career take the reader on a number of historical excursions and international visits. The treatment is breezy and easygoing. . . . Nonetheless, Veseth does get to some fundamental economic realities behind the surface of wine, and even readers who pay attention to the ups and down of the wine market will learn something. This kind of information may not change the way your next glass of Marlborough Sauvignon Blanc tastes, but it surely will help you understand how it got there. And that, to go back to wine's many wondrous properties, gets us back to the lure of enlightenment. * Vinography: A Wine Blog *
There's never a dull moment in its 225 pages. . . . Certainly if you're a wine drinker-'oenophile' makes me visualize a trilobite-looking creature-this book provides a valuable education about what you think you're buying, and who you're buying it from. Veseth pulls back the curtain on an ongoing 'bargain wine revolution,' talking about the provenance of Trader Joe's beloved Two Buck Chuck, and how conglomerates without house brands have bought their way into an assortment of once-local brands. * SunBreak *
From the get-go you just don't want to put this book down, slaloming as it does informatively through economic and social history, the wine industry, the future, and observations setting the scene for the great battle between the market forces redrawing the world wine map and, as Veseth puts it, 'the terroirists who are trying to stop them.' Veseth . . . writes authoritatively and clearly. . . . This is undoubtedly a fascinating read that will be a treat to most tastes and is one of the books of the year. -- Paul O'Doherty, JancisRobinson.com
Wine Wars nicely captures the essence of [the] factors affecting the evolution of wine and the agenda for wine economics. The running theme throughout this book is a search for the future of wine. Writing in a brisk and non-technical style, Veseth uses this theme to focus on the competing forces vying for wine's future. . . . The interrelationships that bring wine to the world are truly international in nature today, and will only become more so in the future. Veseth infuses Wine Wars with stories about these connections and conflicts, and in the process we learn much about the business aspects of wine-in addition to enjoying the narratives that inform the economics. . . . Anyone with an interest in wine and wine economics will enjoy reading Wine Wars. * Journal of Wine Economics *
Jubilant. [Mike Veseth] possesses the art of expression: 'Wine Wall,' 'DaVino Code,' 'McWine Conspiracy' and, without doubt one of the best, 'Chateau Cash Flow.' He is swimming in a palette of colors, which he delights in dampening: Gallo's famous Red Bicyclette, Yellow Tail, Blue Nun, his favorite White Zinfandel. . . . [His] work involves a veritable global framework and gives one the chance to visit Australia, [or] New Zealand, for example, in great depth. . . . The reality, which Veseth is right to underline, is that behind all the discourse, all the lyrical flights of fancy about the fabulous year, the involvement of generations of vintners and producers, there is always the fundamental question of money, of revenue and of power. * Revue d'economie regionale et urbaine *
Wine Wars provides some terrific insights into how and why the wine you see in your local grocery store got there, and why you buy (or don't) the wine you do. * The News Tribune *
In his insightful and amusing new book, Wine Wars, author Veseth explains the complicated world of wine, analyzing its past and predicting its future. . . . This rich volume with peppery overtones is the perfect match for anyone wanting to know more about the business of wine. Recommended. -- Meg Trauner, Ford Library, Fuqua School of Business, Duke University
Wine Wars by Mike Veseth is a fantastic, witty read that tells the story of wine market trends, like Two-Buck Chuck and Costco. Also, the book discusses globalization and how this affects wine enthusiasts with a 'rich but overwhelming array of choices.' * Nooga.com *
[A] superb book about the forces shaping the modern wine industry. . . . [R]eplete with interesting tidbits about economic theory, including the way that protectionist policies have led to the production of plonk, while free markets have forced producers to raise the quality of the wine they sell. These are matters that Mr. Veseth devotes considerable time to, and that he explains in clear and elegant prose. He is an economist, to be sure, but he is a writer of considerable skill and his book is not just educational, but engaging and entertaining as well. It's not just a great book about the wine industry, but a great business book, period. * Project Sunlight-A Winemaker's Education *
If a glass of wine followed by a discussion of economics gets your blood boiling, Mike Veseth's Wine Wars is the book for you. Writing with wit and verve, Mike Veseth, the wine economist, tells the compelling story of the war between the market trends that are redrawing the world wine map and the terroirists who resist them. . . . Veseth has 'grape expectations' that globalization, Two Buck Chuck, and the revenge of the terroirists will uncork a favorable future for wine in an engaging tour-de-force. * Great Wine News *
Mike Veseth write about globalization and its effects on the wine industry, citing the popularity of cheap, branded products (Two Buck Chuck, most notably) and the subsequent backlash from "terroirists"- those who believe that a wine should reflect its local soil, culture and climate [...] He takes a look at China's emerging wine business (its output recently surpassed Australia's) and samples a few glasses from two of its vintners, one the country's oldest in existence, the other a relative newcomer. * Forbes *
Veseth then recounts his own experience on a trip to Friuli in northeastern Italy, a place brutalized by the two world wars, where they have planted a special vineyard of peace using grapes varieties from all around the world. Interestingly, Veseth found that the wine produced from this vineyard, Vino Della Pace (Wine of Peace) wasn't 'especially distinctive' on the palate, but was memorable for its 'optimistic symbolism.' . . . A few sentences later, 'We longed for the taste of peace when we didn't have it. Now that we do, we find it a little bland. So we seek out terroir, even if it threatens to divide us once again.' It's an astoundingly simple way to say something so profound and Veseth nails it perfectly. . . . Maybe there is more to economics than just money. * Wine Country BC *
In Wine Wars, Veseth discusses the different forces that shape the world of wine today. If you want to talk about and understand wine markets, this book is essential. * Yahoo Lifestyle *
Wine Wars takes us through the global wine business landscape highlighting many issues at play. He [Veseth] sees wine as a broad church, the future undetermined as the different forces battle it out. * Harpers Wine & Spirit *
Wine Wars is a fascinating contemporary insight into the predominant market forces of globalization. . . .But Wine Wars is as much a social history of (and insight into) wine consumerism as it is an economic treatise. . . .Put simply, Wine Wars is one of the better, more informative and entertaining wine books I have read for ages. Thankfully, Mike Veseth avoids the miasma of pompous, self-congratulatory drivel that often swirls around wine criticism. So those in the business of wine who have not read it already, should do so now. . . .If Wine Wars was a wine I would rate it at 98/100- great balance and finesse, good body and grip, fine texture and length and a lingering aftertaste that leaves you craving for more. * Wine Business *
You may also be interested in...
×
Download the Waterstones App
Would you like to proceed to the App store to download the Waterstones App?
Reserve online, pay on collection.
Please note that owing to current COVID-19 restrictions, many of our shops are closed. Find out more by
clicking here
.
Thank you for your reservation
Your order is now being processed and we have sent a confirmation email to you at
When will my order be ready to collect?
Following the initial email, you will be contacted by the shop to confirm that your item is available for collection.
Call us on or send us an email at
Unfortunately there has been a problem with your order
Please try again or alternatively you can contact your chosen shop on or send us an email at