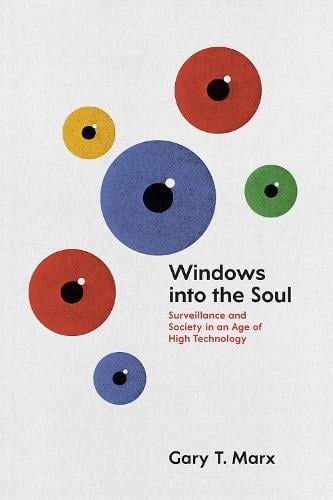 Windows into the Soul: Surveillance and Society in an Age of High Technology (Paperback)
Gary T. Marx
(author)
Paperback
400

Pages / Published: 12/07/2016
We live in an age saturated with surveillance. Our personal and public lives are increasingly on display for governments, merchants, employers, hackers-and the merely curious-to see. In Windows into the Soul, Gary T. Marx, a central figure in the rapidly expanding field of surveillance studies, argues that surveillance itself is neither good nor bad, but that context and comportment make it so. In this landmark book, Marx sums up a lifetime of work on issues of surveillance and social control by disentangling and parsing the empirical richness of watching and being watched. Using fictional narratives as well as the findings of social science, Marx draws on decades of studies of covert policing, computer profiling, location and work monitoring, drug testing, caller identification, and much more, Marx gives us a conceptual language to understand the new realities and his work clearly emphasizes the paradoxes, trade-offs, and confusion enveloping the field. Windows into the Soul shows how surveillance can penetrate our social and personal lives in profound, and sometimes harrowing, ways. Ultimately, Marx argues, recognizing complexity and asking the right questions is essential to bringing light and accountability to the darker, more iniquitous corners of our emerging surveillance society.
Publisher: The University of Chicago Press
ISBN: 9780226285917
Number of pages: 400
Weight: 590 g
Dimensions: 226 x 152 x 23 mm
---
MEDIA REVIEWS
"Anyone who has listened to Marx talk, or spent any time on his website, will know what a truly prodigious knowledge and understanding he has of surveillance in contemporary society. This book ... is demonstrative of this impressive grasp on the subject. Marx's framework is both practical and approachable. . . .
Windows into the Soul
is of tremendous value. In addition, the work is entertaining throughout with a number of cartoons, references to popular culture, and a rich sense of irony. This is a valuable work that provides an analytic framework for approaching surveillance studies while avoiding the temptation to find simple solutions or offer easy judgments. It should find its way onto the shelves of every serious scholar and student of surveillance."--Kevin Macnish, Surveillance and Society
"The book is detailed, well-written, and smartly organized. Academic readers will appreciate the conceptual categories and taxonomies Marx uses to assemble the chapters and themes within the chapters. Academic readers also will appreciate the detailed footnotes and citations to studies as a way to organize many of the broader libertarian and justice-related issues the book identifies."
--Bruce Jacobs "International Criminal Justice Review "
"Nobody in field of surveillance studies has read, reflected on, or written about these trends with as much insight, wisdom, and humor as Marx. He has never been afraid to push the boundaries of social inquiry, not only by developing new theories, metaphors, or models, but by patiently amassing a rich variety of facts, stories, cases, incidents, and anecdotes and by trying to make some sense of the staggering and increasing propensity for surveillance. He relishes complexity and ambiguity and constantly tries to disaggregate and classify, not out of some infatuation with taxonomies for their own sake, but in a belief that we can only build generalizations about social trends if we are sensitive to context.
Windows Into the Soul
should be widely read for many years to come."--Colin J. Bennett, author of The Privacy Advocates: Resisting the Spread of Surveillance
"A challenging, thoughtful, erudite and at times very entertaining book. It is a work that draws on Marx's long experience, detailed empirical research and intense scholarship, but weaves these things together without the loss of coherence of narrative that so often dogs academic work. . . . The coverage is breathtakingly broad and the book is a long one, supplemented by additional material on Marx's website. . . . Not only an important book but a necessary one."
--Times Higher Education
"Few scholars have done more to shape the public understanding of the surveillance society than Marx. Drawing on theory and interviews, law and culture, Greek philosophers and rock and roll lyrics, Marx has made interesting and accessible the world of the watcher and the watched.
Windows into the Soul
carries forward a lifetime of inquiry and exploration. More than any other scholar, Marx has placed the study of surveillance before the public in a way that is rich in insight and filled with light touches."--Marc Rotenberg, editor Privacy in the Modern Age: The Search for Solutions
"Marx's latest book
Windows into the Soul
is a treasure--a joyful, entertaining sociological work reflecting a lifetime of study. It brings wisdom, experience, enthusiasm, and humor to complex issues affecting everyone. The book is useful and fun to read, containing provocative chapters such as those on work monitoring ('The Omniscient Organization') and national security/law enforcement ('Rocky Bottoms'). Furthermore, it makes great use of images and music to illustrate how we experience surveillance through popular culture. This is a book for the general reader as well as the specialist."--Minas Samatas, author of Surveillance in Greece
"In
Windows into the Soul
, Marx takes a critical social science approach to the study of surveillance and social control. Marx's exploration of the field of surveillance studies is cumulative and inclusive, involving empirical, theoretical, ethical, and practical questions. References to literature, cinema, and pop culture are woven throughout the book, adding humor and illustration to Marx's close study of a fascinating topic. . . . Marx concludes that the ideal is 'a
positive information society
based on fairness, dignity, care, openness, trust, security, autonomy/participation, and communality, rather than a
negative surveillance society
based on unfairness, commodification, coercion, secrecy, suspicion, insecurity, domination/repression, and atomization.'"--Claire Gartland, EPIC Alert
"Marx, a leading figure in surveillance studies for more than twenty-five years, has at last published his
maxime magnum opus
,
Windows into the Soul
. The book breaks new ground and establishes some of the parameters of this expanding disciplinary area. It reflects his broad vision, expansive imagination, infectious curiosity, commitment to sensitive scholarship and to social justice, grasp of several cognate disciplines, awareness of the significance of popular culture, and an irrepressible sense of humor and grace. Marx's perceptions are uncompromising and he engages, rather than shying away from, difficult issues. This work will continue to inspire new generations of surveillance scholars--whatever their disciplinary backgrounds or theoretical perspectives."--David Lyon, author of Surveillance after Snowden
"
Marx's book is a brilliant summary of a vast literature and a clear and much needed conceptual clarification in the still emerging field of surveillance studies. His sage writing is very lucid, entertaining and informative. It's a great singular read or an excellent companion to other well received and relevant surveillance studies including Joseph Turow's
The Aisles Have Eyes
."--Robert Lilly Northern Kentucky University
"Marx's
magnum opus
,
Windows into the Soul
, comes at an opportune time.... Marx's capstone on his decades-long engagement with the topic helps identify points of obstruction in the field.... In breaking surveillance down into its constituent elements and detailing their composition, Marx's work is simply without peer. Each chapter of the book is dedicated to a different broad dimension of surveillance."--Keith Guzik, Society Magazine
"
The book provides a thoughtful discussion about the ethics of surveillance, as well as the balancing act governments and corporations maintain. . . . This book meets a very pressing need: it provides a thorough and fair examination of different theories about surveillance, and allows the reader to benefit from exposure to multiple perspectives. Marx knows he is dealing with a complex and constantly changing subject, and he does not try to offer simplistic solutions. Rather, his approach in writing
Windows into the Soul
is to encourage further conversation and further research."--Donna Halper, IEEE Technology and Society Magazine
"Marx's book,
Windows into the Soul,
provides a telling look into the underlying normative principles of a free society faced with incredible advances in technology coupled with a new and extremely worrying global terrorism threat. . . . Marx is a notable scholar with an impressive body of work in this area. His expertise shows throughout, as does his encyclopedic knowledge of the classic works and principles of social science. . . . The quality of the ideas and the questions posed are very enlightening and well worth the effort to read. . . . The best part of the book comes in the final chapter. It is here that the moral, ethical, and normative theoretical issues are laid out in a well-organized fashion."--Craig Curtis, New Political Science
"
Windows into the Soul
offers comprehensive and critical reflections on the shapes and trends of human surveillance. . . . Marx outlines his analytical uncertainties to the reader, [which] makes
Windows
refreshing and even more insightful because it leaves the discussion unfinished, enticing the reader to pose new questions and alternative ways of organizing the phenomenon and the field. . . . Marx might have intended for
Windows
to be an encyclopedic-conceptual handbook of surveillance for researchers of the field, but it also turned out to be a rigorous and inspiring exemplar of Weber's methodological strategies."--Marcella Siqueira Cassiano, Asian Review of Criminology
"What Marx does in
Windows into the Soul
is create parameters for the social scientific study of surveillance in the twenty-first century. . . .
Windows into the Soul
is a snapshot of the work of an original, wide-ranging scholar who has done much to develop the study of surveillance."--Kevin Walby, American Journal of Sociology
"Windows into the Soul: Surveillance and Society in an Age of High Technology by Gary T. Marx is the culmination of the author's fifty-plus-year career as a sociologist studying surveillance and privacy....The most useful and accessible parts of the book are the fictional case studies peppered throughout."
--Shannon Roddy Law Library Journal
You may also be interested in...
×
Download the Waterstones App
Would you like to proceed to the App store to download the Waterstones App?
Simply reserve online and pay at the counter when you collect. Available in shop from just two hours, subject to availability.
Thank you for your reservation
Your order is now being processed and we have sent a confirmation email to you at
When will my order be ready to collect?
Following the initial email, you will be contacted by the shop to confirm that your item is available for collection.
Call us on or send us an email at
Unfortunately there has been a problem with your order
Please try again or alternatively you can contact your chosen shop on or send us an email at