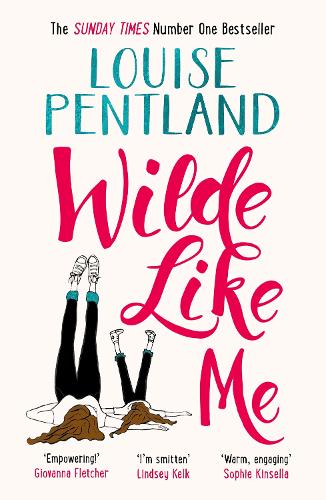 Paperback
416

Pages / Published: 17/05/2018
THE NUMBER 1 SUNDAY TIMES BESTSELLER! 'Warm and engaging' Sophie Kinsella 'I'm smitten' Lindsey Kelk 'Gorgeous, witty, reassuring' Daisy Buchanan 'Funny, heartfelt, tender and empowering!' Giovanna Fletcher 'Hilarious, moving and extremely well written' Stylist Magazine You'll never forget the day you meet Robin Wilde! Robin Wilde is an awesome single mum. She's great at her job. Her best friend Lacey and bonkers Auntie Kath love her and little Lyla Blue to the moon and back. From the outside, everything looks just fine. But behind the mask she carefully applies every day, things sometimes feel . . . grey. And lonely. After 4 years (and 2 months and 24 days!) of single-mum-dom, it's time for Robin Wilde to Change. Her. Life! A little courage, creativity and help from the wonderful women around her go a long way. And Robin is about to embark on quite an adventure . . . This is what you've been saying about Wilde Like Me: 'LOVE this book. It made me laugh and cry' 'Adored this book. Couldn't put it down' 'Robin Wilde is an amazing character and everyone should read this book!' 'I'm dying to know what happens next with Robin' 'A great pick-me-up book' 'This book made me feel so, so good!' 'Relatable, sad, funny and sweet' 'I loved it so much I passed it on to my mum' 'Anyone can relate to Robin' 'If I could give it more than 5 stars I would!' SPEND YOUR EVENINGS WITH ROBIN WILDE AND FALL IN LOVE WITH THIS YEAR'S HOTTEST BOOK! Can't wait to read more from Louise Pentland? Look out for her new non-fiction book, MumLife: What Nobody Ever Tells You About Being A Mum. Search 9781788702928. #WildeLikeMe #WildeAboutTheGirl @LouisePentland
Publisher: Zaffre
ISBN: 9781785763038
Number of pages: 416
Weight: 383 g
Dimensions: 198 x 129 x 29 mm
---
MEDIA REVIEWS
A warm and engaging debut . . . [Robin Wilde is a] chatty, winning yet poignant heroine. * Sophie Kinsella *
I'd love Robin Wilde to be my new best friend. In fact, I feel like she's become it through these pages. Wonderfully written and full of humour that had me laughing along from start to finish. As a mum, as a woman, you can find yourself wondering whether it's only you that feels a certain way or does questionable things, but this book stilled my pondering mind. We're all in this together. Plodding through the murkiness, the judgement, the excruciating emptiness and insecurities of not being good enough . . . only when we know these are universal worries will we learn that all we actually need is a little self love. Funny, heartfelt, tender and empowering! I can't believe this is Louise's first book. I'm thoroughly excited to read more! -- Giovanna Fletcher
I adore this book. Louise Pentland writes with so much warmth, heart and honesty - Wilde Like Me is a gorgeous, witty, reassuring comfort read. I fell in love with Robin and her family before the end of the first page. If you're having a bad day, I think this book would instantly make it better. Pentland's exploration of mental health issues is refreshingly honest. If you've ever felt like the only person in the world who isn't perfect - and I sometimes do - this is what you need to read. A fabulous mix of escapism and relatability, this is a hug of a book. * Daisy Buchanan *
I'm smitten with this sweet and special story about love, life and motherhood. Reading Wilde Like Me feels just like sitting down for a (boozy) hot chocolate with your best friend and I love Robin Wilde. * Lindsey Kelk *
As lovable and candid as the woman herself * NYC Talon *
Louise has been the queen of the YouTube/ vlogger world pretty much since its inception, and Wilde Like Me is her first novel. Before you swipe left on another YouTube book let me assure you Wilde Like Me is hilarious, moving and extremely well written. I can highly recommend Louise's book and her YouTube channel, which does a pretty fine job of making the endlessly confusing to those over 15 world of YouTubers something can adults can enjoy, too. * Sunday Times Style *
This book is a winner * OK Magazine *
If it's great big belly laughs you're after, then meet Robin Wilde. * Fabulous Magazine, The Sun *
One of the hottest beach reads...A little courage, creativity and help from the wonderful women around her go a long way. And Robin is about to embark on quite an adventure... * MTV.com *
Wilde Like Me is a fun, light-hearted read. * Snazzy Books *
This is a fantastic read full of wit and warmth and it is hilarious. When I finished I felt empowered not only for robin but also for myself ... this lifted my spirits,my self belief and my sparkle. Great characters, fantastic storyline and addictive reading makes this a top hit for your summer read of 2017. * Charlene Jess *
Like the very best chick lit heroines, Robin Wilde is the woman next door all women can relate to and want to be friends with. She and daughter Lyla are the most adorable tag team, and Auntie Kath rounds off the ensemble perfectly. There's a lot of girl power in this novel, and although there's romance too, the love between mother and daughter and the love for oneself come out on top. Full of humour, warmth and conviction, this is a sparkling debut. * Chick Lit Club *
If you're looking for a light hearted, fulfilling read then Wilde Like Me is the perfect novel for you. This novel empowers you and shows you how you don't need a man. This novel shows you how everyone has their own struggles even if they are seemingly perfect. As soon as you pick up this novel you will fast become best friends with Robin...most importantly you'll realise that everyone needs a bit of Robin Wilde in them. * The Bookbag *
In addition to the well written humour, there are also plenty of emotional moments in the book. Louise writes humour brilliantly but she also writes emotion incredibly well too. A few times in the story my heart was in my throat and I was so drawn in by the strength of the story and by what was happening that I felt like I was there with the characters. The book definitely tricks you into thinking you're safe, then hits you in the feels when you don't expect it! * Luna May Blog *
a light hearted, feel-good read, it makes you happy! Louise takes you on a one year journey through Robins life and allows you to see how she grows as a mum, a friend, and most importantly a person. Robin really blooms.I would highly recommend reading this book. * Ginger Snapps Blog *
If any of you are considering buying this book I highly recommend it, I would say it's worth it just for the laughs, but also the story and the telling of the story are simply: Perfect! * Katie Snyder *
As I progressed further through the book I became more and more inspired by the blossoming character in front of me, I lost count of the number of times I gave Robin an imaginary fist-bump in my mind! The author's writing style was so natural, it was humorous but also incredibly insightful and it left me wanting more - I really hope to read more from Louise in the future. Wilde Like Me was a wonderfully honest tale of motherhood in all it's glory with a touch of inspiration thrown in for good measure. An absolute joy to read!' * V Family Fun *
'I loved how much I could relate to Robin as a mother, and with the bits that I feel I am crap at and often feel like the only one in the world who fails at certain little things. It was nice to discover I am actually not alone in those things, and it made me love Wilde Like Me more. I think Louise is a great writer and it is a lovely first book from her' * Birds and Lilies *
'This is a brilliant, page turner of a debut novel and one that I really hope Louise writes a follow up to because I for one can't wait to find out how Robin handles what ever this crazy life of Motherhood throws at her next.' * Beauty, Baby and Me *
'Robin is an independent woman who has found the answer to happiness in life really does lie inside yourself...This book is amusing at times and also very touching. I think it would appeal to many readers, but particularly to women who have had similar life experiences ... and there will be many.' * Forty and Fantastic *
'It is not just your average romantic story. It is lovely, funny and down to earth with topics that may be brushed over in other books, this one has it all.' * Ali Brille *
I loved how much I could relate to Robin as a mother, and with the bits that I feel I am crap at and often feel like the only one in the world who fails at certain little things. It was nice to discover I am actually not alone in those things, and it made me love Wilde Like Me more. I think Louise is a great writer and it is a lovely first book from her. I look forward to reading more of her books in the future. * Birds and Lilies *
This is a brilliant, page turner of a debut novel and one that I really hope Louise writes a follow up to because I for one can't wait to find out how Robin handles what ever this crazy life of Motherhood throws at her next. * Beauty, Baby and Me *
It is not just your average romantic story. It is lovely, funny and down to earth with topics that may be brushed over in other books, this one has it all. * Ali Brille *
It's such a grower of a book and utterly heartbreaking. I went into it with a bit of a sceptical mind and was bawling my eyes out by the end. It's about a teenage girl who wakes up on the same day every morning and has to figure out what's happening. Along the way she discovers what's important in life... * Cardiff Mummy Says *
'Following the ups, downs, romances, friendships and dramas of Robin's life, the funny, feel-good book offers an entertaining and uplifting read, not to mention a wholly relatable heroine.' * SoGlos *
'It is an incredibly strong debut novel, with Pentland clearly writing about what she knows best, which comes across in the sheer intensity in realism in both its characters and themes. You will care more about Robin Wilde than you can ever imagine, and it is truly a novel which you just cannot put down. I highly recommend 'Wilde Like Me' to anybody who is looking for an emotional roller-coaster of a story, and I will certainly be reading anything else Louise Pentland has to offer in the future!' * A Cup of Wittea *
'If I had to pick one thing that I enjoyed the most it would be the character of Robin. Following her journey throughout the story was really fun and I was really hoping that all would work out for her and her daughter. Heart-warming and funny, this is the perfect book to read on a summer's day! * Debra's Book Cafe *
Following the ups, downs, romances, friendships and dramas of Robin's life, the funny, feel-good book offers an entertaining and uplifting read, not to mention a wholly relatable heroine. * SoGlos *
It is an incredibly strong debut novel, with Pentland clearly writing about what she knows best, which comes across in the sheer intensity in realism in both its characters and themes. You will care more about Robin Wilde than you can ever imagine, and it is truly a novel which you just cannot put down. I highly recommend 'Wilde Like Me' to anybody who is looking for an emotional roller-coaster of a story, and I will certainly be reading anything else Louise Pentland has to offer in the future! * A Cup of Wittea *
If I had to pick one thing that I enjoyed the most it would be the character of Robin. Following her journey throughout the story was really fun and I was really hoping that all would work out for her and her daughter. Heart-warming and funny, this is the perfect book to read on a summer's day! * Debra's Book Cafe *
'The author's writing style was so natural, it was humorous but also incredibly insightful and it left me wanting more - I really hope to read more from Louise in the future. Wilde Like Me was a wonderfully honest tale of motherhood in all it's glory with a touch of inspiration thrown in for good measure. An absolute joy to read!' * V Family Fun *
'this is one of those books I think every woman should read. I found this book extremely light-hearted and full of fun even though there are some more serious themes making appearances. For me it would make the ideal relaxation read, perfect for a beach holiday. I'd love to read more of Robin's story whether it mirrors Louise's own life or not.' * That Thing She Reads *
The warm and funny tale of a single mother...The book's greatest gift to its readers could be that, in their struggles with the small things in life, they are not alone * Irish Times *
Wilde Like Me is a wonderfully entertaining read about motherhood, friendships and daily trials and tribulations. Definitely a book that will proudly sit in my "books to keep" shelf * Cosmochicklitan *
I found Robin to be an extremely empowering character * The Live Better Project *
This is one of those books I think every woman should read... I really enjoyed reading Wilde Like Me for the light-hearted and inspiring book it's meant to be. For me it would make the ideal relaxation read, perfect for a beach holiday * That Thing She Reads *
The story itself has it's warm and bear-like-hug moments with Robin's daughter Lyla and auntie Kath...it's a realistic and truthful representation of being a single mother...I love how honest and uncensored it is...I can't wait to see what Robin gets up to in the future and all of the new stories * Everything But The Kitchen Sink *
I have enjoyed every second of Wilde Like Me...there's serious parts which make you want to cuddle Robin and parts where you want to open a bottle of wine or champagne with her and just cry with laughter at some of the situations she gets herself into * Daniel Bird Writes *
I laughed out loud quite a few times! * Louise Chatters *
if you're in the mood for something with charm, humor and heart...I think you'll absolutely love Wilde Like Me. Louise writes in a way like she's a good, life-long friend of yours and you'll just feel right at home in Robin's adventures * Dream In Lace *
This book is amusing at times and also very touching. I think it would appeal to many readers, but particularly to women who have had similar life experiences ... and there will be many * Forty and Fantastic *
If you have never heard of Louise Pentland then DEFINITELY go and buy yourself a copy. You will not regret it. I promise! * Unwrapped Dreams *
It is bloody well written! The plot...is smooth and well thought out, the characters are believable, the dialogue flows and the humour is well placed! Depth is given to the story-line in the places where Pentland explores what Robin calls the Emptiness * Zebra Lips Blog *
It's a stunning first novel (of what I hope will be many!) with lovable but real characters, witty dialogue, and a plot line unlike any I've ever read. In all honesty, I wish that I could live within this novel. I feel as though Robin, Lyla, Lacey, and all the others are dear friends and ones whose stories I hope to get more of * Flower Crowns and Revolutionaries *
an uplifting and positive spirit, leaving you feeling content with every single word. Real, raw and addictive, the story of Robin Wilde isn't one to be missed! I can't wait to see what else is in store * Della Loves Nutella *
The book has had me laughing out loud (or should it be LOL'ing) in so many places that you just wouldn't believe. I have read a few of Anna's books before, but this definitely has been the funniest that I've read. A great storyline, very modern and surely everyone can relate it in some way, shape or form! If you love your chick-lit or romantic comedies then this is certainly the book for you! * Stardust Book Reviews *
Wilde Like Me quickly wriggled its way up to the pile of my favourite books of this year! Louise Pentland created one of the most heartwarming, realistic and humour book with a set of fabulous and sparkly characters ( I loved reading the scenes with Robin's friends and family)! It was very hard for me to tear away from this book. Robin Wilde is one character that I will remember and (hopefully return to) for a very long time * Sparkly Word *
'I liked that the story focused so much on the emotions and feelings of the main character and bitter - sweetly told things as they really are, with all the ups and downs of being a single mum. Roll on book 2!' * On my Bookshelf *
I found the book absolutely captivating and very hard to put down!! It's a really heartwarming story but hilariously funny at the same time. * Noodles and Doodles *
If you want a good, light yet empowering read for the summer, pick up Wilde Like Me! * Just a Bookish Babe *
Wilde Like Me is a great summer read... and I'm looking forward to reading the next instalment of Robin Wilde * It's All About The Book *
This story is beautifully told in such a relatable way that makes you fall in love with both the character of Robin and Louise for writing her that way * Gins Books and Blankets *
The storyline took me on a rollercoaster of emotions and whilst at times it had me reaching for the tissues, at others it made me laugh out loud * Stardust Book Reviews *
You'll be left feeling empowered * Woman's Own *
You may also be interested in...
"Should have waited for the sale"
I tried very hard to like this book as it has been heavily hyped by Louise herself. However, it turned out to be exactly what I feared: another "Youtuber" trying to be an author. It takes more than being... More
"Fantastic read!"
Picked up my copy yesterday, and I haven't put it down since! Lovely book, well-written, funny and my absolute favourite! Well done Louise on a brilliant book. Would highly recommend!!
"Fun and light hearted"
Wilde Like Me is a fun, light-hearted read. It follows Robin Wilde, mum of six year Lyla who's life, in her eyes anyway, is a bit of a mess. She's trying to juggle being a single mum and desperately trying... More
×
Download the Waterstones App
Would you like to proceed to the App store to download the Waterstones App?
Reserve online, pay on collection
Alternatively, for multiple items you may find it easier to
add to basket
, then pay online and collect in as little as 2 hours, subject to availability.
Thank you for your reservation
Your order is now being processed and we have sent a confirmation email to you at
When will my order be ready to collect?
Following the initial email, you will be contacted by the shop to confirm that your item is available for collection.
Call us on or send us an email at
Unfortunately there has been a problem with your order
Please try again or alternatively you can contact your chosen shop on or send us an email at