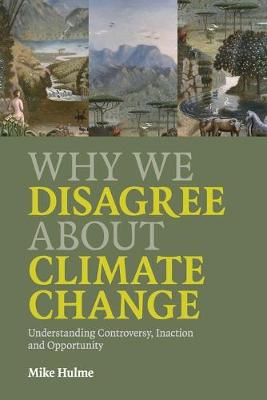 Why We Disagree about Climate Change: Understanding Controversy, Inaction and Opportunity (Paperback)
Mike Hulme
(author)
Paperback
428

Pages
Published: 30/04/2009
Climate change is not 'a problem' waiting for 'a solution'. It is an environmental, cultural and political phenomenon which is re-shaping the way we think about ourselves, our societies and humanity's place on Earth. Drawing upon twenty-five years of professional work as an international climate change scientist and public commentator, Mike Hulme provides a unique insider's account of the emergence of this phenomenon and the diverse ways in which it is understood. He uses different standpoints from science, economics, faith, psychology, communication, sociology, politics and development to explain why we disagree about climate change. In this way he shows that climate change, far from being simply an 'issue' or a 'threat', can act as a catalyst to revise our perception of our place in the world. Why We Disagree About Climate Change is an important contribution to the ongoing debate over climate change and its likely impact on our lives.
Publisher: Cambridge University Press
ISBN: 9780521727327
Number of pages: 428
Weight: 680 g
Dimensions: 228 x 152 x 21 mm
---
MEDIA REVIEWS
'This is a very rare book. A scientific book about climate change, that deals both with the science, and our own personal response to this science. It does all this supremely well, and should be compulsory reading for both sceptics and advocates. However, it does so much more, it is a book of great modesty and humanity. It uses climate change to ask questions more broadly about our own beliefs, assumptions and prejudices, and how we make individual and collective decisions.' Chris Mottershead, Distinguished Advisor, BP p.l.c.
'In this personal and deeply reflective book, a distinguished climate researcher shows why it may be both wrong and frustrating to keep asking what we can do for climate change. Tracing the many meanings of climate in culture, Hulme asks instead what climate change can do for us. Uncertainty and ambiguity emerge here as resources, because they force us to confront those things we really want - not safety in some distant, contested future but justice and self-understanding now. Without downplaying its seriousness, Hulme demotes climate change from ultimate threat to constant companion, whose murmurs unlock in us the instinct for justice and equality.' Sheila Jasanoff, Harvard University
'This book is a 'must read' for anyone interested in the relationship between science and society. As we know from other controversies over GM Crops and MMR, by the time science hits the headlines, and therefore the public consciousness, it's always about much more than the science. This book shines a fascinating light on this process by revealing how climate change has been transformed from a physical phenomenon, measurable and observable by scientists, into a social, cultural and political one ... This book is so important because Mike Hulme cannot be dismissed as a skeptic yet he is calling for a radical change in the way we discuss climate change. Whether or not people agree with his conclusions - this book is a challenging, thought-provoking and radical way to kick start that discussion.' Fiona Fox, Director, Science Media Centre, London
'With empirical experience that includes seven years' leading the influential Tyndall Centre, Professor Hulme here argues that science alone is insufficient to face climate change. We also 'need to reveal the creative psychological, spiritual and ethical work that climate change can do and is doing for us'. It is the very 'intractability of climate change', its sociological status as a 'wicked' problematique, that requires us to reappraise the 'myths' or foundational belief systems in which the science unfolds. That returns Hulme to the bottom line question: 'What is the human project ultimately about?' and herein resides this book's distinctive importance.' Alastair McIntosh, University of Strathclyde and author of Hell and High Water: Climate Change, Hope and the Human Condition
'A much needed re-examination of the idea of climate change from a vantage point that takes its cultural coordinates as seriously as its physical properties. Through the twin lenses of scientific scrutiny and rhetorical analysis, Mike Hulme helps us to see just why we disagree about climate change and what we can do about it. With wisdom, wit and winsome writing, he shows us that debates about climate change turn out to be disputes about ourselves - our hopes, our fears, our aspirations, our identity. Hindsight, insight and foresight combine to make this book a rare treat.' David N. Livingstone, Queen's University, Belfast
'In a crowded and noisy world of climate change publications, this will stand tall. Mike Hulme speaks with the calm yet authoritative voice of the integrationist. He sees climate change as both a scientific and a moral issue, challenging our presumed right to be 'human' to our offspring and to the pulsating web of life that sustains habitability for all living beings. As a peculiar species we have the power do create intolerable conditions for the majority of our descendents. Yet we also have the scientific knowledge, the economic strength, and the political capacity to change direction and put a stop to avoidable calamity. This readable book provides us with the necessary argument and strategy to follow the latter course.' Tim O'Riordan, University of East Anglia
'Hulme articulates quite complex arguments in a remarkably clear and effective manner. He not only covers a lot of ground, but by avoiding an overly compartmentalized approach he achieves a great deal of connectivity throughout the book. For those who are regularly immersed in the social sciences literature on climate change, the content itself may not hold many surprises. But Hulme's approach makes these arguments accessible and meaningful for a wider audience, and this tome could also serve as a great teaching text ... Hulme makes important contributions to continued understanding of environmental, cultural, political and physical - eminently interdisciplinary - aspects of climate change. As more citizens, students, scientists and policy players read it, [this book] is very likely to be an important and 'discernible influence' on the ways we think about and discuss global change, and how we plan to engage with it.' Nature Reports: Climate Change
'How global warming has been transformed from a physical phenomenon that is measurable and observable by scientists into a social, cultural and political one, by a professor of climate change at the (now controversial) University of East Anglia. In the crowded and noisy world of climate-change publications, this book will stand out.' The Economist
'Mr Hulme does not reach a fatalist or relativist conclusion that we cannot do or even know anything significant. On the contrary, he advises a practical, multi-level approach to the challenge, proceeding faster in certain geographical and industrial areas, which does not depend on a single beautiful blueprint being accepted by the entire world.' www.timesofmalta.com
'... scholarly, candid and intensely thought-provoking ... I urge you all to buy, read, digest and ponder this valuable book. It will be a long time before it will be rivalled for its breadth and depth of coverage of this vitally important subject.' Peter Rogers, International Journal of Meteorology
'The book highlights several topical issues. Through its selection of clever interdisciplinary themes combined with a thought-provoking further-reading list at the end of each chapter, [it] will provide new knowledge to anyone who reads it - students, educators, politicians, policymakers, activists.' Vigya Sharma, Australian Journal of International Affairs
'This book by Mike Hulme simply is vital for anyone interested in the global climate change debate and for those that seek challenging arguments in understanding the role of individual and social behaviour when confronted with perceived or real global risk issues. I can wholeheartedly recommend it and am convinced that most readers will thoroughly enjoy and benefit from this work.' Environmental Earth Sciences
'The totemic position of climate change and cognate environmental issues within the public and media consciousness makes it an ideal exemplar through which to explore scientific debates, which Hulme achieves in this book. ... one of the greatest strengths of the volume is Hulme's ability to clearly and effectively communicate what are often complex interactions and abstruse concepts. ... this book will grow in value and appreciation as time goes on.' The Geographical Journal
'... he has written an excellent analysis of the terrain and does a great service by drawing together the essence of a very large multi-disciplinary literature. Anecdotes are freely employed to illustrate arguments and these provide a useful aid to comprehension.' Transactions of the Royal Society of South Africa
You may also be interested in...
×
Download the Waterstones App
Would you like to proceed to the App store to download the Waterstones App?
Reserve online, pay on collection


Thank you for your reservation
Your order is now being processed and we have sent a confirmation email to you at
When will my order be ready to collect?
Following the initial email, you will be contacted by the shop to confirm that your item is available for collection.
Call us on or send us an email at
Unfortunately there has been a problem with your order
Please try again or alternatively you can contact your chosen shop on or send us an email at