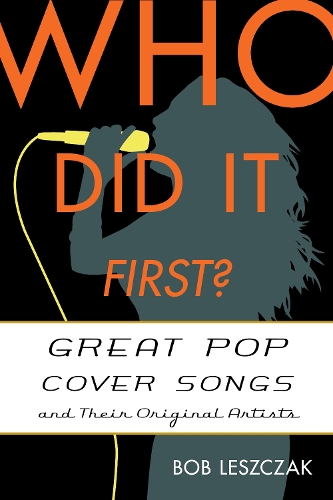 Who Did It First?: Great Pop Cover Songs and Their Original Artists - Who Did It First? (Hardback)
Bob Leszczak
(author)
Hardback
318

Pages / Published: 13/03/2014
In Who Did It First?: Great Pop Cover Songs and Their Original Artists, the second volume in Bob Leszczak's exciting Who Did It First? series, readers explore the hidden history of the most famous, indeed legendary, pop songs and standards. As Leszczak points out, the version you purchased, swayed to, sang to, and grew up with is often not the first version recorded. Like wine and cheese, some tunes do get better with age, and behind each there is a story. Little-known facts and amusing anecdotes, often gathered through Leszczak's vast archive of personal interviews with the singers and songwriters, record producers and label owners, who wrote, sang, recorded, and distributed either the original first cut or one of its classic covers.
Publisher: Rowman & Littlefield
ISBN: 9781442230675
Number of pages: 318
Weight: 603 g
Dimensions: 234 x 162 x 27 mm
---
MEDIA REVIEWS
This second in a three-volume set by radio personality Leszczak provides an alphabetical list of over 400 songs that other artists covered after the originals were released. Volume 1, Who Did It First?: Great Rhythm and Blues Cover Songs and Their Original Artists, and a forthcoming volume emphasizing rock 'n' roll covers complete the set. Entries list original and cover artists, record labels, release years (1920s-80s), chart positions, and brief song histories, including additional versions. Fifty photographs display record labels and a few performers. Leszczak recommends 'using this book to quiz your friends at a party ... [or] listeners to your radio show, or just [to satisfy] your own insatiable musical curiosity.'. . . .Since works on cover songs (as well as mashups and sampling) are rare, any explorations of this major aspect of popular music are welcome. . . .For comprehensive collections. Summing Up: Recommended. Lower-division undergraduates and general readers. * CHOICE *
An argument settler if ever there was one, Bob Leszczak's Who Did It First: Great Rhythm and Blues Cover Songs and their Original Artists meticulously detailed assessment will help music aficionados set the record straight when it comes to song authorship. Music lovers who have long associated classics like 'Always on My Mind' with Willie Nelson (originally recorded by Brenda Lee) and 'I Will Always Love You' with Whitney Houston (originally recorded and written by Dolly Parton) are in for a surprise when they peruse this encyclopedic collection of cover songs. They'll discover that standards such as 'I Write the Songs,' popularized by Barry Manilow, Kenny Rogers's iconic 'The Gambler,' and even Glen Campbell's hit 'Rhinestone Cowboy' were all first recorded by others. Each entry is briefly detailed with a selection of factoids including chart position, sales numbers, and occasionally a list of additional artists who covered it. . . . Leszczak's sweet spot is pop music from the mid-`50s through the mid-`70s. Fans of those eras will likely find themselves humming many a long-forgotten tune such as 'Red Roses for a Blue Lady' or 'I Write the Songs' as they flip through the pages. * Publishers Weekly *
Following up on his recent similarly titled book about rhythm and blues songs, oldies on-air radio personality Leszczak addresses popular songs from the 1920s through the 2000s. For each tune he lists composers, original and most-well-known cover artists, release dates/labels/charting information for both versions and provides a few paragraphs of interesting tidbits, including mention of other covers where applicable, and historical or cultural contexts for the melodies. The book is organized alphabetically by song title with appendixes by topic and a short bibliography. Some illustrations of actual record labels and a few portraits are included. . . . VERDICT Trivia buffs and those interested in the history of popular music will welcome the title; poring over the entries evokes nostalgia for the eras when the songs were getting airplay. * Library Journal *
Nearly 450 well-known songs, including 'Always on My Mind,' 'Blue Moon,' 'I Will Always Love You,' and 'If I Had a Hammer,' are profiled in this volume. Songs are arranged alphabetically by title, and each entry lists the composer, the original artist and year of release, the record label and number, and how it ranked on the charts. This is followed by information on the cover: the artist, year of release, record label and number, and how that version ranked on the charts. The narrative for each entry offers a brief history of both the original release and the release that made the song famous, along with other trivia. A must-read for music fans, this is a solid purchase for most circulating collections. * Booklist *
Author of the earlier Great Rhythm and Blues Cover Song segment of this planned, three-book series, Leszczak, with his encyclopedic knowledge, provides here the definitive source on the best-known popular hits covering nearly a century between the 1920s through the 2000s. What better authority to bring us this work than the long-time radio broadcaster and DJ known to the baby-boom generation as 'the Bopper.' In his three-volume work, Leszczak sets out to illuminate and credit the genius and hard work behind cover songs, which often did not become sensations overnight. In this age of instant access to. . . .any song that fancies the younger generations and their short attention spans, this authoritative new guide will also serve as a historical record. Leszczak briefly outlines this new volume's purpose as one of recognizing both the composers and the original recording artists behind famous pop songs as much as those who may have later brought these songs greater success. Arranged alphabetically by song title, each of the nearly 400 entries lists the song's composers, original and cover performing artists, Billboard chart positions, record labels, and release dates followed by an anecdotal summary of usually one to three paragraphs highlighting the significance of the song. . . .While some original songs may have hit it bigger by way of a different artist within a year's time ('Rhinestone Cowboy,' Weiss/Campbell), others scored equal hit status as much as 53 years apart (Irving Berlin's and Taco's separate versions of 'Puttin' on the Ritz'). However, the reviewer notes that occasionally a subsequent hit nearly pales in comparison to the original (Maxi Priest's vs. Cat Stevens' 'Wild World'). This compact hardcover includes also a simple navigational list of songs, a list of illustrations, an integrated index, and an appendix of curiosities, such as Elvis Presley-covered songs, Phil Spector-produced songs, and songs known by alternate titles or those that crossed over from country music. Nearly 50 black-and-white illustrations accompany the text (most are 45-RPM record labels). Its usefulness to students of popular culture and music will make this is an easy addition to any library. * American Reference Books Annual *
Leszczak appears to have listened to every record ever made, from the 78-rpm era into the digital age. He has also read all of the history and has heard all the stories. He's a very entertaining guide through the history of pop music and, no matter how well informed you are, will tell you things you didn't know. He will also bring to mind hundreds of songs you've completely forgotten about; you'll be happy to remember some of them and will wish the rest had remained buried in the trash bins of your mind. . . .This is the sort of information you'll find in Who Did It First and, trust me, you'll have a great time finding it. You'll be wanting to call all your friends, you'll even want to call people you don't know and tell them the great stories you'll read in this book. * Rambles.NET *
Leszczak provides a panoptic list of songs that were originally rhythm and blues or pop songs, although they have been covered by an artist of a different genre later, and information about covers of those songs, using research he has compiled over his many years as a radio personality across the country, as well as a writer and producer of a syndicated music trivia program. Whether the reader is a researcher of scholarly information on popular music or just a music trivia aficionado, these books provide an excellent and quick reference to a solid list of great songs that required another artist to make them famous, with useful and necessary bibliographic information, such as dates and labels, peppered with interesting historical tidbits. * Music Reference Services Quarterly *
Bob Leszczak has done an outstanding job of 'covering' his subject, and just about any serious pop music lover who wants to know more about the background to their favorite hits will find an abundance of fascinating information here. * Popular Music & Society *
[Who Did It First: Great Pop Cover Songs and Their Original Artists, Who Did It First: Great Rhythm and Blues Cover Songs and Their Original Artists, Who Did It First: Great Rock and Roll Cover Songs and Their Original Artists] are well organized, and everything is readily accessible. . . .[T]hese are outstanding books from which any lover of popular music, from the neophyte to the most advanced, will gain much knowledge and enjoyment. * Journal of American Culture *
You may also be interested in...
Simply reserve online and pay at the counter when you collect. Available in shop from just two hours, subject to availability.
Thank you for your reservation
Your order is now being processed and we have sent a confirmation email to you at
When will my order be ready to collect?
Following the initial email, you will be contacted by the shop to confirm that your item is available for collection.
Call us on or send us an email at
Unfortunately there has been a problem with your order
Please try again or alternatively you can contact your chosen shop on or send us an email at