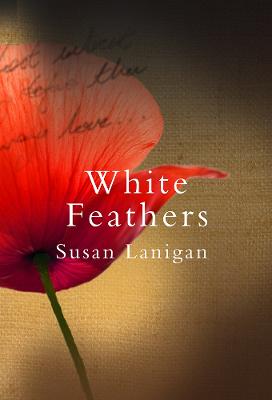 Paperback
432

Pages / Published: 25/08/2014
Two lives in danger - her lover's and her sister's. But she must choose only one.
In 1913, young Irish emigrant Eva Downey is trapped in London with a remote father and hostile stepmother. When she is awarded a legacy from an old suffragette to attend a finishing school in Kent, she jumps at the chance. At the school, she finds kinship and later falls in love with her teacher Christopher Shandlin, her intellectual equal.
But when war does break out, her fanatical and disapproving stepsister Grace forces a choice on Eva. She must present Shandlin, who refuses to fight, with a white feather of cowardice, or no money will be given for her sister Imelda's life-saving treatment in Switzerland. Caught in a dilemma, she chooses her sister over her lover, a decision which will have irrevocable consequences for both her and Christopher and haunt her for the rest of her life.
Publisher: O'Brien Press Ltd
ISBN: 9781847176394
Number of pages: 432
Weight: 630 g
Dimensions: 228 x 155 x 34 mm
---
MEDIA REVIEWS
White Feathers is an impressive addition to the canon of world war novels and a cracking good read
-- thewritesofwoman
Absolutely enthralling. Susan Lanigan has a great depth of literary styling that puts you bang into the era she is re-creating here. The anchor to the tale, that of the giving of white feathers to those refusing to fight in the war, is a very intriguing one - the prejudices if you like of a time now past, this is the state of play Ms Lanigan draws from to write this very emotional and addictive story. Eva is a fascinating and well-drawn character, her terrible choices stark and unrelenting, the knock on effects of which will be long reaching...the sense you get of an independently minded woman back in the age when women were not allowed to be such things is really well done and kept me turning the pages. The backdrop, that of the first world war is authentic and obviously well researched. A really beautifully written story that encompasses not only Eva's story but that of women in general at the time - the challenges and problems they faced in what was already a difficult and traumatic period in history. If you love Historical fiction you will definitely want to take a look at "White Feathers" and if you are not, then this is perhaps the novel I would point you towards if you wanted to take a stroll out of your comfort reading zone. Really good. Really very good
-- lizlovesbooks.com
a suspense-filled new novel about mis-matched lovers separated by the horrors of WWI ... the atmosphere of deep concern for what others think, and suffocating conformity should be of great familiarity anyone who grew up in Ireland or particularly among Irish expat communities overseas. Even when Eva thinks she's escaped her family by serving in France as a nurse, she discovers a cousin of her unloved husband, who attempts to monitor and control her behavior, lest she bring shame on the family, and who keeps the family members back in Ireland and London informed of her behavior. It's an accurate portrait of the worst of Irish clannishness and suspicion of outsiders and difference, an aspect that although younger generations appear to be shedding, remains all too near the surface ... the tension is sustained wonderfully, and the pages fly by as you devour the story hoping for a happy ending, but knowing the reality of WWI, fearing the worst. Lanigan has done a great job of researching the social history of the time, and interweaving this research with vivid characters. White Feathers is a novel that conveys a great deal of historical reality through the story of two unlikely lovers, and also balances the history and the romance in such a way that keeps the book enthralling for fans of both genres. Lanigan writes very cinematically, which is to say that she excels at painting pictures of the action and cuts between visual images rather like a film director .. All in all, White Feathers is an excellent novel, vivid, immediate, and packing an emotional punch, and one that should be equally appealing to WWI buffs, romantics, and literary readers
-- A Trip to Ireland
though this is an intense love story, it would do it a disservice to describe it solely as in such a way. It is anti-war and anti-patriarchy without ever saying so ... bravura performance of effortless elegance that beautifully imitates the speech and manners of the era
-- Irish Echo
I set about reading White Feathers as spring opened the skies in Dublin. In the window seat of my favorite cafe ... rain lashed the glass beside me while I read and read and read. White Feathers was so intense and addictive that my tea went cold and unnoticed-perhaps the greatest sign of enthralling literature ... Lanigan is a natural story teller and that's evident in this popular debut.
-- ttp://americanauthor.tumblr.com/post/114959927777/review
passionate ... combines love, suspense and an uneasy sense of adventure ... a stirring first novel to be read more than once
-- Sunday Independent
wonderful novel of love, war, family and duty and for me was one of the outstanding debuts of the year. I cannot wait to see what Susan will write next. If you haven't picked this book up yet then get it for Christmas for yourself or a friend and read it you won't be disappointed
-- Lisa Reads Books
a sweeping and engrossing tale of love, betrayal and death ... masterful
-- Sunday Times Culture
a gifted young writer ... an admirable debut
-- Irish Independent
beautifully written, with strong attention to detail ... remarkably well done and it soon becomes a real page turner of a story ... there is no doubt that this is a really good debut novel from a talented new author and I'm sure that White Feathers will stand out from the crowd of WW1 novels in this centenary year'
-- Jaffa Reads Too
Don't be tricked into thinking this is a `Cinderella' story, the first part, so gently and simply told by the author, almost lulls you into a false sense of security before World War One sticks it's fearsome and harrowing boot in. The age old tale of falling in love occurs on the brink of war, when much of the country, (before reality hit) fluttered and flirted with feelings of heroism, romance and enchantment. The controversial giving of white feathers to men not in uniform as a symbol of cowardice, skulks sinisterly in this storyline and is used as a form of blackmail, altering and changing lives forever. This is a story that promises, expands and heightens expectations before the truth of battle has it's wickedly brutal way. Proving that assault and conflict can be cunningly insidious as well as glaringly obvious, this is an intense and stirring debut novel.
-- lovereading.co.uk
a tender, intelligent debut
-- Irish Examiner
You may also be interested in...
Simply reserve online and pay at the counter when you collect. Available in shop from just two hours, subject to availability.
Thank you for your reservation
Your order is now being processed and we have sent a confirmation email to you at
When will my order be ready to collect?
Following the initial email, you will be contacted by the shop to confirm that your item is available for collection.
Call us on or send us an email at
Unfortunately there has been a problem with your order
Please try again or alternatively you can contact your chosen shop on or send us an email at