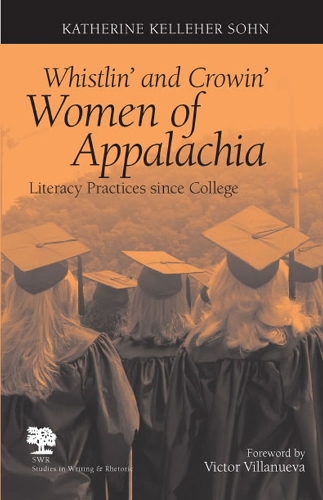 Whistlin' and Crowin' Women of Appalachia: Literacy Practices Since College - Studies in Writing and Rhetoric (Paperback)
Katherine Kelleher Sohn

(author)

,

Robert Brooke

(series editor)
Paperback
176

Pages / Published: 30/04/2006
Even some enlightened academicians automatically - and incorrectly - connect illiteracy to Appalachia, contends Katherine Kelleher Sohn. After overhearing two education professionals refer to the southern accent of a waiter and then launch into a few redneck jokes, Sohn wondered why rural, working-class white people are not considered part of the multicultural community. ""Whistlin' and Crowin' Women of Appalachia: Literacy Practices since College"" examines the power of women to rise above cultural constraints, complete their college degrees, assume positions of responsibility, and ultimately come to voice. Sohn, a born southerner and assimilated Appalachian who moved from the city more than thirty years ago, argues that an underclass of rural whites is being left out of multicultural conversations. She shares how her own search for identity in the academic world (after enrolling in a doctoral program at age fifty) parallels the journeys of eight nontraditional, working-class women. Through interviews and case studies, Sohn illustrates how academic literacy empowers women in their homes, jobs, and communities, effectively disproving the Appalachian adage: ""Whistlin' women and crowin' hens, always come to no good ends."" Sohn situates the women's stories within the context of theory, self-confidence, and place. She weaves the women's words with her own, relating voice to language, identity, and power. As the women move from silence to voice throughout and after college - by maintaining their dialect, discovering the power of expressivist writing, gaining economic and social power, and remaining in their communities - they discover their identity as strong women of Appalachia. Sohn focuses on the power of place, which figures predominantly in the identity of these women, and colorfully describes the region. These Appalachian women who move from silence to voice are the purveyors of literacy and the keepers of community, says Sohn. Serving as the foundation of Appalachian culture in spite of a patriarchal society, the women shape the region even as it shapes them. Geared to scholars of literacy studies, women's studies, and regional studies, ""Whistlin' and Crowin' Women of Appalachia"" will also resonate with those working with other marginalized populations who are isolated economically, geographically, or culturally.
Publisher: Southern Illinois University Press
ISBN: 9780809326822
Number of pages: 176
Weight: 277 g
Dimensions: 216 x 140 x 14 mm
---
MEDIA REVIEWS
" Whistlin' and Crowin' Women of Appalachia
turns what ' everybody knows' and takes for granted into explicit facts of the experiences and lives of these women. The discourse of the everyday person is transformed, changed by being written into self-aware discourse, both empowered and empowering. Katherine Kelleher Sohn' s descriptions of the difficulties of balancing work, job, classes, and marriage ring true and will resonate with women in many different environments." --
Martena (Smokey) Wilson
, Laney College
" Katherine Kelleher Sohn illustrates the benefits of academic literacy by presenting images of voice as language, identity, and power. She makes the narratives of the Appalachian women in her study come alive as she masterfully weaves their voices and experiences with that of her own.
Whistlin' and Crowin' Women of Appalachia
will engage readers." --
Pamela Takayoshi
, Kent State University
A satisfying exploration of literacy within a social context, Sohn's book will no doubt delight literacy and regional scholars alike. Unlike other studies that focus only on individual literacy narratives, Sohn investigates the complex situations surrounding and contributing to the literacy and educational histories of three Appalachian women. Through detailed case studies, Sohn explores how these women overturn and overcome the sexist adage "Whistlin' women and crowin' hens, always come to no good ends" (9). Despite difficult obstacles ranging from spousal abuse to inadequate academic preparation, each of the women sought post-secondary education and ultimately earned a degree resulting in economic or personal satisfaction, and often both. Although this book is part of the Studies in Writing & Rhetoric series, any reader interested in literacy, Appalachia, or gender studies will find inspiration in the stories of these women.
Sohn's thorough research will also be helpful to anyone wanting to broaden his or her understanding of the field of literacy studies. The Works Cited section contains a plethora of secondary sources. Echoing Shirley Brice Heath's seminal text, Ways with Words (1983), Sohn solidly grounds her work within the field of New Literacy Studies (NLS). Unlike earlier literacy texts in which authors focused mainly on the technical skills of reading and writing (such as the work of Walter Ong, Jack Goody, and Ian Watt), Sohn considers the social situations surrounding literacy, and in doing so her work finds placement among other established NLS scholars like James Paul Gee, Deborah Brandt, and Brian Street.
Similar to the approach David Barton and Mary Hamilton take in Local Literacies: Reading and Writing in One Community (1998), a study about theliteracy practices of individuals in Lancaster, England, Sohn localizes her study to illuminate the complexity of three literacy narratives. In the chapter explaining her methodology, Sohn writes that from lists of her own former students, she sought non-traditional "native-born Appalachian women who were the first generation in their families to attend college" (10). Sohn's interest in non-traditional students stems from her own educational path: earning a second master's degree in rhetoric and composition at the age of 42 and completing her doctorate at the age of 53, Sohn understands the art of juggling an already busy life with the demands of academia. Her methods for this study included selecting eight women for preliminary interviews and further narrowing her participant pool to three women. Sohn explains that in order to present a diverse sampling of participants, she consciously chose women with varying academic success, as well as both employed and unemployed women. She also admits selection based partially on her own personal interest in the women's stories (11).
In addition to adequately explaining her participant selection process, Sohn carefully describes her own position as both researcher and outsider. Such an acute awareness of her position as Other points to Sohn's high ethical standards as a scholar, and readers will find a constant level of respect, accuracy, and awareness throughout the study. Early in her introduction she describes Appalachian people's need "to be respected for who they are and for what they bring to the multicultural table," but she is also careful to point out that "defining any region like central Appalachia is difficult because no place ismonolithic" (2, 3). Perhaps even more impressive, when describing her positionas researcher and scholar, Sohn openly writes, "The most apparent bias in thisstudy ... is my positionality as an outsider. Though my husband and I have lived in the region since 1975 and I would label myself an acculturated outsider, I am still aware of how misrepresented Appalachia has been" (13). In refusing to fall victim to negative stereotypes of the Appalachian region and its people, Sohn deserves a heartfelt thank you from any Appalachian person who has ever felt the sting of a derogatory remark or insinuation based on his or her mountain heritage. Despite her connections to the women in her study, Sohn never loses sight of her role as observer and learner, as when she reflects in her conclusion, "More than any other activity, these interviews with my former students enabled me to examine my prejudices and improve my teaching" (161).
Sohn's book emerges as an important addition to the growing amount ofscholarship that considers intersections between literacy and Appalachia. Kim Donehower's work, for example, investigates beliefs about literacy in a Southern Appalachian community, and Sohn's work complements that research by exploring long-term effects of literacy on real women's lives. Similarly, Sohn's study will be of interest to readers who appreciate Juliet Merrifield's Appalachian literacy profiles in Life at the Margins: Literacy, Language, and Technology in Everyday Life (1997). However, unlike Merrifield's book, which questions the assumed economic gains tied to literacy, Sohn explains that for most of the women of her study, a college degree does, in fact, increase their income, as well as self esteem. Ultimately, Sohn's case studies present a hopeful outlook for the future, which parallels Victoria Purcell-Gates' realistic hope for Jenny (an urban-Appalachian woman once unable to read) in Other People's Words: The Cycle of Low Literacy (1997).
Sohn's study also considers the potential sacrifices necessitated by the pursuit of post-secondary education. One of her first interviewees, Mary, admits that she worries about losing her common sense as a result of college (24). Sohn explains that some of her Appalachian students resist the homogenization of their native dialect, fearing "get[ting] above their raisings" (35). Yet in staying true to her goal of presenting a balanced view of how these women continue to use the skills they learned and developed in college, Sohn reports, "Going to college assisted the women in the Preston County study to become somebody, to make their voices heard" (38). She asserts that the women's "acquisition of academic literacy did not destroy family or community" (44). Perhaps Sohn's recording of Jean's comment best explains the benefits of college: "I have the confidence now to do more than I ever thought possible because of college. I will keep learning as long as I have breath in me" (118).
After these women graduated from college, all of them chose to remain in Eastern Kentucky, despite a difficult job market. Aware that some readers may question the logic of such a decision, Sohn explains the centrality of home in these women's lives in her chapter entitled "Theory and Context: Silence, Voice, and Identity." This welcome treatment of the subject will be especially helpful for readers unfamiliar with the importance of place to many Appalachians. In keeping with an audience-inclusive approach, each of Sohn's participant-based chapters follows the same format: a brief introduction to the participant, direct quotations from that particular woman, and Sohn's scholarly commentary.
With a conclusion rich in secondary sources and pedagogical reflections, Sohn further elaborates on the critical foregrounding of her project. And like any good ethnographer, she includes several appendices ranging from interview questions to college-level participant writing samples. For literacy scholars, those interested in all-things-Appalachian, and anyone seeking educational inspiration, these whistlin' and crowin' women are certainly worth reading about.
-- (09/30/2008)
You may also be interested in...
×
Download the Waterstones App
Would you like to proceed to the App store to download the Waterstones App?
Simply reserve online and pay at the counter when you collect. Available in shop from just two hours, subject to availability.
Thank you for your reservation
Your order is now being processed and we have sent a confirmation email to you at
When will my order be ready to collect?
Following the initial email, you will be contacted by the shop to confirm that your item is available for collection.
Call us on or send us an email at
Unfortunately there has been a problem with your order
Please try again or alternatively you can contact your chosen shop on or send us an email at