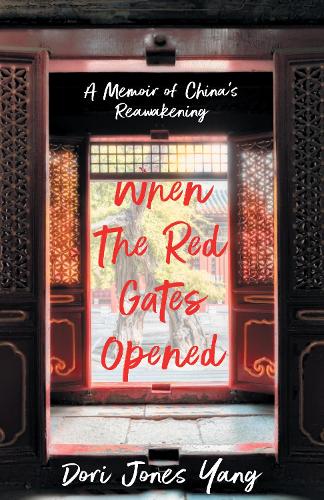 When The Red Gates Opened: A Memoir of China's Reawakening (Paperback)
Dori Jones Yang
(author)
Paperback
328

Pages
Published: 05/11/2020
A Riveting Memoir of Cross-Cultural Romance at a Pivotal Moment in History

When China opened its doors in the 1980s, it shocked the world by allowing private enterprise and free markets. As a foreign correspondent for BusinessWeek, Dori Jones Yang was among the first American journalists to cover China under Deng Xiaoping, who dared to defy Maoist doctrine as he rushed to catch up with richer nations. Fluent in Mandarin, she got to know ordinary Chinese people-who were embracing opportunities that had once been unimaginable in China.

This deeply personal story follows her rise from rookie reporter to experienced journalist. Her cross-cultural romance gave her deeper insights into how Deng's reforms led to hopes for better lives. This euphoria-shared by American businesses and Chinese citizens alike-reached its peak in 1989, when peaceful protestors filled Tiananmen Square, demanding democracy. On the ground in Beijing, Dori lived that hope, as well as the despair that followed.

You'll be inspired by this book of empowerment about a young woman from Ohio who pushed aside barriers to become a foreign correspondent and then persevered despite setbacks.

Written in a time when China's rapid rise is setting off fears in Washington, this book offers insight into the daring policies that started it all.


Publisher: She Writes Press
ISBN: 9781631527517
Number of pages: 328
Dimensions: 215 x 139 mm
---
MEDIA REVIEWS
2022 International Book Awards Winner in History: General
2022 IPPY Awards Silver Winner in Autobiography II (Coming of Age/Family)
2021 CIBA Harvey Chute Book Awards Finalist
2021 CIBA Nellie Bly Book Award First Place Winner
2021 Feathered Quill Book Awards: Memoir/Biography, 2nd Place
2021 Next Generation Indie Book Awards: Memoir (Other), Finalist
2020 Story Circle's Women's Book Awards, Memoir, Sarton's Shortlist


"In this intimate memoir, Dori Jones Yang takes a close-up look at the emergence of China in the 1980s, from backward country to world power. Beijing bureau chief for BusinessWeek, Dori was an eyewitness to the start of this historic transformation, and she tells the story with insight and verve. She also shares her own personal odyssey, from Ohio to Princeton to Beijing, including the loving embrace of the Chinese man she met on an airplane and married two years later."
-Stephen B. Shepard, former editor-in-chief, BusinessWeek

"With refreshing candor, riveting detail and sharp insights, this beautifully told memoir breaks the mold of 'Western journalist-discovers-China.' Dori Jones Yang's wonderfully personal journey allows one to view this vastly different culture and increasingly powerful country as she did-with open eyes and heart, without prejudgment. I could not put this book down."
-Helen Zia, author of Last Boat out of Shanghai: The Epic Story of the Chinese who Fled Mao's Revolution

"Dori Jones Yang writes particularly eloquently about the 1989 Tiananmen Square crackdown; it marked the endpoint for China of a golden decade of economic reform and freedom while for her it was a betrayal by a country she had come to love and admire. This deeply personal book interweaves her desires for professional success, love, and motherhood and may inspire young women striving to balance these aspirations in their own lives."
-Judith Shapiro, co-author of Son of the Revolution and of China Goes Green: Coercive Environmentalism for a Troubled Planet

"Like all superb memoirs, Dori Jones Yang's is not only a candid reflection of her own character and experience, but an eyewitness account of an epic time in history. Her sensitive observations and skillful writing bring the yin-yang dualities of her life into a gratifying if sometimes hard-fought balance, to deliver a story that is sweeping yet intimate, ambitious yet humble, serious yet engaging."
-Claire Chao, author of Remembering Shanghai: A Memoir of Socialites, Scholars and Scoundrels

"This book is about two transitions-Dori Jones Yang's from student to Hong Kong bureau chief for BusinessWeek, and China's from central planning to an open, market economy. Beautifully written, it portrays the victories and setbacks of both 'awakenings.'"
-Shanta Devarajan, Professor of the Practice of International Development, Georgetown University

"Dori Jones Yang has given us two wonderful, East-West coming-of-age stories for the price of one: China's metamorphosis from poor Communist backwater to quasi-capitalist powerhouse, and her own journey from rookie reporter in the male-dominated world of business journalism to respected foreign correspondent. Both tales come with their share of great leaps forward and troubling setbacks. This chronicle of her two love affairs-with China and with a very special Chinese man-and her steely determination to succeed not only as a professional, but as a colleague, wife, mother, and stepmother, make for an inspirational and rewarding read."
-Scott D. Seligman, author of The Third Degree: The Triple Murder That Shook Washington and Changed American Criminal Justice

"Captivating! At the onset of China's embrace of a new openness, the author lands her dream job as a correspondent in Hong Kong covering China for a leading business journal. A pioneering female foreign correspondent, she captures the story of a young gal finding her way-as a journalist and as a woman. Her evolution intersects with dynamic world events, resulting in a mesmerizing tale of personal struggle, vibrant history, and real guts. A remarkable story!"
-Marianne Lile, author of Stepmother: A Memoir

"Dori Jones Yang enfolds us in her frank personal story and the saga of a China just opening its gates to the 'outside world' . . . Americans of Yang's generation in the China field are sure to be swept by nostalgia and vivid reminiscence. Younger readers will see today's China more clearly after they ingest this saga of opportunity, challenge, frustration, reward, and tenacious love. As America's relations with China stumble today, looking back to the decade of Yang's encounter with China is more important than ever."
-Robert A. Kapp, former president, US-China Business Council

"When the Red Gates Opened is a riveting, insightful, personal account of a pivotal moment in history: the critical years when China, after alternately starving and stifling its population for decades, began moving toward a more open, market-oriented economy . . . Dori Jones Yang, among the handful of foreign correspondents then who spoke fluent Mandarin, set out to find out for herself, talking to hundreds of people in China and Hong Kong. Today, as China increasingly flexes its muscles on the world stage, this book provides a nuanced understanding of the challenges and promises presented by a complex global power that thinks and operates in ways so different from us."
-Leslie Helm, author of Yokohama Yankee, My Family's Five Generations as Outsiders in Japan

"This is a beautifully crafted, intimately written memoir of a young woman from Ohio who became a true rarity-a female foreign correspondent covering the vast economic changes in China in the 1980s. Dori's journey is one you will want to take yourself."
-Bruce Nussbaum, author of Creative Intelligence

"Dori Jones Yang beautifully conveys her deep respect for China and its culture-through experiences that included falling in love with a Chinese man and his extended family, as well as navigating issues of marriage and motherhood as a working woman in the 1980s. She gives us a rare inside look into China from the 1980s to today as she comes to squarely stand in two cultures-both American and Chinese."
-Juliet Cutler, author of Among the Maasai

"Foreign correspondent and memoirist Dori Jones Yang offers a charming cross-cultural love story that fascinates as it educates. When the Red Gates Opened offers intimate and original insights into China, a country often misunderstood, once stumbling to open to the outside-and now a world superpower. On her journey, we, too, find promise, disillusion, and hope."
-Brenda Peterson, author of Your Life is a Book: How to Craft and Publish Your Memoir

"Dori Jones Yang's memoir of covering China from Hong Kong in the 1980s is an important addition to the literature on the period and Deng Xiaoping's reforms. It mixes personal with professional reminiscences-weaving together a highly readable and very well written account. Highly recommended."
-David Shambaugh, professor, George Washington University
You may also be interested in...
×
Download the Waterstones App
Would you like to proceed to the App store to download the Waterstones App?
Reserve online, pay on collection


Thank you for your reservation
Your order is now being processed and we have sent a confirmation email to you at
When will my order be ready to collect?
Following the initial email, you will be contacted by the shop to confirm that your item is available for collection.
Call us on or send us an email at
Unfortunately there has been a problem with your order
Please try again or alternatively you can contact your chosen shop on or send us an email at