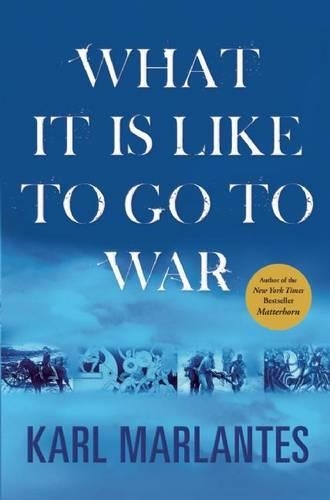 Hardback
256

Pages / Published: 20/10/2011
From the author of the award-winning, best-selling novel Matterhorn, comes a brilliant nonfiction book about war
In 1968, at the age of twenty-three, Karl Marlantes was dropped into the highland jungle of Vietnam, an inexperienced lieutenant in command of a platoon of forty Marines who would live or die by his decisions. Marlantes survived, but like many of his brothers in arms, he has spent the last forty years dealing with his war experience. In What It Is Like to Go to War, Marlantes takes a deeply personal and candid look at what it is like to experience the ordeal of combat, critically examining how we might better prepare our soldiers for war. Marlantes weaves riveting accounts of his combat experiences with thoughtful analysis, self-examination, and his readings--from Homer to The Mahabharata to Jung. He makes it clear just how poorly prepared our nineteen-year-old warriors are for the psychological and spiritual aspects of the journey.
Just as Matterhorn is already being acclaimed as acclaimed as a classic of war literature, What It Is Like to Go to War is set to become required reading for anyone--soldier or civilian--interested in this visceral and all too essential part of the human experience.

Publisher: Grove Press / Atlantic Monthly Press
ISBN: 9780802119926
Number of pages: 256
Weight: 431 g
Dimensions: 211 x 145 x 25 mm
---
MEDIA REVIEWS
"Karl Marlantes has written a staggeringly beautiful book on combat--what it feels like, what the consequences are and above all, what society must do to understand it. In my eyes he has become the preeminent literary voice on war of our generation. He is a natural storyteller and a deeply profound thinker who not only illuminates war for civilians, but also offers a kind of spiritual guidance to veterans themselves. As this generation of warriors comes home, they will be enormously helped by what Marlantes has written--I'm sure he will literally save lives."--
Sebastian Junger
"Marlantes brings candor and wrenching self-analysis to bear on his combat experiences in Vietnam, in a memoir-based meditation whose intentions are three-fold: to help soldiers-to-be understand what they're in for; to help veterans come to terms with what they've seen and done; and to help policymakers know what they're asking of the men they send into combat."--The New Yorker
"What It Is Like to Go to War is a well-crafted and forcefully argued work that contains fresh and important insights into what it's like to be in a war and what it does to the human psyche."--The Washington Post
"Marlantes is the best American writer right now on war . . . With What It Is Like to Go to War a second Marlantes book resides on the top shelf of American literature."--Anthony Swofford, author of Jarhead
"What It Is Like to Go to War ought to be mandatory reading by potential infantry recruits and by residents of any nation that sends its kids--Marlantes's word--into combat."--San Francisco Chronicle
"In this thoughtful, literate work of self-exorcism, Marlantes tells tales of incredible bravery as well as brutality."--People Magazine
"A precisely crafted and bracingly honest book."--The Atlantic
"Marlantes knows what he writes. . . Raw, unsettling honesty pervades the work."--Time.com
"Marlantes has written a sparklingly provocative nonfiction book. . . He is an exceptional writer and his depictions here are vivid."--BookPage
"A gripping, first-person plea to consider the impact on the human spirit of being a soldier."--Huffington Post
"Karl Marlantes, author of the excellent What It Is Like To Go To War, cautions his audience to understand the cost to the human psyche in sending others to kill in our names or for policies decided by politicians determined to use (and abuse) the power entrusted to their office."--Daily Planet
"Karl Marlantes' What It Is Like to Go to War is a deeply personal account of dealing with his harrowing time as a Marine Corps officer in Vietnam. . . . Marlantes' fiction might be just too wrenching for some readers to believe."--Logos
"This absolutely unique and lucid personal account and analysis will be read with profit by scholars, general readers, and most particularly, by veterans of close combat. . . . The author is qualified by experience, education, temperament, and skill as a writer to make penetrating observations. Many are graphic, bold, and shocking. Some are erudite; some are ethereal; all are worthy of careful consideration. . . . His method is to reflect on a point important to him, to illustrate it with an anecdote or a combat experience, and to mull it over in sparkling prose that has the reader hanging on every word. . . . Mastery of our language and the creative use of poetic devices and images make his pronouncements memorable. . . . Marlantes has joined a short list of authors whose experience, sensitivity, and skill enable them to share wisdom with those among us who would understand."--Parameters
"What it is Like to Go to War is already considered by many a modern classic. . . . The former Marine has three main goals in this unflinchingly honest look at what it means to be a soldier in a war: to let potential soldiers understand what to expect, to help veterans better cope with what they've experienced, and to help policy makers truly comprehend what it means when they send combat troops into a war zone."--Bradenton Herald
"To say that this book is brilliant is an understatement--Marlantes is the absolute master of taking the psyche of the combat veteran and translating it into words that the civilian or non-veteran can understand. I have read many, many books on war and this is the first time that I've ever read exactly what the combat veteran thinks and feels--nothing I have ever read before has hit home in my heart like this book."--Gunnery Sergeant Terence D'Alesandro, 3rd Batallion, 5th Marines, U.S. Marine Corps
"Wrenchingly honest. . . . Digging as deeply into his own life as he does into the larger sociological and moral issues, Marlantes presents a riveting, powerfully written account of how, after being taught to kill, he learned to deal with the aftermath."--Publishers Weekly (starred review)
"A valiant effort to explain and make peace with war's awesome consequences for human beings."--Kirkus Reviews
"What It Is Like to Go to War offers profound insight on how we must prepare our youth who become our warriors for their hard and uncompromising journey through war's hell and back home again."--Vietnam Magazine
"With war such a part of contemporary American life, this book is deeply important, as timely and urgent as contemporary on-the-ground reporting from Afghanistan and Iraq."--The Minneapolis Star Tribune
"A sound debunking of anything smacking of the glory of warfare--but written with compassion, honest and wit for men and now women who fight and for all of those who care about them."--St. Louis Dispatch
"A slim spiritual guide. . . Marlantes's book is a sincere plea for better soldiers and veterans."--Seattle Weekly
"What It Is Like to Go to War is a courageous, noble and intelligent grapple with myth, history, and spirituality that beautifully elevates the cultural conversation on the role of the military in today's world. It is an emotional, honest, and affecting primer for all Americans on war and the national psyche, and we ignore this book at our own peril."--Ed Conklin, Chaucer's Books, Santa Barbara
You may also be interested in...
Simply reserve online and pay at the counter when you collect. Available in shop from just two hours, subject to availability.
Thank you for your reservation
Your order is now being processed and we have sent a confirmation email to you at
When will my order be ready to collect?
Following the initial email, you will be contacted by the shop to confirm that your item is available for collection.
Call us on or send us an email at
Unfortunately there has been a problem with your order
Please try again or alternatively you can contact your chosen shop on or send us an email at