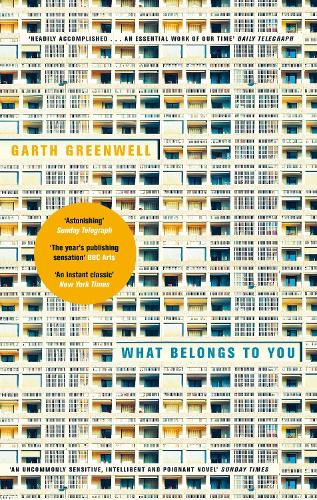 Hardback
204

Pages
Published: 07/04/2016
Garth Greenwell's debut ­novel, What Belongs to You, is already drawing comparisons to Kazuo Ishiguro's The Unconsoled and Milan Kundera's The Unbearable Lightness of Being. The novel  follows an unnamed American narrator in his search for love, lust and companionship in contemporary Bulgaria. This restless narrator becomes entranced with a male prostitute, Mitko, in an unfamiliar, anxious yet intoxicating world; a world where gay desire is officially taboo. 
"This astonishing debut novels portrait of compromised lust holds its own against classics like Lolita." -
The Sunday Telegraph
Publisher: Pan Macmillan
ISBN: 9781447280514
Number of pages: 204
Weight: 336 g
Dimensions: 223 x 143 x 22 mm
---
MEDIA REVIEWS
What Belongs to You stands naturally alongside the great works of compromised sexual obsession such as Thomas Mann's Death in Venice . . . we are dealing with a writer who deserves his plaudits . . . I found myself unable to stop reading . . . Headily accomplished . . . an essential work of our time * Daily Telegraph ***** *
Worthy of its comparisons to James Baldwin and Alan Hollinghurst as well as Virginia Woolf and W G Sebald . . . spellbinding . . . a novel of rejection and disgust, displacement and transcendence . . . I found myself trembling as I read it * Evening Standard *
A refreshingly slim, subdued and contemplative piece of work . . . Greenwell writes in long, consummately nuanced sentences, strung with insights and soaked in melancholy . . . What Belongs to You is an uncommonly sensitive, intelligent and poignant novel * Sunday Times *
I had thought of Hollinghurst as I read What Belongs to You, Greenwell's astonishingly assured debut novel, but questioned whether the parallel came to mind because both writers create vivid, enclosed worlds filled with ambiguous and shifting relationships between gay men. In fact, though, the greater similarity lies in their ability to blend a lyrical prose - the prose of longing, missed connections, grasped pleasures - with an almost uncanny depth of observation . . . [The] middle section [is] a masterful study in alienation and escape . . . Like the writers he admires, WG Sebald, Thomas Bernhard and Javier Marias, he is drawn to the idea of a body of work that seems as though it is all one book, or, as with Sebald in particular, a territory in which the reader wanders. It is perhaps too soon to say precisely what Greenwell's own fictional territory will look like - but even this early on, the landscape looks too riveting to miss -- Alex Clark * Guardian *
A rich, important debut, an instant classic to be savored by all lovers of serious fiction because of, not despite, its subject: a gay man's endeavor to fathom his own heart -- Aaron Hamburger * New York Times Book Review *
Brilliantly self-aware . . . Greenwell's novel impresses for many reasons, not least of which is how perfectly it fulfills its intentions. But it gains a different power from its uneasy atmosphere of psychic instability, of confession and penitence, of difficult forces acknowledged but barely mastered and beyond the conscious control of even this gifted novelist -- James Wood * New Yorker *
With What Belongs to You American literature is richer by one masterpiece. The character Mitko is unforgettable, as all myths are. He reigns at the heart of this book, surrounded by the magic flames of desire -- Edmund White, author of A Boy's Own Story
A powerful novel from a writer who seems destined to produce fine work in the years ahead, describing both the condition of loneliness and the insistent cravings of the flesh with precision and sensitivity. [Greenwell] never seeks to manipulate our emotions, but creates a narrative voice so enigmatic that one feels both affection and disdain for him simultaneously. Too often in fiction it becomes clear how an author wants the reader to feel, but Greenwell's character is too complex a creation for any easy judgments. And that is what will make both him and this novel particularly memorable -- John Boyne * Irish Times *
In his spare, haunting novel, Garth Greenwell takes a well-known narrative and finds new meaning in it. What Belongs to You is a searching and compassionate meditation on the slipperiness of desire, the impossibility of salvation, and the forces of shame, guilt, and yearning that often accompany love, rendered in language as beautiful and vivid as poetry -- Hanya Yanagihara, author of A Little Life
There's a particular joy in reading Garth Greenwell, in having that feeling, precious and rare: here is the real thing -- Claire Messud, author of The Woman Upstairs
In Garth Greenwell's incandescent first novel, What Belongs to You, an old tale is made new, and made punishing. . . Mr. Greenwell writes long sentences, pinned at the joints by semicolons, that push forward like confidently searching vines. There's suppleness and mastery in his voice. He seems to have an inborn ability to cast a spell . . . A writer who opens chasms rather than builds substandard bridges . . . A subtle observer of human interactions. He underscores the way expressions of love are nearly always, in part, performance -- Dwight Garner * New York Times *
Exquisite . . . Stylistically, Greenwell owes more to Sebald than to Nabokov . . . One of the great pleasures of his prose is how profoundly thoughtful it is, even when considering physical needs and passions. This is emotion recollected in tranquillity, or rather in melancholy. There is an almost visceral disjuncture between places and actions that are grubby, even squalid, and the delicacy of the lens through which they're seen. Yet the effect, paradoxically, is one of almost pure emotion -- Damon Galgut * The Nation *
One of the few novels I've read which feels like it offers an authentic account of what growing up is like for gay people in western societies . . . Greenwell's novel is at its most affecting when subtly pushing readers to examine their own attitudes and motives . . . By illuminating the dividing lines in our unequal world, Greenwell's novel challenges us to think about privilege, especially our own . . . What Belongs To You presents a challenging and refreshing vision of gay life. It's an original addition to the line of fiction which, from Henry James to Ben Lerner, chronicles the lives of Americans in Europe. Greenwell painstakingly captures desire in all its complex, double-edged intensity . . . Erotic holding, emotional withholding and the question of who holds power in a relationship are all examined in a work which gripped me all the way to its sad and beautiful ending * Independent on Sunday *
Garth Greenwell's first novel is gilded with the kind of praise that debut writers might never dare to imagine for themselves . . . none of it is hyperbole. The praise is earned . . . first, Greenwell's abundant gifts: the language, Hanya Yanagihara says on the book sticker, is "as beautiful and vivid as poetry". To speak in such an approximation, though, might sell it short. Little here is metaphoric though no word is spare. Every utterance seems imbued with thought that is deep and beautiful in its clarity -- Arifa Akbar * Independent *
He imbues his prose with a bewitching combination of ethereal somnolence, luminosity and brutal rumination. His sentences are carefully balanced . . . This command of form can also be felt in the larger structures of the novel: in the rhythm and tone of its paragraphs, and in the cumulative music of the book as a whole * Times Literary Supplement *
[A novel] about the lasting damage that a loveless childhood can inflict . . . The last sequence includes some marvellous vignettes of loving kindness between parents and children, but they are presented as something that only other people can ever have, and the final pages of the book are memorable for their bleak and desperate sadness -- Neil Bartlett * Guardian *
Heartfelt . . . [A] touching, desperately sad story. And the character of Mitko, so vivid yet elusive, explains why What Belongs to You is such a promising debut * The Times *
Contains both psychological depth and moments of breathtaking drama * Observer *
This astonishing debut novel's portrait of compromised lust holds its own against classics like Lolita * Sunday Telegraph *
My novel of the year was What Belongs to You . . . a slender, poised, clear-eyed and devastating account of the depths to which unrequited sexual obsession can lead you * Spectator *
A slender and achingly beautifully novel full of the gloriously messy pain of unrequited and inappropriate love -- Cathy Rentzenbrink * Stylist *
A truly stunning debut . . . a masterpiece . . . A literary star is born -- Janice Forsyth * BBC Radio Scotland *
The American book changing gay literature * Attitude *
A slim novel, yes, but a slim masterpiece * Monocle24 *
I was blown away by [What Belongs to You] -- Farhana Gani * the Reader's Digest podcast *
Exquisite . . . Risk and desire are the 'coterminous' elements of the book's style as well as its action, terms of engagement Greenwell makes plain from its first page . . . Breathtaking . . . It's hard to tell at times whether the narrator is the innocent abroad or an American abroad among innocents. Greenwell's insight is that the destruction of innocence is a process that never halts -- Christian Lorentzen * New York Magazine *
Outstanding in just about every way a novel could be * Los Angeles Times *
The strength of this slim book is the vibrant, heartbreaking character Mr Greenwell creates in Mitko: object of the unnamed narrator's desire, fear, obsession and, ultimately, pity. . . Mr Greenwell offers a tender portrait of the longing for connection and acceptance that inhabits us all * The Economist *
Although this is a debut novel, expectations have been running high. What Belongs to You grew from a lauded novella called Mitko. And Greenwell's literary criticism in the New Yorker and the Atlantic demonstrates an unusually keen and insightful mind. That promise is fully realized here in the dark magic of these pages . . . This is a novel of aggressive introspection, but Greenwell writes with such candor and psychological precision that the effect is oddly propulsive . . . In the end, a novel like this can't offer any resolution except its perfect articulation of despair that anyone with a heart will hear -- Ron Charles * The Washington Post *
Garth Greenwell's What Belongs to You is the Great Gay Novel for our times . . . an astonishing debut * New Republic *
Garth Greenwell starts 2016 on a high note with What Belongs to You, a novel that can be called truly great. The narrative follows an American teacher in Bulgaria and his relationship with a young hustler named Mitko, whom he pays for sex. But the interaction doesn't end there as you might expect, and neither does the exploration of desire, which Greenwell orchestrates brilliantly. Plumbing the depths of sexuality and psychology, What Belongs to You is lingering and haunting * ELLE.com *
What Belongs To You comes to feel, in the end, like a great enactment of an infatuation, exciting and appalling by turns-a brilliantly observed account of an attempt to make another person entirely yours, to subsume them within your story * Guernica *
At just about two hundred pages, What Belongs to You feels at once expansive and instantaneous, and its lyrical use of time is one of its most striking and immersive elements. In any given section, every moment of the book is present. . . the novel recalls works like Rachel Cusk's Outline, Elena Ferrante's Neapolitan novels, and Teju Cole's Open City; and, of course, it descends stylistically from Sebald . . . What Belongs to You is a haunting, gorgeous, and fierce debut, capturing desire in every sentence - holding the space of what we long for and what can never truly be ours * The Rumpus *
Garth Greenwell's debut novel What Belongs to You aches with desire and tenderness: an American professor in Bulgaria encounters a male prostitute named Mitko in a public bathroom, beginning a complex sexual relationship between the two that will have enormous ramifications for them both. Lyrical and haunting, What Belongs to You is a rumination on lust, shame, violence, and the ways in which sexual and emotional pain stays with and shapes us * Buzzfeed *
Thomas Mann, Henry James and Marcel Proust are Greenwell's strongest forebears, with James Baldwin and Alan Hollinghurst as equally discernible inspirations. . .Garth Greenwell's writing is alive to the foreign and the unknown; he opens our eyes to worlds we had not realized existed alongside our own. Even the landscape of Bulgaria, one of the poorest and least-known countries in Europe, is made vivid and vibrant. . .What Belongs to You make visible all the painful and beautiful facets of human life and human love * New Republic *
Reaches, with elegance, with poetry, into what it means to be a human. . .I rarely feel such a connection with a book: I am sure many others will too, after reading this * Bookseller *
[What Belongs to You is] the first great novel of 2016 . . . The book is brilliantly structured . . . [and] Greenwell's ability to parse the complex emotional push-and-pull between the two men is incredible, and rivals books like Hanya Yanagihara's A Little Life or Ferrante's Neapolitan novels. His images are spot-on . . . And in Mitko, Greenwell has created one of the best characters in recent years. What Belongs to You is a great tragedy, and Greenwell is a great writer. I'll be reading whatever he writes next." -- Gabe Habash * Publishers Weekly (Staff Pick) *
This is a project of rare discernment and beauty, and it is not to be missed. A luminous, searing exploration of desire, alienation, and the powerful tattoo of the past * Kirkus *
There's a gorgeousness to Greenwell's prose . . . This is a heart-breaking, important piece of work, which emphasises to us all how much our lives are made (and unmade) by how our bodies collide (or don't) with the bodies of others -- Andrew Macmillan * Next Review *
Slim, eloquent and emotionally wrenching, this debut novel is a superb evocation of that curious state known as love . . . Greenwell's shimmering novel recounts an age-old story with such toughness and tenderness as to make it seem new: and that is an art in itself * RTE Guide *
What Belongs To You is a very accomplished novel from an exceptionally skilled writer. It brilliantly deconstructs the expat experience, modern sexual mores, and cross-continental cultural divides, echoing one of Greenwell's go-to novels growing up, James Baldwin's Giovanni's Room. Undoubtedly one of the novels of the year, Greenwell is a writer to watch -- Stephen Boylan * GCN *
Utterly absorbing . . . powerful . . . For its mastery of tone and its expert drawing together of a number of disparate elements, Greenwell's narrative feat is utterly remarkable and the final ten pages amount to one of the most moving passages this reviewer has ever read in contemporary fiction * RTE *
Great portrayal of obsession . . . it is in his prose that Greenwell displays his mastery * New Statesman *
Masterly debut . . . a melancholy but unwavering account of desire and its aetiologies . . . Mitko is one of the the most unforgettable characters in contemporary gay literature . . . Greenwell's rare invocation of desire's inexorable spell propels you right to the end * Australian Book Review *
First-rate debut . . . Greenwell's entranced sentences, Sebald-like in their gravity and evocativeness, take us back to the old days * Sydney Morning Herald *
What Belongs to You is a rich and sensually detailed exploration of love and obsession. A haunting, beautiful novel -- Rabih Alameddine, author of An Unnecessary Woman
What Belongs to You is a beautiful, moving, sensual novel. It announces Garth Greenwell as one of America's most exciting young writers -- Jonathan Lee, author of High Dive
In prose that is at once refined and lavish - the quiet dignity and control of Kazuo Ishiguro's The Remains of the Day coupled with the agonized passion and sexual tension of Andre Aciman's Call Me by Your Name - Garth Greenwell takes us deep inside a specific Bulgarian subculture to examine the universal: the disparity between the uninhibited lives we desire and the bearable lives we choose. I began reading What Belongs to You in admiration; I ended in tears. An exquisite debut -- Jamie Quatro, author of I Want to Show You More
Garth Greenwell is a unique, and uniquely welcome, voice in American letters. The consciousness on display in his debut novel is so rich and restless that it seems practically inexhaustible: a consciousness that rises to heights of both passion and intellect - of passion harnessed by intellect. What Belongs to You very much seems to me not only a great novel but the first installment in a great body of work -- Kevin Brockmeier, author of The Illumination
I am in awe of this book. So intimate, so honest, so exquisitely crafted, it broke my heart and left me in tears. It showed me a Bulgaria both familiar and entirely novel, rendered with candor and deep affection, and characters, whose plight and desires at first seemed foreign yet, before long, so dear. Garth Greenwell has written a marvelous book, an important book - one whose impact is as much artistic as it is cultural. What Belongs to You expands not simply the world of letters, but also our collective knowledge of what it means to be human -- Miroslav Penkov, author of East of the West
Beautifully rendered, quietly obsessive. A Sebaldian account of a gay American in Sofia, Bulgaria, and the bruising experience of his sexuality being revealed to his father when he was younger -- Adam Haslett, author of Imagine Me Gone
I was blown away by it . . . beautiful -- Helen Lewis * Saturday Review, BBC Radio 4 *
Absolutely astonishing . . . a tour de force . . . remarkable -- Christopher Frayling * Saturday Review, BBC Radio 4 *
Beautifully written . . . a galvanising read as Greenwell constantly dissects his own feelings, thoughts and motives, sieving through desire and need with intelligence, insight and candour . . . Greenwell pulls off a mesmeric read . . . a finely wrought and compelling artifact of both beauty and truth. * New Zealand Listener *
I devoured it, in a single sitting . . . I was completely spellbound by it . . . What Belongs To You is concentrated brilliance, a short novel that packs an emotive and thought provoking punch. I urge you all to read it * Savidge Reads *
The literary sensation . . . a brilliant tale of gay desire and class division that is exquisitely phrased * i *
What Belongs To You is an exquisite triptych * Vulture *
An astonishing portrait of compromised lust, set in ex-Soviet Sofia, this debut novel holds its own against classics such as Lolita * Telegraph *
The main character, Mitko, is truly memorable and pulsates on the page, and the novel is imaginative in the way it examines relationships that cross class and nationality * Robbie Millen, The Sunday Times *
An exquisitely written investigation of desire and shame -- Justine Jordan * Guardian *
Garth Greenwell's What Belongs to You beautifully plumbs the depths of physical desire to reveal the profound way sexuality defines our sense of ourselves in the world, the way the body's unquenchable longings shape our relationships and our friendships, our loneliness and our ability to love. -- Matthew Griffin * Guardian *
An American schoolteacher living abroad meets a 23-year-old male prostitute in a public restroom in Bulgaria. Money is exchanged. A long, complicated relationship ensues, one based in lust and shame and dread. What Belongs to You is a short novel, but Garth Greenwell's sentences are expansive and revelatory and poetic. Greenwell juxtaposes the narrator's experiences in an unprogressive, formerly Communist country still recovering its infrastructure, to the narrator's own childhood, growing up gay and closeted in the oppressive American South. What Belongs to You is a lovely meditation on fear and acceptance, desire and oppression, and the disparity between two cultures. * Esquire (USA) *
[It] follows the story of a young American man's desire for a Bulgarian hustler as they become increasingly entangled in a knot of lust, need, and mutual doubt. Greenwell uses a fluent realism to set the capital of Sofia as the backdrop for the failings of both narrator and his beloved. And the author's long, additive phrasings keep the novel humming throughout. * Slate *
With nearly unbearable intensity, Greenwell relates the story of an American teacher in Sofia, Bulgaria, and a young male prostitute named Mitko. Their relationship starts as purely sexual, but as it becomes increasingly complicated, Greenwell proves himself a master of driving to the heart of obsession, fear, and love. * Publishers Weekly (Named one of Publishers Weekly's Top Ten Books of the Year) *
Nothing was as stunning this year as the shape and beauty of Greenwell's sentences. Whether writing about erotic obsession or the way dust passes through afternoon light on a city bus, Greenwell is an artist whose talent lies in portraying experience as a sort of radiance * Vulture *
Garth Greenwell's What Belongs to You had me spell-bound with its meditation on suburban American childhood, sexual love and belonging -- Kapka Kassabova * Evening Standard *
My favourite novel of the year has been What Belongs to You by Garth Greenwell a melancholic but sexy tale of an American teacher's encounter with a young hustler in Sofia. The writing is poetic and compassionate and announces Greenwell as a literary talent * Herald *
Garth Greenwell'sWhat Belongs to You is a lyrical contemplation of desire, love and identity, a chronicle of the relationship between the protagonist, a gay American teacher, and a Bulgarian hustler. Written in meditative, generous prose, it is at once formally accomplished and intimate, high-minded but personal, witty but substantive. It's the best first novel I've read in a generation -- Andrew Solomon * Guardian *
What Belongs to You charts the relationship between a young English teacher and a Bulgarian hustler. It's the specificity of Garth Greenwell's observations that give this debut novel its emotional power -- Rupert Thomson * Guardian *
The most stirring, understated books I read this year. Greenwell's voice is measured, built on careful observations and quiet gestures -- Kevin Nguyen * GQ *
Garth Greenwell's What Belongs to You manages to condense the physical and metaphysical nature of longing and desire into prose that turned me on and broke my heart. A classic -- Damian Barr * Guardian *
I loved Garth Greenwell's What Belongs to You, a novel that finds the poetry and beauty in cruising lavatories for sex -- SJ Watson * Guardian *
Searching for anonymous sex in Bulgaria, a young American strikes up a fraught friendship with a rakish drifter. In these poetic sentences, emotional fearlessness is mated with extraordinary sensitivity to the tremors of regret * Washington Post *
My novel of the year was What Belongs to You, Garth Greenwell's slender, poised, clear-eyed and devastating account of the depths to which unrequited sexual obsession can lead you, particularly if you become entangled with a rent-boy in Sofia -- Peter Parker * Spectator *
Garth Greenwell's enigmatic debut, What Belongs to You, is an acquired taste but that hasn't stopped me trying to foist it on all my friends. It's the spellbinding account of an American academic's intense desire for a rent boy in post-Soviet Bulgaria. Written in limpid prose, it reflects on the anguish of growing up gay with a Republican father in Kentucky. With things as they now are in the US, it couldn't feel more essential -- Johanna Thomas-Corr * Evening Standard *
In What Belongs to You, an American teacher in Bulgaria encounters a captivating hustler named Mitko in a public bathroom, setting into motion an ambiguously transactional relationship marked by both tenderness and brutality, connection and isolation. What Belongs to You speaks of desire and the lives of those who desire with exquisite specificity and power, and will haunt you long after you turn the final page * Buzzfeed *
Mitko is the swaggering heart of this slim exceptional novel. Conjured in exquisitely sensual prose, his presence is so animating that when he disappears from the narrative for a time, the reader shares in the longing. But more than a confessional narrative of desire, this is an astute portrait of queer exile . . . Greenwell is acutely aware of what happens to queer lives when they are denied dignity, and the unforgettable Mitko is drawn with a tenderness that persists even in frank depictions of his syphilis (in post-communist Bulgaria, he has little access to basic medicines that treat common STDs). Imbuing an eternal theme - the lopsided nature of infatuation, the mythmaking around the beloved - with a grave specificity, Greenwell displays a mastery of both style and form. As the tightly controlled narration, which admits only reported speech, unfolds, one thing becomes increasingly, heartbreakingly apparent: the real Mitko will remain forever inaccessible * Overland *
Probably my favourite book of the year, however, was a debut: Garth Greenwell's What Belongs To You . . . In dense, emotional prose, Greenwell creates a fascinating, isolated character tormented by his past, struggling with his present and uncertain of his future -- John Boyne * Independent *
You may also be interested in...
×
Download the Waterstones App
Would you like to proceed to the App store to download the Waterstones App?
Reserve online, pay on collection


Thank you for your reservation
Your order is now being processed and we have sent a confirmation email to you at
When will my order be ready to collect?
Following the initial email, you will be contacted by the shop to confirm that your item is available for collection.
Call us on or send us an email at
Unfortunately there has been a problem with your order
Please try again or alternatively you can contact your chosen shop on or send us an email at