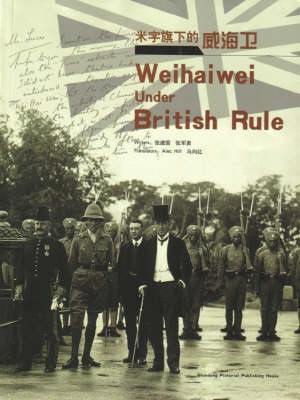 Paperback
Published: 28/04/2007
Weihaiwei, now known as Weihai, is a sea port on the eastern tip of the Shandong Peninsula in northern China, surrounded on three sides by the sea and with many unspoilt beaches. Its position ensures an attractively mild climate with refreshing summer breezes and it has received rewards for the excellence of its environment. Located not very far from Beijing, it escapes the capital's dry and hot summer climate. For the British Navy in the past, it provided a welcome refuge from the equally hot, but extremely humid, climate of Hong Kong, to the south. It is twinned with the British town of Cheltenham.Abandoned in the attic of a Cheltenham house by its former owner was discovered a box of photographic plates dating from the end of the nineteenth century. To the astonishment of the new owner, Ian Johnson, now Chairman of the Weihai Link (which assists Cheltenham Borough Council in organising exchanges between the two twin towns) these original plates proved to be the records of the take-over of Weihaiwei by Britain, under a treaty with the then Qing Dynasty government. The Naval Museum at Greenwich was delighted to receive these additions to its records.These photographs, which are reproduced throughout the book, depicted British troops, marines and naval forces, their officers and their ships, Indian troops, Chinese troops, the former Qing Dynasty naval base on Liugong Island in the bay at Weihaiwei, which was employed by the British Far Eastern fleet as a summer base. The pictures, which are augmented by many others from a number of sources, provide fascinating images of the old walled city, its people, markets and transport, the surrounding countryside, the fishing boats, the hotels, schools, trading shops, also foreign and Chinese dignitaries, Chinese labourers queuing to sign up for the first world war, and British troops relaxing and participating in recreational activities on the island.The friendship link between Cheltenham and Weihai was set up in 1985, after five members of the Society for Anglo-Chinese Understanding (SACU) had gone to conduct research into urban changes within Shandong Province. Led by Cheltenham Councillor (later Mayor) Jim Pennington, the group decided to spend four days researching in Weihai. They received a very friendly welcome, and were greatly impressed by the climate, the sea, the beaches, the pines and the holiday atmosphere.Above all, the visitors were amazed to be shown an enormous 20 feet contour development model of the town and its surroundings, demonstrating the five year plan to convert the whole area into a modern trading port open to direct trade with foreigner countries. Weihai was one of fourteen ports selected by the Chinese Government for special development. This model contained lights which could be switched on to illustrate future trading areas, new universities, recreational areas, motorways, port extensions, reservoirs, housing areas, shopping precincts, etc.The visitors' doubts as to the feasibility of the proposed timescales for all this to take place were dispelled when they were taken to view a motorway development on which verges and central trees and shrubs had already been planted. Furthermore, the foundations for various overhead by-passes had already been excavated. We learned that a complete construction team, just one of a dozen such teams working on different parts of the plan, was already hard at work. In Cheltenham by contrast, an inner ring road has still only been partially constructed after more than 50 years!Weihai is now six times the size of Cheltenham and contains 1.3M people under the authority of its mayor, with several former 'villages' now achieving 'city' status. Hundreds of foreign companies have established themselves there, enjoying its spacious housing, pine woods and beaches. The city is in addition a major tourist centre for Chinese and foreign visitors. It is a centre for seafood and fruit production, including grapes, apples and pears, and now has rail links, an airport, and a coastal motorway, as well as one to Beijing.The new English text version of the book "Weihaiwei under British Rule" tells the fascinating story of the rebirth of China as a major world power in an area and set in a region controlled by Britain from the end of the Opium Wars to the collapse of the Qing Dynasty and the formation of the Republic, followed by the War Lords period, and the battles between the imperial powers: Britain, Tsarist Russia, Japan, Germany and others for ports, bases, railways, trade, control. It covers the early years of the communist advance up to the Second World War, when Japan took over Weihai.The history is told from a Chinese point of view, but aided by considerable research and information from foreign historians, in particular from the collections in Edinburgh of two remarkable figures, both British administrators of Weihaiwei: Reginald Johnston and James Haldane Stewart Lockhart. Johnston was the final administrator before the territory's return to China, and he was also for a long time assistant to Stewart Lockhart, the first civilian administrator. Both men had remarkable knowledge of and sympathy for Chinese culture, and were fluent in the Chinese language. Lockhart was a Confucian scholar, whilst Johnston had an even wider knowledge of all aspects of Chinese culture which he would promote in preference to Western ideas. Their success was based on governing by relying on traditional Chinese methods.For a while Johnston acted as a travelling magistrate, often touring around the surrounding territory, judging cases just like a Chinese magistrate. He was highly regarded by the Chinese and achieved the unique honour of being appointed tutor to the last Qing emperor, Puyi. Bertolucci's widely acclaimed film "The Last Emperor", in which Johnston was portrayed by Peter O'Toole, is partly based upon Johnston's memoirs. Johnston is still remembered by older residents of Weihai.The book is also based on reminiscences of former Weihai and Liugong traders, residents, and hoteliers who had lived and worked in Weihaiwei during its occupation by Britain, and the text gives a remarkably clear and balanced view of governmental fluctuations and military struggles during a period of great changes in China's historical development. A wide range of people have contributed family recollections and memorabilia. This book can be appreciated by students, the general public, and historians alike. It will also serve as a tourist guide.Seldom has a book, written in a popular style, covering so much vivid and topical historical developments, created such interest for readers of all ages on a world wide scale. This is an unusual book which will be retained on the book shelves of discerning readers and will prove an essential work for university and reference libraries. It contains 258 photographs and 150,000 words.
Publisher: Reardon Publishing
ISBN: 9781873877814
Dimensions: 265 x 200 x 15 mm
You may also be interested in...
Simply reserve online and pay at the counter when you collect. Available in shop from just two hours, subject to availability.
Thank you for your reservation
Your order is now being processed and we have sent a confirmation email to you at
When will my order be ready to collect?
Following the initial email, you will be contacted by the shop to confirm that your item is available for collection.
Call us on or send us an email at
Unfortunately there has been a problem with your order
Please try again or alternatively you can contact your chosen shop on or send us an email at