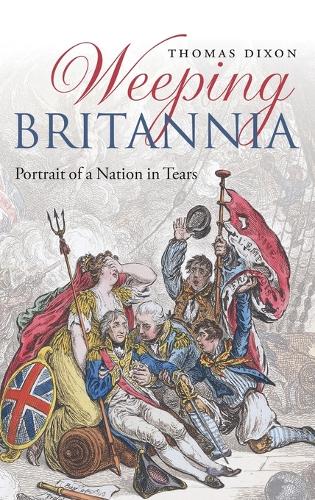 Weeping Britannia: Portrait of a Nation in Tears (Hardback)
Thomas Dixon
(author)
Hardback
456

Pages / Published: 10/09/2015
In stock online

Free UK delivery
There is a persistent myth about the British: that we are a nation of stoics, with stiff upper lips, repressed emotions, and inactive lachrymal glands. Weeping Britannia - the first history of crying in Britain - comprehensively debunks this myth. Far from being a persistent element in the 'national character', the notion of the British stiff upper lip was in fact the product of a relatively brief and militaristic period of our past, from about 1870 to 1945. In earlier times we were a nation of proficient, sometimes virtuosic moral weepers. To illustrate this perhaps surprising fact, Thomas Dixon charts six centuries of weeping Britons, and theories about them, from the medieval mystic Margery Kempe in the early fifteenth century, to Paul Gascoigne's famous tears in the semi-finals of the 1990 World Cup. In between, the book includes the tears of some of the most influential figures in British history, from Oliver Cromwell to Margaret Thatcher (not forgetting George III, Queen Victoria, Charles Darwin, and Winston Churchill along the way). But the history of weeping in Britain is not simply one of famous tear-stained individuals. These tearful micro-histories all contribute to a bigger picture of changing emotional ideas and styles over the centuries, touching on many other fascinating areas of our history. For instance, the book also investigates the histories of painting, literature, theatre, music and the cinema to discover how and why people have been moved to tears by the arts, from the sentimental paintings and novels of the eighteenth century and the romantic music of the nineteenth, to Hollywood weepies, expressionist art, and pop music in the twentieth century. Weeping Britannia is simultaneously a museum of tears and a philosophical handbook, using history to shed new light on the changing nature of Britishness over time, as well as the ever-shifting ways in which we express and understand our emotional lives. The story that emerges is one in which a previously rich religious and cultural history of producing and interpreting tears was almost completely erased by the rise of a stoical and repressed British empire in the late nineteenth century. Those forgotten philosophies of tears and feeling can now be rediscovered. In the process, readers might perhaps come to view their own tears in a different light, as something more than mere emotional incontinence.
Publisher: Oxford University Press
ISBN: 9780199676057
Number of pages: 456
Weight: 808 g
Dimensions: 241 x 162 x 32 mm
---
MEDIA REVIEWS
The book I most enjoyed this year was Thomas Dixon's Weeping Britannia.Using a wide range of literary sources and personal documents, the book makes a wonderfully vivid contribution to the history of the emotions, raising fascinating questions about how our expression of feeling is subject to cultural conditioning. * Professor Sir Richard J. Evans, Books of the Year 2015, Times Literary Supplement *
Entertainingly written, and personal to just the right degree, Dixon's book reveals how short-lived was the British cult of the stiff upper lip, and persuades me, as least, not to mourn its passing. * Ritchie Robertson, Books of the Year 2015, Times Literary Supplement *
An elegantly written book that will transform your understanding of the British national character. * Thomas W. Hodgkinson, Books of the year 2015, Spectator *
One of the most lauded history books of 2015. * Matthew Sweet, 1843 *
A history of tears makes for a tragicomic read and Dixon has an appropriately light touch. His is a cheerful, erudite book, which charts our attitude to weeping, the contention being that the British have often been proficient, even virtuosic weepers. Dixon blends academic and popular culture well; his voice is accessible and human. * Melanie Reid, Times *
... erudite and entertaining ... This is a book that surprises and delights. * Erica Wagner, New Statesman *
So well written, to the point and enlightening that there were times I almost wept. * Thomas Hodgkinson, Spectator *
enjoyable and scholarly ... one of the many pleasures of Dixon's book is the range of examples that he uses to show us how this story of weeping and the emotional cultures framed by it is never absolute. * Lucy Noakes, History Today *
A wide-ranging, enjoyable and accessible history of British weeping ... If current public debates about British national identity make you want to burst into tears, Weeping Britannia is an enjoyable reminder that you're in good company. * John Gallagher, The Guardian *
Immensely readable and often puckish ... Dixon's instinct for connections and comparisons is unfailingly sharp and illuminating. * Ferdinand Mount, London Review of Books *
ambitiously wide-ranging and thoroughly engaging * John Mullan, Times Literary Supplement *
[Dixon deploys] many delightful vignettes to show that crying has gone in and out of fashion over the centuries, like flared trousers or big pants. His aim is to create "a portrait of a nation through a series of lachrymose miniatures" - 20 short chapters (or, for those of you of a more tolerant disposition, what he calls "twenty historical teardrops"). The result is a moving, tender and encyclopedic depiction of key events, individuals and texts that serve to illustrate Dixon's theory that it was the Reformation, the French Revolution and the Empire that stifled the sob-fests. * Times Higher Education, Joanna Lewis *
Thomas Dixon's pioneering study ... fully deserves the huge attention and success it has received both within and far beyond the academic sphere. Erudite and entertaining, it is intellectually ambitious, emotionally engaged, full of insight and packed with surprising details. The illustrations are well chosen, and the eighty-five pages of notes and guides to further reading are hidden away at the back. * Bernard Capp, University of Warwick, The English Historical Review *
This is a cultural issue, topical as well as historical, and Dixon's book raises study of the subject to a new level of scholarship and sophistication. His thesis should stimulate rather than end a debate to which this book makes a major, and hugely enjoyable, contribution. * Bernard Capp, University of Warwick, The English Historical Review *
The accumulative effect of Dixon's narrative is nothing short of operatic as we watch one affective regime rise as another falls while seeing traces of the past persist within the present. By the end of the book, it becomes clear that we are in the hands of a historian who helps us better understand the social and historical forces animating the British people's most intimate emotions. * Gary Kuchar, Journal of British Studies *
Weeping Britannia deserves to be widely read ... It makes for an enjoyable as well as an instructive read; Dixon's writing style is lively, engaging, and very human. * Hannah Rose Woods, Reviews in History *
This book is a stunning example of what history and literary criticism are capable of. It shows that the humanities can be not only "relevant" and fascinating, but even liberating, when they take actual human beings as their subject. * Dan Hitchens, The Tablet *
Erudite, fascinating, and moving. I almost cried. * Ian Hislop *
Simply magnificent. The best thing I have read this year...A brilliant, sad, and funny history. * Joanna Bourke, author of The Story of Pain *
Please stop crying. Hooray! There's finally a book telling us why we're all at it non-stop - peppered with fascinating facts about the nation's biggest public boo-hooers. * Jo Brand *
You may also be interested in...
Simply reserve online and pay at the counter when you collect. Available in shop from just two hours, subject to availability.
Thank you for your reservation
Your order is now being processed and we have sent a confirmation email to you at
When will my order be ready to collect?
Following the initial email, you will be contacted by the shop to confirm that your item is available for collection.
Call us on or send us an email at
Unfortunately there has been a problem with your order
Please try again or alternatively you can contact your chosen shop on or send us an email at