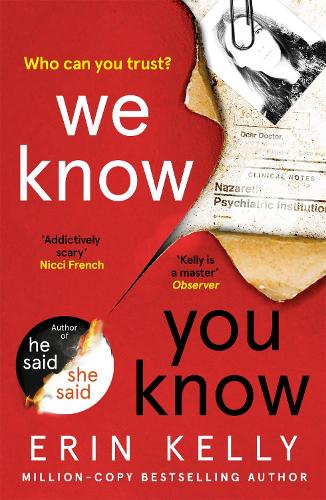 Paperback
352

Pages
Published: 09/07/2020
Gripping, tragic and unexpected, We Know You Know is a brilliantly plotted psychological thriller from the author of He Said She Said. Through her nuanced and complex characters, tormented by their past, Kelly builds an audacious and uniquely chilling story that will haunt the reader long after the final pages.
The gripping new psychological suspense novel from the bestselling author of breakout hit He Said/She Said
This novel was previously published as Stone Mothers in hardback.
Gripping, terrifying and moving back through time to reveal twists you'll never see coming, We Know You Know delivers shocks and suspense from a master of thriller writing.
'I heard the swish of falling paper. I grazed my knuckles retrieving a beige folder, its grubby white ribbon loose. Looping doctor's handwriting. Addresses. Dates. Names. Photographs! I had found the patients whose notes would bring the past back to life.'
A lifetime ago, a patient escaped Nazareth mental asylum. They covered their tracks carefully. Or so they thought. Thirty years ago, Marianne Smy committed a crime then fled from her home to leave the past behind. Or so she thought.
Now, Marianne has been forced to return. Nazareth asylum has been converted to luxury flats, but its terrible hold on her is still strong. A successful academic, a loving mother and a loyal wife, she fears her secret being revealed and her world shattering.
She is right to be scared.
Publisher: Hodder & Stoughton
ISBN: 9781444797305
Number of pages: 352
Weight: 240 g
Dimensions: 196 x 128 x 28 mm
---
MEDIA REVIEWS
'A beautifully dark, Gothic story of characters haunted by their past: poignant and tragic, full of unexpected shifts and twists, addictively scary and thrillingly audacious.' - Nicci French
'A clever, nuanced psychological thriller from one of the best writers in the genre. Properly chilling, you'll be gripped.' - Red
'The incomparable Erin Kelly has written another captivating, cleverly constructed contemporary novel.' - Paula Hawkins, author of The Girl on the Train
'Crime fiction at its most ingenious and gripping - and its wisest.' - Sunday Express
'The fantastically taut, compelling plot, brooding atmosphere and fast pace make it a winner.' - Good Housekeeping
'Doubly excellent - truly fine psychological suspense, and plenty to think about, too, when your pulse has returned to normal.' - Lee Child, Sunday Times bestselling author of the Jack Reacher series
'A gripping thriller which is impossible to put down, culminating in a heart-stopping final showdown' - Daily Express
'From the twist on the first page to the final gasp, this is a dazzling psychological thriller.' - Grazia
'Compelling, darkly atmospheric and powerful, Stone Mothers leads you deeper and deeper into a claustrophobic world of desire, violence and blackmail. With all the ingredients of a classic psychological thriller, it's also got amazing depth and resonance, examining the shifting dynamics of power and the legacy of violence.' - Bridget Collins, author of The Binding
'Gripping, atmospheric thriller.' - Daily Mirror
'The plot is so CLEVER, the characterisation weep-makingly wise, and the writing is perfection. It is great.' - Marian Keyes, author of The Break
'A great read... another twisty, layered, nuanced story, filled with complexity and shadows.' - Ruth Ware, author of The Death of Mrs Westaway
'Stone Mothers is a pitch-perfect, beautifully-written, literary crime novel. I pressed my copy into the hands of a friend as soon as I'd finished it.' - Paula Daly
A wonderful page-turner full of dark secrets - atmospheric and intense with a gripping plot. Beautifully and cleverly written, Stone Mothers tells the tale of the Nazareth Mental Hospital, its impact on a community and the consequences one incident has on the lives of the characters involved. I loved it.' - Jenny Quintana
'Atmospheric, compelling and worryingly apposite. This is powerful storytelling for the times we're in.' - Tammy Cohen
'Compelling... The strength of Kelly's writing is the combination of strong, believable characters and ingenious plotting, her brilliantly timed reveals constantly pulling the rug out from under her readers. Exemplary writing.' - The Big Issue
'What a storyteller Erin Kelly is. The women in this story and the ways in which their lives are entwined, the echoes of the past, the weight of secrets, the fear and the intimacy - it's all here. Simply spectacular.' - Sarah Hilary
'An atmospheric tale of buried truths and the devastating consequences, I was fascinated and horrified in equal measure. Another triumph from Erin Kelly.' - SJI Holliday, author of The Lingering
'Chilling, spine-tingling with a pace that leaves you breathless. Stone Mothers is a beautifully written puzzle, a thriller with heart that had me racing through the pages to find out what happens.' - Kate Hamer, author of The Girl in the Red Coat
'Warning: may induce whiplash. So many novelists merely maintain altitude with each book; Erin Kelly tops herself time and again. Stone Mothers is the best and boldest novel to date from one of the very best thriller writers at work today: a sinuous, slippery thriller as ingenious as it is absorbing.' - A.J. Finn, author of The Woman in the Window
'Stone Mothers... is a complex, suspenseful and moving story about motherhood and vulnerability. I loved the way Erin Kelly switched competing narratives to make us question our own perspectives on such a fraught subject as how we provide care for the mentally ill.' - Isabelle Grey, author of the DI Grace Fisher series
'A treat for anyone who loves their suspense gothic and poignant. The chilling Nazareth Mental Hospital haunts the lives of all who come there, reserving its coldest touch for those women who dare have ambition.' - Lucie Whitehouse
'A plot to die for, with characters so real you can hear them breathing. Let Erin Kelly's Stone Mothers take you by the hand and hold on tightly for the ride. A truly exceptional read.' - Lucy Dawson, author of White Lies
'Holy hell, Erin Kelly gets better and better! Stone Mothers made me weep, smile and tremble all at once. Prose so razor sharp I wanted to savour it but a plot so pacy I couldn't help racing through it. Brilliantly moving.' - Holly Seddon
'Full of sentences that are so good I want to write them down and pin them to the wall.' - Mark Edwards, author of In Her Shadow
'Kelly is a masterful storyteller. The twists and turns keep you gripped until the very last page... This is a brilliant, beautiful book - and an important one.' - Paul Burston
'From the opening, pulse-raising first line, Stone Mothers is absolutely riveting and so beautifully written. This is Erin Kelly at the top of her game - and that's saying something after He Said/She Said.' - Michelle Davies, author of False Witness
'Stone Mothers is a beautifully dark and chilling story and I was gripped from start to finish. I am in awe of Erin Kelly's superb writing.' - Heidi Perks, author of Now You See Her
'Loved Stone Mothers by the genius that is Erin Kelly. Gripping, moving, impossible to put down and fiendishly readable, fascinating but wears its meticulous research so lightly, just awesome. She's done it again.' - Laura Marshall, author of Friend Request
'I loved Stone Mothers... Manages brilliantly to be at once sharp and gentle, cruel and compassionate. Kelly really does just keep getting better and better.' - Julia Crouch, author of Her Husband's Lover
'It is rare when exquisite plotting and damn fine writing come together, but Erin does it every time, seamlessly. Stone Mothers is an absorbing, humane and intriguing story that will have readers enthralled.' - Liz Nugent, author of Skin Deep
'Brilliantly written and so ambitious in terms of plotting and atmosphere... the perfect storm of a crime novel.' - Caz Frear, author of Sweet Little Lies
'Absolutely brilliant! Well crafted, twisty and beautifully written.' - Jenny Blackhurst
'Kelly's ingenious, smart, engrossing books fill me with joy. Her twisted understanding of human nature is second to none. '- Alex Marwood, author of The Darkest Secret
'Erin Kelly is on sparkling storytelling form in a tale as dark and labyrinthine as the corridors of the crumbling Victorian asylum at its heart. As well as a creepy mystery she creates a razor-sharp evocation of growing up in small town 1980s Suffolk - and how you can never escape the past.' - Anya Lipska
'Dickensian in scope and atmosphere, superbly researched and absolutely gripping.' - Sinead Crowley
'Stone Mothers is a compelling, disturbing story, and beautifully written - as we have come to expect from Erin Kelly.' - Rachel Abbott, author of Come A Little Closer
'Expertly plotted and full of rich detail and unforgettable characters. I couldn't speed through Erin Kelly's complex and twisted tale to its heart-stopping ending fast enough. I was hooked from page one and I had only one unanswered question: How does Erin do it?!' - Janet Ellis
'A powerful and moving story.' - C.L. Taylor
'A powerful and affecting psychological thriller' - Heat
'Erin Kelly is one of the most gifted writers of psychological suspense working today. Stone Mothers is an accomplished, layered and compelling novel of guilt, betrayal and thwarted love by a writer at the top of her game.' - Mel McGrath, author of Give Me the Child
'A fabulously twisty and satisfying story with amazing characterisation.' - Julie Cohen
'Utterly engaging, terrifying, and unputdownable, this novel will haunt readers.' - Booklist
'A darkly fascinating, beautifully written tale which had me completely gripped from beginning to end.' - Mike Gayle
'Intriguing and plainly irresistible. Paced perfectly, masterful in its execution, it demands to be devoured until the final words are read. The twists are clever, the language beautiful. Such a treat.' - Alexandra Burt, author of The Good Daughter
'Dark, twisty and addictive.' - Clare Pooley
'Lyrical prose, with intrigue in every page. Kelly has done it again!' - LV Hay
'Erin Kelly skilfully leads you into a dark, atmospheric story and just when you think you know where it's going, she pulls the rug out under your feet, again and again and again.' - Michelle Frances
'Wonderfully written, beautifully-realised characters and a plot so clever I gasped out loud.' - Gillian McAllister, author of No Further Questions
'Another superb book from Erin Kelly. She is a true master of the character-driven thriller.' - Helen Fitzgerald
'If you want to be pulled into a book that will hold your attention, you need to read Stone Mothers. Suspenseful, as well as unexpected, you will not be able to put this book down.' - Reader's Digest
'A dark tale cleverly formed... A layered read with a twisting plot that gains momentum from its splintered perspectives' - The Herald
'A thriller full of twists that is sure to keep you reading past your bedtime.' - Harrow Times
'A brooding, slow burning psychological thriller, with real depth and emotional punch' - Best Magazine
This powerful and affecting psychological thriller centres on how the lives of three people are forever changed by one criminal act. But it also reminds us how, just a few decades ago, women's lives were not their own - and, in some places, still aren't.' - Heat
'Beautifully written, subtly impactful psychological thriller.' - Sunday Mirror
'The story of how a covered-up murder will never lie quietly and a terrifying indictment of how the mentally ill were once treated... a genuinely surprising twist that turns assumptions neatly on their heads.' - Observer
'With some uncomfortable truths about class divisions and how we care for those with mental health issues, Stone Mothers is atmospheric and poignant.' - Guardian
'A dark, emotional must-read' - Woman's Own
'Powerful, evocative and heartbreaking. Erin Kelly's masterful prose conjures up such a strong sense of place that Nazareth Hospital becomes a character in this tangled web of secrets. The book burns with the injustice of how women were incarcerated in mental asylums simply for failing to comply with the social norms of the day' - Linda Green
'consummately plotted and glowing with rage at the way society treats women' - Sunday Express
You may also be interested in...
×
Download the Waterstones App
Would you like to proceed to the App store to download the Waterstones App?
Reserve online, pay on collection


Thank you for your reservation
Your order is now being processed and we have sent a confirmation email to you at
When will my order be ready to collect?
Following the initial email, you will be contacted by the shop to confirm that your item is available for collection.
Call us on or send us an email at
Unfortunately there has been a problem with your order
Please try again or alternatively you can contact your chosen shop on or send us an email at