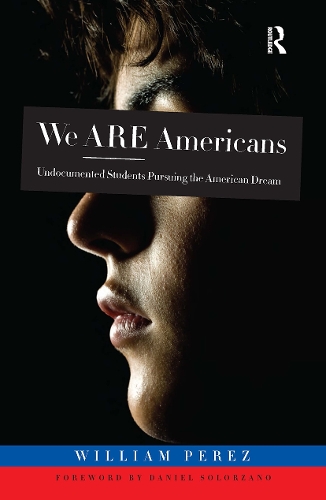 This title deals with higher education/anthropology & sociology: race, gender & diversity. Through the inspiring stories of sixteen students - from seniors at high school to graduate students - William Perez gives voice to the estimated 2.4 million undocumented students in the United States, and draws attention to their plight. These stories reveal how-despite financial hardship, the unpredictability of living with the daily threat of deportation, restrictions of all sorts, and often in the face of discrimination by their teachers - so many are not just persisting in the American educational system, but achieving academically, and moreover often participating in service to their local communities. Perez reveals what drives these young people, and the visions they have for contributing to the country they call home. Through these stories, this book draws attention to these students' predicament, to stimulate the debate about putting right a wrong not of their making, and to motivate more people to call for legislation, like the stalled Dream Act, that would offer undocumented students who participate in the economy and civil life a path to citizenship. Perez goes beyond this to discuss the social and policy issues of immigration reform. He dispels myths about illegal immigrants' supposed drain on state and federal resources, providing authoritative evidence to the contrary. He cogently makes the case-on economic, social, and constitutional and moral grounds - for more flexible policies towards undocumented immigrants. If today's immigrants, like those of past generations, are a positive force for our society, how much truer is that where undocumented students are concerned?
Publisher: Stylus Publishing
ISBN: 9781579223762
Number of pages: 200
Weight: 313 g
Dimensions: 229 x 152 x 15 mm
---
MEDIA REVIEWS
"This is a short introduction to undocumented students in the US. Perez records case histories from interviews with undocumented students, who continue to live a precarious future in a country that does not welcome them. These honest, heartrending biographical stories are the bulk of the book. Perez includes questions for discussion to facilitate group study and a brief three-page index. The introduction is informative and provides background on how these students come to live in the US without citizenship; changing demographics, including economic contributions of undocumented immigrants; use of public services; and crime statistics. Perez traces teh laws that have affected these students, from Plyer v Doe (1982) in Texas to the present. He includes statistics, e.g., "in California about 25,000 undocumented students graduate from high schools each year, yet fewer than 7,000 enroll in community colleges" and fewer still in the state university systems. He briefly gives information about statewide higher education access, in-state tuition legislation, and the DREAM Act that would extend conditional legal status to undocumented youth who meet several criteria. Perez concludes his introduction with rationales fro an immigration policy that is in the national self-interest. Summing Up: Recommended"-- (04/01/2010)
"After reading We ARE Americans, I realized that keeping a young Latino group in a second-class citizen status may be the new manifest destiny. Hispanics living in the shadows ensure a population at the ready; ready to mow lawns, wash windows and work in resaurant kitchens. Perez stresses that passage of the DREAM Act would grant undocumented students equal access to scholarships and other forms of financial aid. In defense of those brought here by their parents, he says, 'It's time to do the right thing.' "-- (03/01/2010)
"In the process of describing the lives of undocumented students in the United States who aspire to live the American dream of working hard and going to college, Perez makes the powerful case that our current caste system for persons living without legal status undermines core egalitarian American ideals and violates the essence of our constitution which brings all persons under its mantle."--Maria Blanco, Executive Director, Chief Justice Earl Warren Institute on Race, Ethnicity and Diversity (06/01/2009)
"We ARE Americans begins by placing undocumented people at the center of the story and in a much-needed historical and contemporary context. Professor Perez provides the evidence to challenge the notion that undocumented people are drain on social services and makes the argument that they have contributed, and continue to contribute, significantly to our nation's economic and social well-being. Starting with Penelope, a highly motivated and tenacious high school senior and ending with Nicole, a newly minted Ph.D., Professor Perez has crafted 20 compelling portraits of resilience and survival in a social and educational world that continuously places barriers in the path of these gifted and talented scholars."-- (06/01/2009)
"Professor Perez paints a portrait of undocumented students that is as inspiring as it is tragic. We ARE Americans emphasizes the need to rethink current immigration policies to be more inclusive and welcome immigrants as equal citizens who contribute to making America great."-- (06/01/2009)
"The stories of the undocumented students in this book represent the talented members of society that could potentially be lost if we don't act soon; and force us to rethink our current immigration policies to be more inclusive and welcoming."--Dolores Huerta, Dolores Huerta Foundation, co-founder of United Farm Workers (06/01/2009)
"The voices we hear through the pages of William Perez's book are powerful and compelling; student voices that need to be at the center of our discussions on immigration and, more specifically, on the DREAM Act. We ARE Americans reinforces that education is the surest route to empowerment, and the need for all of us to be working together to ensure that students with so much talent and determination are given the opportunity to contribute fully to this country."-- (05/01/2009)
"We Are Americans is a great and easy read which makes for a great contribution to the
already existing conversation of humane and comprehensive immigration for all. Hopefully we steer this into a more humanitarian approach and less of a political punch line for points."-- (04/01/2012)
You may also be interested in...
×
Download the Waterstones App
Would you like to proceed to the App store to download the Waterstones App?
Simply reserve online and pay at the counter when you collect. Available in shop from just two hours, subject to availability.
Thank you for your reservation
Your order is now being processed and we have sent a confirmation email to you at
When will my order be ready to collect?
Following the initial email, you will be contacted by the shop to confirm that your item is available for collection.
Call us on or send us an email at
Unfortunately there has been a problem with your order
Please try again or alternatively you can contact your chosen shop on or send us an email at