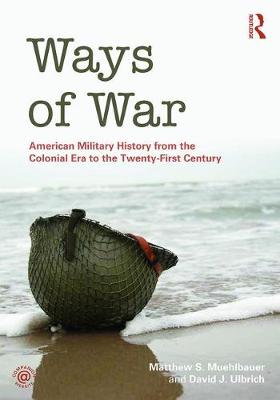 Paperback
537

Pages / Published: 06/02/2014
From the first interactions between European and native peoples, to the recent peace-keeping efforts in Afghanistan and Iraq, military issues have always played an important role in American history. Ways of War comprehensively explains the place of the military within the wider context of the history of the United States, showing its centrality to American culture and politics. The chapters provide a complete survey of the American military's growth and development while answering such questions as: How did the American military structure develop? How does it operate? And how have historical military events helped the country to grow and develop?
Features Include:
Chronological and comprehensive coverage of North American conflicts since the seventeenth century and international wars undertaken by the United States since 1783
Over 100 maps and images, chapter timelines identifying key dates and events, and text boxes throughout providing biographical information and first person accounts
A companion website featuring an extensive testbank of discussion, essay and multiple choice questions for instructors as well as student study resources including an interactive timeline, chapter summaries, annotated further reading, annotated weblinks, additional book content, flashcards and an extensive glossary of key terms.
Extensively illustrated and written by experienced instructors, Ways of War is essential reading for all students of American Military History.
Publisher: Taylor & Francis Ltd
ISBN: 9780415886772
Number of pages: 537
Weight: 998 g
Dimensions: 254 x 178 x 33 mm
---
MEDIA REVIEWS
'Billed as a comprehensive survey of American military history for undergraduates, this work achieves much. Matthew Muehlbauer and David Ulbrich do the heavy lifting to produce a text which, given the breadth of the subject, is both comprehensive and compelling. Furthermore, against the standard of a university textbook, it is readable, quick-paced, and offers just enough thought-provoking commentary to encourage young scholars further in military history. I have no qualms recommending this book for its intended function, it being entirely fit for purpose as an introductory text.' -Review in Parameters: The US Army War College Quarterly 45 by Jill Sargent Russell, Teaching Fellow, Joint Services Command and Staff College, Shrivenham, UK
`Matthew Muehlbauer and David Ulbrich have raised the standard for American military history textbooks with their Ways of War. Featuring a lively narrative that synthesizes the latest scholarship, this volume will engage undergraduate readers on several levels while serving the pedagogical needs of their professors.I look forward to adopting Ways of War as the main textbook in my own United States at War course.' -Gregory J. W. Urwin, Professor of History, Temple University, USA
`The data is accurate. The analysis is perceptive. The material is well organized. The text is crisply written. The maps and sidebars are illuminating. This is, in short, not merely a model course text, but a valuable general-audience survey of the American military experience.' - Dennis Showalter, Colorado College, USA
`The authors wrote Ways of War for two related audiences. Undergraduate students of American Military History gain the base breadth of coverage and depth of detail necessary for them to go on into the specialized monographs and articles. Instructors are assured that the diligent and attentive student will have the context and bibliographic starting points that allows the instructor to examine specific topics, campaigns or battles, and provides enough introduction to support the assignment of substantive papers and research topics.' - Joseph Fitzharris, University of St Thomas, USA
`Ways of War: American Military History: From the Colonial Period to the Present offers a detailed yet expansive view of U.S. military history.The authors deftly survey America's military past, exploring definitive wars and campaigns, but also issues of policy, strategy and leadership.This is a useful and informative text, especially for introductory college courses examining the broad sweep of American military history.' - Lesley J. Gordon, University of Akron, USA
'In their new survey for Routledge, military historians Matthew S. Muehlbauer and David J. Ulbrich move beyond a simplified critique of Russell F. Weigley's critical "American Way of War" thesis to offer a reassessment of how the construct evolved from a number of original influences to take on various forms and applications as circumstances dictated. The end result is a view of American military affairs that is marked by an inherent flexibility that has on occasion been hamstrung by misperceptions on the part of the nation's civilian and military leaders. Based on a wide range of secondary scholarship in American Military History, Ways of War: American Military History from the Colonial Era to the Twenty-First Century (Routledge, 2013) offers far more analytical and narrative detail than many other like-minded surveys, making it a worthy candidate for supplementing and succeeding Weigley's original 1973 work.' - Bobby Wintermute, New Books in Military History
"The authors are well aware of trends in military history to include far more than narrations of battles and campaigns, and each chapter is replete with context, both political and social...these are individually strong chapters, and they are well suited to the classroom. The authors are up-to-date; the old stories and the newer slightly revised versions are all there. It is well illustrated, well organized, and designed to get students to think critically about the use of force and the strategies behind that use." -Wayne Lee, University of North Carolina, USA
"As a whole, Ways of War (and its website) are rich in detail and will lead serious students to examine-or re-examine-the primary source material in their areas of particular interest. Matthew Muehlbauer and David Ulbrich deserve high marks for refusing to whitewash recent or long-ago mistakes made by the American military. Their open and honest approach serves them well in their effort to convey the broad scope of US military history and its relevance to American society as a whole. Their ambitious book merits a place on the same shelf as the work of Russell Weigley and in undergraduate or graduate survey courses in American military history." -Nathan Albright, Michigan War Studies Review
"Au-dela d'une introduction ne manquant pas de revenir sur un certain nombre de fondamentaux de la theorie strategique, le contexte militaire mondial dans lequel se developpent les forces americaines n'est pas oublie : il est ainsi question des effets de la revolution militaire, du role des femmes dans les forces armees, de strategie des moyens et de conceptions doctrinales mais aussi de la centralite des armees et du fait militaire dans l'histoire americaine. L'ouvrage contient ainsi plus de 100 cartes, une serie d'encadres et chaque chapitre est suivi d'une courte bibliographie. L'ecriture, vivante et claire, rend accessible l'ensemble et offre une vision exhaustive constituant de facto une tres bonne introduction... Un ouvrage qui depasse donc le seul cadre historique et que l'on peut sans conteste qualifier de " meilleure introduction " sur le sujet. Indispensable donc." - Joseph Henrotin, Defense et Securite Internationale
"Although written as a textbook for university history courses, [Ways of War] is a rich resource for students of military history who are not in the classroom. It is well-illustrated with maps and other visual images to aid in comprehension. It is recommended for the shelf of all who have an interest in American military history, not only from the standpoint of campaigns and battles, but also the larger political and economic forces that are part and parcel of the background of conflict." - Marine Corps Gazette, November 2014
"A student-friendly account of American military from the Colonial Era to (briefly) the Obama administration. Very good on the nature of war, on military operations, on tactics and on strategy, supported by clear and effective maps, by pertinent boxes, and by illustrations. The discussion is up-to-date and the writing is good." - Jeremy Black, War in History
"[Ways of War] is strongest in the early chapters as it encapsulates the latest scholarly discoveries and reinterpretations of warfare in the colonial world. The sections on the 'ways of war' of the American Indian juxtaposed with the European settlers' practices are exemplary and engage the reader with the newest ideas and concepts. Many textbooks give the early American wars of the European colonists short shrift, but this book gives them a surprising amount of space given its nature as a textbook which must of necessity be highly selective about its subject." - Richard W. Stewart, International Bibliography of Military History
"Already adopted into the U.S. Air Force Academy's core curriculum, Ways of War serves as an excellent primer for officers, noncommissioned officers, and federal civilians seeking understanding of how American warfare has evolved between the colonial period and the 2010s. ... Supplementing academic manuscripts that are often inaccessible to all but the most studied, this work arrives as a valuable and highly utilitarian complement to the current field of U.S. military histories." - Military Review
"Ways of War is a student-friendly account of the American military from the colonial era to (briefly) the Obama administration: very good on the nature of war, on military operations, on tactics, and on strategy, supported by clear and effective maps, by pertinentboxes, and by illustrations... a very impressive work, valuable not only for American students but also for those from abroad interested in American developments." -Jeremy Black, University of Exeter in War in History

"The research behind the book is outstanding. Ways of War offers a concise narrative covering more than four centuries of American warfare." - Daniel Kreb, University of Louisville
You may also be interested in...
Simply reserve online and pay at the counter when you collect. Available in shop from just two hours, subject to availability.
Thank you for your reservation
Your order is now being processed and we have sent a confirmation email to you at
When will my order be ready to collect?
Following the initial email, you will be contacted by the shop to confirm that your item is available for collection.
Call us on or send us an email at
Unfortunately there has been a problem with your order
Please try again or alternatively you can contact your chosen shop on or send us an email at