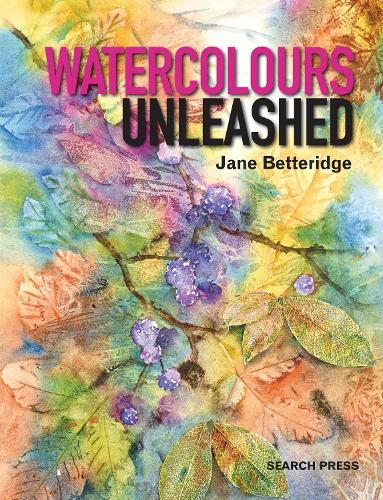 Paperback
144

Pages
Published: 19/02/2015
Creativity, along with imaginative use of the popular watercolour medium, suffuses Jane Betteridge's work. In this, her first book, she shares her painting techniques and methods with you. Learn to use watercolour paints in unusual and surprising ways to create works bursting with vibrancy and beauty.
Publisher: Search Press Ltd
ISBN: 9781782210351
Number of pages: 144
Weight: 624 g
Dimensions: 280 x 216 x 10 mm
---
MEDIA REVIEWS
Jane Betteridge, a passionate English artist, has written her first book, especially for experimental amateur painter. Enter with Jane Betteridge new paths of watercolor painting away from conventions and strict rules. The expressive images, which are characterized by bright, concentrated colors, reflect a passion and deep feelings.
Now the structure of the book:
Paper, tools and brushes that are likely to be known to the advanced painters are presented only briefly. The theme "Colours" is given an expanded section. The artist loves and is constantly testing new colors. However, they preferred a base palette of ten colors tubes whose properties and possible applications it describes. This can be very helpful for the still uncertain beginners. A good idea is to let run together side by side as a background focused all the proposed colors and diluted with various techniques such as salt, to process granulation, so as to obtain a first impression of the interaction of colors. A second palette contains more colors that harmonize again the confluence well. Color mixing and matching sample images round off the topic.
Equipped with sketchbook and camera she finds many of her motifs on holiday or in the great outdoors. When narrowing down its field of view helps her a viewfinder, which often reduces the abundance of impressions on the essentials. It follows the chapter "Techniques". The use of foil, salt, Granulationsmedium, incorporating beads, printing with cords or natural materials and much more is explained in several steps.
Finally, there are seven projects in which flowers, castles, forests, misty moors and seascapes are presented in a very detailed step by step instructions. Each project demonstrates the application of a different technique.
Conclusion:
The advanced amateur painter who wants to leave the beaten track of traditional watercolor painting will be delighted by this book. Detailed and clear instructions, many colorful image examples and informative texts make "Watercolour unleashed" both him and the beginners with basic knowledge just to try out the techniques presented.
http://kreativreview.blogspot.de/2016/01/watercolour-unleashed-von-jane.html

* Kreative review *
One of the reasons why I think many watercolourists will find this book immensely useful, especially those that are just starting out with watercolour is Jane's personal approach to the projects and watercolour as a medium. Many of the materials she recommends you use are things that you can find around the house, a small coin and kitchen paper being an example.
The tone in which the book is written actually feels like Jane is with you in a one-to-one tutorial, the language used is not the overcomplicated or stuffy which you can sometimes find with tutorials or books that explain a particular process or medium.
I also think it would make a great referral book to go back to from time to time, if you are suffering with a creative block or feel stifled with your own techniques or styles of painting.
Full review: https://www.jacksonsart.com/blog/2017/05/05/book-review-interview-jane-betteridge-author-watercolours-unleashed/
* Jackson's Art *
Jane's passion for watercolour is as celar as the paint on her palette, Watercolours Unleashed is a brilliant little book about washes and granulation, masking and splattering, about the use of saly and clingfilm and threads, all combined together to create texture and effects. She provides plenty of information and advice on how to achieve these striking effects and the illustrations will inspire you to have a go. Jane's approach to teaching is enthusiatic and relaxed and not only does she show how much you can achieve by experimenting, but also proves that, without a doubt, our finest work is created while we're having fun.
* SAA Paint *
March 2015
If you had ever wanted to turn your hand to watercolour painting, Jane's detailed explanations and instructions will help you to create beautiful, colourful works of art of your own. Watercolours Unleased begins with a clear introduction to the paints themselves along with other recommended materials and tools to get you started. Once the materials and tools have been covered Jane than goes on to tackle the issue of colour - an introduction to the main basics as well as other complementary colours to create your works with. Each project contains clear step-by-step instructions accompanied with full-colour photographs. Projects are well explained and clear, making following them simple for even the absolute beginner.
* Make it Shabby *
August 2015
This is no simple watercolour project book. Jane Betteridge uses collage and mixed media to add dimension and sparkle to her watercolours, which are just as easily translated into watered down acrylics. Following Jane's clearly photographed step-by-step instructions, stitchers who are keen to create their own designs but are unsure of where to start can quickly and confidently create a coloured ground.
Jane's imaginative techniques are as effective as they are simple. For example, she describes how a tangle of dry cotton threads coloured with paint can produce a delicate monoprint on a background - or a more pronounced tactile effect when left in situ.
Jane uses a variety of materials 'to capture the general atmosphere' of her favourite beach. The textured foreground of Jane's seascape incorporates 'crushed shells from the spot where I sat, a few beads and really tiny whole shells'. White ink beautifully re-creates sea foam and splashes.
* Stitch *
June 2015
This is not your average watercolor or painting book, at least not those I have come across. I really liked the ideas put forward by artist/author/tutor Jane Betteridge, and I particularly like her bold shades of color featured, especially on the cover. Her watercolors don't look as though they're watercolors; they appear to have texture, and she shows how to achieve these looks. I also like her philosophy of "there are no rules", which should take all the pressure to conform off all artists' shoulders. Some of the items she uses to achieve her "textures" include salt, beads (hence not your typical watercolor paintings!), leaves and tissue paper among others. Some of her paintings I enjoyed in this book are the very beautiful stormy waves on page 48, the tulips on page 52, Snowdrop Magic on page 55 and the exquisite color combinations on pages 134/135. There are also step-by-step instructions which appear to be relatively easy to follow. I wish I had the space to try out some of these techniques as I find her work enviable and worthy of emulating. Jane Betteridge encourages one to pursue whatever technique appeals to you, even those you thought "silly". Remember, there aren't any rules!
* Pettprojects.com *
Jane Betteridge is one of those people who gets enthusiastic about paint. Statements such as 'Watching paint dry can be extremely exciting, especially when using watercolour', or 'Gouache paints, like this metallic gold, have a lovely, rich quality' are never going to betoken a conventional approach. Once you start to see the results, though, you'll be keen to learn more and you might even think the book worth its price for the section on granulation alone. There's much more, including masking splattering, collage and the use of gesso, to name just a few. The book is full of hints, tips, exercises, projects and demonstrations and proceeds at a brisk pace that carries you along by its sheer enthusiasm.
* Artist, The *
March 2015"Watercolour has always been my favourite medium - my passion, no doubt about it," says Jane and it's immediately evident that she revels in what she can do, not just technically but creatively too. This is a book about washes and granulation and masking ands spattering, about the use of salt and cling film and threads, all to create texture and effects. It's about experimenting, about watching things change as the paint dries (yes, watching paint dry can be exciting!). Most of all, it's about having fun.
There's an old advertising adage that says "don't sell the sausage, sell the sizzle" and it's well-applied here. I can tell you that Jane provides so much information about how to achieve some marvellous effects, all with plenty of wonderful illustrations that'll have you itching to get started. I can also assure you that there's a whole series of projects that show you how to capture a variety of natural and landscape subjects. I can do all of that, but what you need to see are the results. You need to say " I want to do that", so all I have to say in conclude is that, with Jane's aid, you can. With techniques as avant-garde as Jane's it's really useful to be able to see them in actual practise. In her tie-in DVD she paints an extraordinary enchanted woodland with just poured inks and granulation medium, and complex dandelion seed-head that uses her full armoury of techniques. This is truly enlightening film that adds massively to what you get in the book and can't fail to get you itching to try it for yourself.
* SAA *
You may also be interested in...
×
Download the Waterstones App
Would you like to proceed to the App store to download the Waterstones App?
Reserve online, pay on collection


Thank you for your reservation
Your order is now being processed and we have sent a confirmation email to you at
When will my order be ready to collect?
Following the initial email, you will be contacted by the shop to confirm that your item is available for collection.
Call us on or send us an email at
Unfortunately there has been a problem with your order
Please try again or alternatively you can contact your chosen shop on or send us an email at