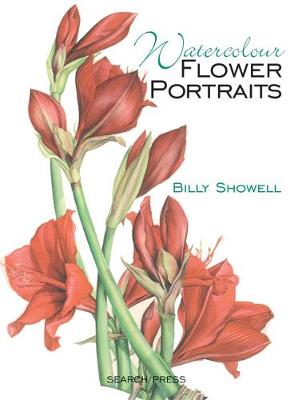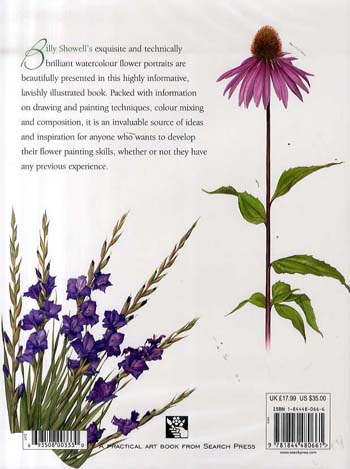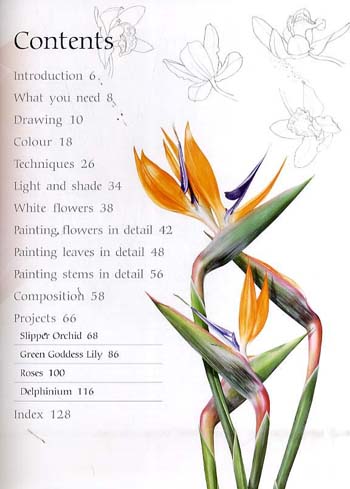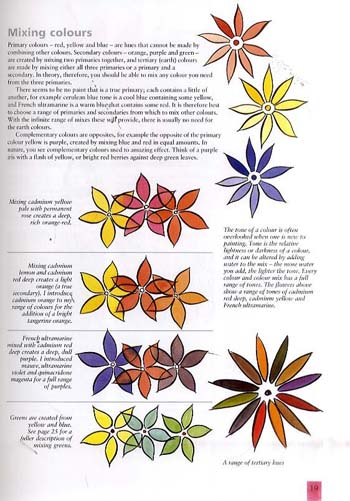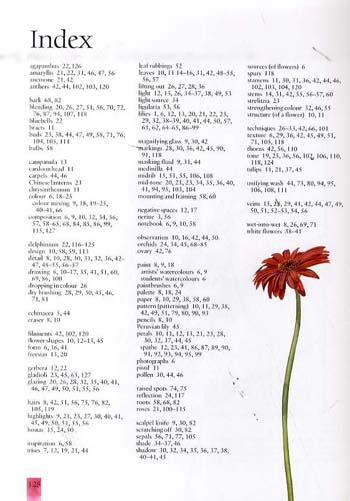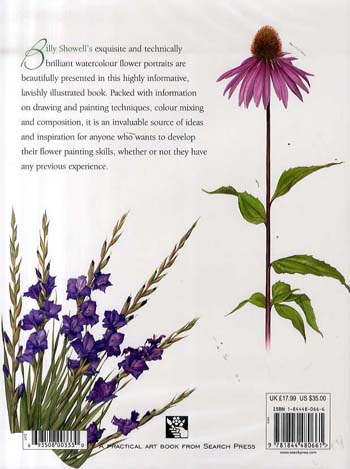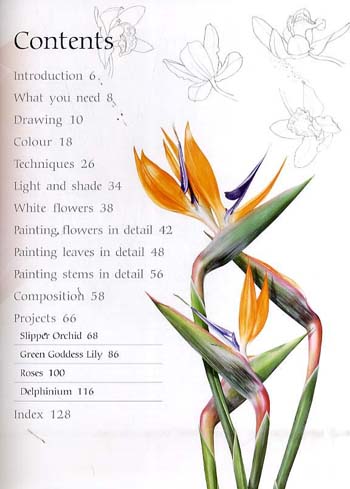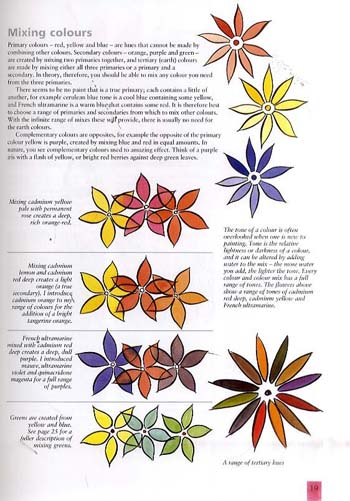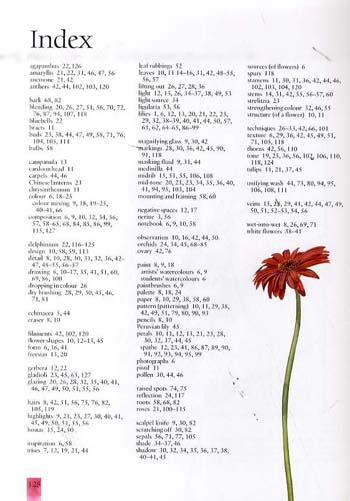 Hardback
128

Pages / Published: 08/06/2006
NEW IN PAPERBACK
Billy Showell's exquisite and technically brilliant watercolour flower portraits are beautifully presented in this highly informative, lavishly illustrated book. Packed with information on drawing and painting techniques, colour mixing and composition, it is an invaluable source of ideas and inspiration for anyone who wants to develop their flower painting skills, whether or not they have any previous experience.
Publisher: Search Press Ltd
ISBN: 9781844480661
Number of pages: 128
Weight: 903 g
Dimensions: 292 x 216 x 16 mm
---
MEDIA REVIEWS
May 07
Dear Billy,
Last week my husband bought me your book - Watercolour Flower Portraits. Since then I have not been able to put it down. I am, to say the least, enthralled with it. I have been trying to paint for several years on and off, but have struggled to find a style which I am comfortable with. Your book has given me just what I have been looking for. I have already tried one picture which has impressed my family very much, but I need to learn more. As I live very close to Tunbridge Wells I would really love to come to some of your classes. Could you possibly tell me if you have any more classes running in the near future and if it would be possible to join you.
I look forward to hearing from you.
Many Thanks.
Minna Keeler
* Customer *
July 2006
What a beautiful book, and a beautiful subject too. Sitting at a table near an open window with the scent of the garden blowing in painting flowers is something I enjoy myself; now here is a useful primer on it to aid me in my work. It can adorn my coffee table too, and even those guests with no painterly leanings can enjoy its lush and wonderful artwork - with a hard cover, too!
You don't need much to have a ball with this book. The author recommends buying the best quality paints, but I think it depends on what you want to do with the finished paintings. Mine are preliminary stages between nature and a piece of wearable art or a set of memory album decorations so think about this part carefully. Get to grips with the drawing stage first, look at how flowers are constructed (briefly) and then do some mixing. It is useful to see a palette of what colors to buy as there are so many and if you are painting flowers you need a rather different palette than -for example - a portraitist. There are several flower studies with tips on how the colors used were mixed which I found to be very useful, and the same for leaves. I think this was my favorite part as mixing is something of a bugbear with me, and I think that this is a great way to handle the subject rather than in the abstract. Here too are different painting techniques to try such as wet-into-wet, using masking fluid, dry brushing etc and what sort of effect they give. Other highlights include a short section on painting white flowers, looking at how to paint different parts of a flower and composing a picture. The in-depth staged studies are just the type of thing for any artist to work through to really get under the skin of a painting, and remind me of how I learned to paint. I've seen a lot of art books but for sheer conciseness, practicality and down-to-earth good sense this one gets a high score. One for my keeper shelf.
* Myshelf.com *
Aug 2006
A Tunbridge Wells artist has just launched her first book locally, already sure of its success. Billy Showell's Watercolour Flower Portraits has achieved great acclaim in America, having been chosen as the lead title by the largest art book club.
As well as showing and selling her own paintings, Billy teaches art in her Tunbridge Wells studio, so writing a book on the subject was a natural extension of her talents. Well-known art suppliers Winsor & Newton, and Raphael, have eagerly lent their support and there is even a teaching DVD by Billy.
Watercolour Flower Portraits is a work of art in itself - you don't need to be a budding artist to appreciate the beautiful illustrations, but those who are keen to learn or improve their skills will find the layout and instructions clear and simple.
* Index *
August 2006
There's a hierarchy in flower painting. At the top, there's botanical illustration which, in its more rarefied form, is used as the definitive plant identification guide. This is also often diluted for the more general painter who wants to be able to paint accurate and realistic flowers, but without the obsessive attention to detail and the almost agonised selection of example that goes with the professional style.
At the other end of the spectrum is general flower painting, where the intention is to produce an impression of flowers, often in a group and as an element of a larger picture. What this comes down to, as often as not, is painting gardens. However, it's always been difficult to sell books with this as their title because readers tend to say, "I don't paint gardens, I paint flowers". Well, yes, up to a point, Lord Copper. Book titles are a funny thing: most of the time they don't really matter, and sometimes they matter like hell. The person who works out what matters when will make a fortune!
Firmly in the middle, between these two opposites, is the flower portrait. It's not a definition you'll find in any dictionary, scholarly tomes haven't been devoted to its place in history and yet it's quite a precise way of describing a certain approach. You'll know one when you see one. The answer, I think, is that it's a representation of an individual flower that tells you about the flower and appears to live on the page. Oh, heck, come on, let's not be shy: it's a portrait of a flower. I worked for hours on that. No, seriously. There are pictures of people that sum them up absolutely without getting bogged down in detail and there are portraits: detailed depictions . . . you know the rest.
Well, that's what this book is. What you have here are flowers without visible means of support, by with I mean that they don't have roots or pots or vases, only stems and heads. They aren't in an arrangement on a sideboard, the backgrounds are plain, the subject is an individual plant and nothing else. Rather sensibly, many of the illustrations show the whole picture, the paper as well as the flower itself, emphasising the fact that these are pictures of flowers in a very specific way - what you see on the page is the complete painting, not just the subject. I'm losing you, aren't I? Sorry, but read the book and you'll see immediately what I mean. The best way to sum up the approach is to say that that this is very much a book about painting, not a book about flowers.
To this end, as well as lots and lots of pictures of flowers and plants, there's also a wealth of information about how to paint them. But, let's be clear, this is not an introduction to flower painting, it's far more than that. In fact, it's one of the first books I've seen, especially on this subject, that assumes quite a bit of previous experience. However, if you're serious about painting flowers, then Billy Showell has a huge amount to tell you. She talks about general painting methods and techniques, painting specific flower elements - petals, leaves and so on - and also how to handle various types of flowers, as well as some very detailed step-by-step demonstrations of specific examples.
Although there is a structure to the book, it's not one you're going to work through like a course. Probably the best approach would be to familiarise yourself with the layout, get the hang of what Billy has to say, and then start to tackle the sections that most interest you. I think that would work. There's a lot to absorb and you get a lot for your money, too.
* Artbookreview.net *
Dec 06
Billy Showell's exquisite and technically brilliant watercolour flower portraits are beautifully presented in this highly informative, lavishly illustrated book. Packed with information on drawing and painting techniques, colour mixing and composition, it is an invaluable source of ideas and inspiration for anyone who wants to develop their flower painting skills, whether or not they have any previous experience.
* minigallery.co.uk *
January 2015
An extremely well written, well illustrated book which will help any aspiring botanical artist to create brilliant flower portraits in watercolour. Billy Showell has developed a deep interest in flowers and is able to bring the flowers alive on the page. Although watercolour lacks the lustre of oils and acrylics, Billy's watercolour illustrations have a depth and shading which is quite unusual. By working through this book, you can acquire all the basic skills that any flower illustrator would need. Apart from covering items like light and shade, techniques and creating composition, she focuses on how to obtain the detail that really brings a plant alive - specifically painting stems, leaves and the individual flowers. Each aspect of the detailed work is takes a chapter to complete. Another unusual and very, very useful chapter is on painting white flowers - not an easy thing to do. There are so many shades of white, and when you add in the task of trying to bring depth and light to white painting, it requires very great skill. There are four detailed projects provided which, if followed carefully, will leave the artist with four spectacular illustrations of a Slipper Orchid, a Green Goddess Lily, Roses and a Delphinium. A perfect book for the bookshelf of any botanical artist - it will help, assist and teach
* Monstersandcritics.com *
Jan 07
Dear Billy - I have recently purchased your Watercolour Flower Portraits book, and can honestly say it is the by far the best instructional book that I have. It gives such clear and precise detail of botanical painting - which I am interested in - so many painters skip over the important bits, which for a novice like me is quite unhelpful, but you do go into wonderful close ups of the way you paint your flowers/stems etc., well done.
I only wish I lived a bit nearer so I could come to your classes!.
Also have you issued any other painting books? if so I should be most interested .
All the very best with your beautiful paintings.
Ros Riley
* Customer *
Feb 08
Billy Showell presents her exquisite, technically brilliant watercolour flower portraits. This highly informative, lavishly illustrated book is packed full of information on different drawing and painting techniques, colour mixing and the art of composition. It is a good source of ideas and inspiration for anyone who wants to develop their painting skills.
* The Lady *
You may also be interested in...
×
Download the Waterstones App
Would you like to proceed to the App store to download the Waterstones App?
Simply reserve online and pay at the counter when you collect. Available in shop from just two hours, subject to availability.
Thank you for your reservation
Your order is now being processed and we have sent a confirmation email to you at
When will my order be ready to collect?
Following the initial email, you will be contacted by the shop to confirm that your item is available for collection.
Call us on or send us an email at
Unfortunately there has been a problem with your order
Please try again or alternatively you can contact your chosen shop on or send us an email at