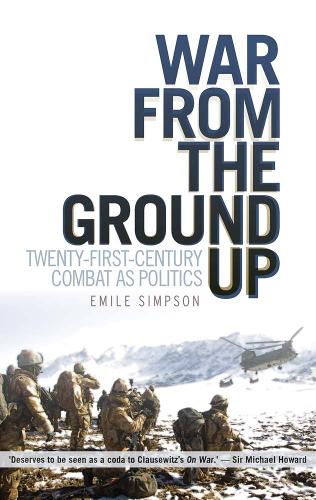 War from the Ground Up: Twenty-First-Century Combat as Politics (Paperback)
Emile Simpson
(author)
Paperback
288

Pages / Published: 17/12/2015
As a British infantry officer in the Royal Gurkha Rifles Emile Simpson completed three tours of Southern Afghanistan. Drawing on that experience, and on a range of little-known case studies ranging from Nepal to Borneo, War From The Ground Up offers a distinctive perspective on contemporary armed conflict: while most accounts of war look down at the battlefield from an academic perspective, or across it as a personal narrative, the author looks up from the battlefield to consider the concepts that put him there, and how they played out on the ground. Simpson argues that in the Afghan conflict, and in contemporary conflicts more generally, liberal powers and their armed forces have blurred the line between military and political activity. More broadly, they have challenged the distinction between war and peace. He contends that this loss of clarity is more a response to the conditions of combat in the early twenty-first century, particularly that of globalisation, than a deliberate choice. The issue is thus not whether the West should engage in such practices, but how to manage, gain advantage from, and mitigate the risks of this evolution in warfare. War From The Ground Up draws heavily on personal anecdotes from the frontline, related to historical context and strategic thought, to offer a re-evaluation of the concept of war in modern conflict.
Publisher: C Hurst & Co Publishers Ltd
ISBN: 9781849046640
Number of pages: 288
Dimensions: 216 x 136 mm
---
MEDIA REVIEWS
'Emile Simpson's War From the Ground Up is a work of such importance that it should be compulsory reading at every level in the military; from the most recently enlisted cadet to the Chief of the Defence Staff and, even more important, the members of the National Security Council who guide him. - It is impossible to summarize Emile Simpson's ideas without distorting them. His own style is so muscular and aphoristic that he can concentrate complex arguments into memorable sentences that will have a life of their own. His familiarity with the work of Aristotle and the history of the English Reformation enables him to explain the requirements of a strategic narrative as effectively as his experiences in Afghanistan illuminate his understanding of the relationship between operational requirements and political objectives. In short (and here I shall really go overboard) War From the Ground Up deserves to be seen as a coda to Clausewitz's On War. But it has the advantage of being considerably shorter.' * Michael Howard, Times Literary Supplement *
'One of the most important assertions in this fascinating book is that the outcome of wars is now less subject to assessment by body counts than to the verdict of civilian outsiders, who make judgments with scant heed to pure military logic. - This is the first book by an immensely intelligent and interesting young man, from whom much will be heard. He lays down principles of policy-making and war fighting - for instance, "the key in counter-insurgency is to match actions and words so as to influence target audiences to subscribe to a given narrative" - with a wisdom lacking in most contemporary foreign offices. - Ministers would do well to read Simpson's fascinating and provocative study before they launch their next lunge into the unknown. They might then better understand how elusive in modern conflict are the concepts of "winning" and "losing".' * Max Hastings, The Sunday Times *
'War From the Ground Up should be read by all aspiring military commanders and their Whitehall masters' * The Guardian *
'Emile Simpson writes from experience as a frontline soldier who completed three tours in Afghanistan and as a visiting fellow at the University of Oxford. He combines academic rigour with practical perspective to explore the understanding and conceptualisation of modern war. [...] This important book [...] is an essential read for those interested in understanding both the conflict in Afghanistan and the contested and often confused nature of modern war.' * James Denselow, International Affairs *
'Filled with provocative and innovative observations about the blurring of military and political realms in kaleidoscopic environments, this book is the most perceptive account of contemporary conflict I have seen. It deserves to widely read by military practitioners and their political leaders.' * Conrad Crane, lead author of FM 3-24, Counterinsurgency and Director of the U. S. Army Military History Institute *
'War from the Ground Up is an interesting and important meditation on the nature of the unsatisfying wars of the modern era by a man who has seen more of them than most, former Gurkha Rifle officer Emile Simpson. It should be read by everyone interested in the current war in Afghanistan and in the likely nature of conflict for many years to come; these wars are not going away, and Simpson has done yeoman's work in helping us understand them.' * John Nagl, Minerva Professor of Culture and War, U.S. Naval Academy, Annapolis *
'How to do - and how not to do - counter-insurgency, by an expert and exceptionally thoughtful practitioner. Hard analysis, and happy talk-free. Essential reading for anyone seriously interested in what makes success in counter-insurgency so elusive.' * Sir Sherard Cowper-Coles, author of Cables from Kabul: The Inside Story of the West's Afghanistan Campaign *
'Emile Simpson engages with a key problem in our understanding of conflict - the binary fallacy that sees war as essentially two-sided and as a precursor to political outcomes, rather than as a multi-player political ecosystem with its own logic. Simpson's analysis of the conflict in Afghanistan should be required reading for all students and practitioners of modern war.' * David Kilcullen, author of The Accidental Guerrilla: Fighting Small Wars in the Midst of a Big One *
'I am constantly bowled over by Emile Simpson's insights. He produces lines that exude common sense and which, because they are pithy, deserve to be widely quoted - and will be. Put simply, this is the most intelligent book on war that I have read for a very long time.' * Hew Strachan, Oxford University *
'A bold exploration of strategic thought, well grounded in experience. It is what one would expect of a Gurkha officer, following in the footsteps of Bill Slim, the thinking man's general.' * Carter Malkasian, Afghanistan veteran with the US State Department and author of War Comes to Garmser: Thirty Years of Conflict on the Afghan Frontier *
You may also be interested in...
Simply reserve online and pay at the counter when you collect. Available in shop from just two hours, subject to availability.
Thank you for your reservation
Your order is now being processed and we have sent a confirmation email to you at
When will my order be ready to collect?
Following the initial email, you will be contacted by the shop to confirm that your item is available for collection.
Call us on or send us an email at
Unfortunately there has been a problem with your order
Please try again or alternatively you can contact your chosen shop on or send us an email at