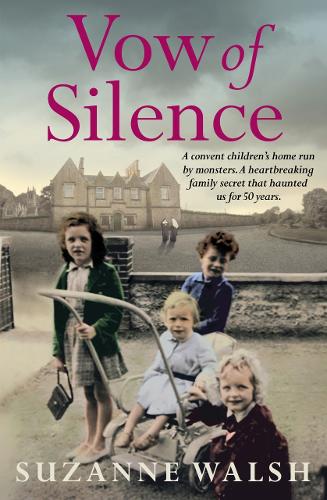 Paperback
336

Pages
Published: 16/09/2021
The Sunday Times Top Ten Bestseller
Suzanne suffered five heart attacks and made it through open heart surgery. But even that pales in comparison to the horrors she faced as a young girl.
Her childhood became the 'stuff of nightmares' after her father passed away and her mother, unable to get a job in Ireland, had to seek work in London. So 'Mammy' was forced into the heartbreaking decision to put Suzanne and her five siblings into church-run orphanages in Dublin while she worked away. It was just meant to be temporary.
Her life soon became a daily struggle to avoid beatings with canes and rosary beads. Suzanne and the other children worked from dawn until midnight, living on disgusting scraps of food, while the nuns dined on fresh fruit, meat and cakes that the 'orphans' had cooked for them. Suzanne tried her best to shield her younger sisters from the terror of these hateful 'women of God'. But it was only the beginning of their troubles...
Eventually, their mother returned from London, after four years, with enough money to take her children out and the family was reunited. However, too scared to speak out, the children vowed to take the horrors they had experienced at the orphanages to their graves.
What really happened behind those church doors? This is Suzanne's heartbreaking and touching story.
Publisher: Ad Lib Publishers Ltd
ISBN: 9781914451034
Number of pages: 336
Dimensions: 198 x 129 mm
---
MEDIA REVIEWS
'A deeply powerful and harrowing memoir that will remain with you long after the final page.'
* John Marrs, author of The One *
'This heart wrenching story kept me riveted from start to finish.'
* Kristin Chenoweth, Actress *
'A riveting story told through the eyes of an innocent young girl who was still dealing with the repercussions of her grief and anger 50 years later. Suzanne's bravery in speaking out against the evil she faced, is so powerful it will help many other victims.' * Molly Shannon, Actress *
'Suzanne Walsh's Vow of Silence is a beautifully written memoir of her and her siblings childhood experiences. From their early start as a loving family unit, through the heartache of grief, and trauma from abuse by those trusted to care for them. Suzanne's story is one of courage, strength resilience and love. Honest, compelling, heartbreaking and inspiring, her words stay with you.' * Joanne Froggatt, Actress. *
"Melissa should be so proud of her mum for standing up to the child abuse, to speak out and tell her heart-wrenching story. Suzanne's bravery in speaking out against the evil she faced, will help so many other victims."
* Molly Shannon, Actress *
"This is wild. It's almost hard to imagine places like this exist. I definitely appreciate the research that went into this and the exploration of such a dark topic."
* Netgalley *
"An honest and heartbreaking account of a loving Irish family separated by events beyond their control. Walsh writes about her youth with her loving family, especially her dear father, who has leukemia, leaving his wife and six children. Walsh's mother is forced to place her children in orphanages in Dublin, Ireland, and moves to London to find work to support her family. Walsh tells what she, her sisters, and brothers go through as they do their best to survive the conditions of hunger, malnutrition, beatings, and humiliation by the nuns.
Somewhat repetitive at times, Walsh begins her story recounting her disdain and naming the nuns who were particularly brutal to the children in their care. She feels concerned and anguished when she thinks of how those children fared as adults after being traumatized in the orphanages. Walsh's accounts of her four years subjected to the ill-treatment of the nuns are historical and eye-opening. A sad piece of Irish history."
* Netgalley *
"Have faith in yourself
A sad story of a family torn apart by the death of their father, and the financial inability of their mom to care for them, they spent years in an orphanage. The boys were sent to one orphanage with the brothers and the girls to an orphanage with the nuns. They were abused physically and mentally in these orphanages.
I had to admire their love for each other, and how they not only looked out for each other, but helped look after the other orphans that needed help. They became very good at surviving.
Because of the abuse and malnutrition they suffered under their care in the orphanage they suffered many problems later in life. It was sad that in a religious institution they were treated so badly. No child should ever be treated as these children were.
I enjoyed reading their story and the ending was good. I would recommend this book."
* Netgalley *
"Emotional and moving account.
This was a good, quick read. It has fairly brief chapters which moves it along nicely.
It's the 1950s, and Suzy and her family live in Ireland. This is a balanced account, as the author first talks of her lovely childhood memories. Then very hard circumstances are to hit the family. Their mammy has no alternative but to look for work in London, to make some money so the family could be together again. For the time being, she leaves them to be looked after at an orphanage. Suzy was only 10 at the time.
This is the second book of this type I have read, and I find it shocking that nuns; people who you would suppose to be pure and good, would treat children so terribly.
An emotional, tragic story, well told."
* Netgalley *
"This is a heartbreaking story. This poor family went through a lot, the worst of it being the 4 years these children were in the care of orphanages. Through no fault of their own, after losing their father, their mother had a lot on her plate and no choice but to place them in these orphanages which she went to London for work. Mom was just sure these nuns would take very good care of her children. Unfortunately, there is a lot of hypocrisy in the world of religion and these children ended up suffering from abuse and neglect. For these 6 children to keep quiet about it so as to not put more worry on their mother, is such a tough thing to imagine."
* Netgalley *
"Suzanne Walsh is a genius story teller. The book was an effortless, emotional journey through the Walsh's family history; I thoroughly enjoyed it and read it all in a day.
The Walsh's live in a working class suburb near Dublin, Ireland in the early 1950's. The six close siblings are living a idyllic childhood until tragedy strikes and their beloved father dies. Their Mother does everything she can to keep the family together but nobody wants to employ a single mother of six, so has to leave the children in the care of the Catholic Church's orphanages whilst she goes to find work in London. The neglect and abuse they suffered at the hands of the nuns is horrifying. The fact that so many of these children had no family made them perfect victims for the sadistic abusers as well as free labour for the church.
The book will send you on a rollercoaster of emotions but it's definitely a ride worth taking."
* Netgalley *
"A heartbreaking story of child abuse at the hands of people the children had been in the care of by a mother very much down on her luck.
Suzanne and her 5 siblings went into the ' care ' of a Catholic orphanage , and as we have sadly learnt from the media this often , too often , does not lead into having a good childhood.
This a touching , sad and horrific account of the terrible life she endured whilst there..
Due to the subject of the story I don't think you can say you enjoyed it , but I can say it was an insight into the life of a child that should never be allowed to happen again .
I wish you well Suzanne."
* Netgalley *
"What a gut wrenching, very emotional read. Suzanne and her siblings had a good childhood. Until their entire world shattered with the passing of their dad. Her mammy, which is the best she could do with 6 kids. But them in an orphanage, where unbeknownst to her they were several abused. Some years later she's saved enough to move her kids away. These poor babies having to keep secret the pain they each with through."
* Netgalley *
You may also be interested in...

"A Truth Which Needed to be Told!"
A truly horrific memoir.

Suzanne was just a wee girl when her Daddy died, leaving her mother in dire financial straits. The only way she could make ends meet was to place her children into the care of the nuns,... More
"Heartbreaking"
A heartbreaking story of child abuse at the hands of people the children had been in the care of by a mother very much down on her luck.
Suzanne and her 5 siblings went into the ' care ' of a Catholic... More
×
Download the Waterstones App
Would you like to proceed to the App store to download the Waterstones App?
Reserve online, pay on collection


Thank you for your reservation
Your order is now being processed and we have sent a confirmation email to you at
When will my order be ready to collect?
Following the initial email, you will be contacted by the shop to confirm that your item is available for collection.
Call us on or send us an email at
Unfortunately there has been a problem with your order
Please try again or alternatively you can contact your chosen shop on or send us an email at