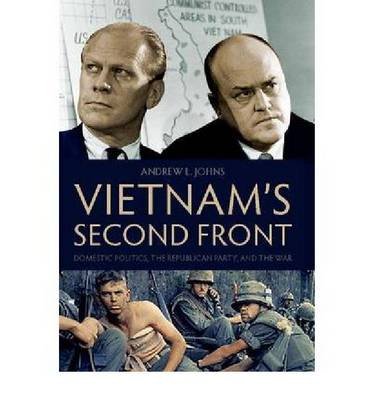 The Vietnam War has been analyzed, dissected, and debated from multiple perspectives for decades, but domestic considerations - such as partisan politics and election-year maneuvering - are often overlooked as determining factors in the evolution and outcome of America's longest war. In ""Vietnam's Second Front: Domestic Politics, the Republican Party, and the War"", Andrew L. Johns assesses the influence of the Republican Party - its congressional leadership, politicians, grassroots organizations, and the Nixon administration - on the escalation, prosecution, and resolution of the Vietnam War. This groundbreaking work also sheds new light on the relationship between Congress and the imperial presidency as they struggled for control over U.S. foreign policy. Beginning his analysis in 1961 and continuing through the Paris Peace Accords of 1973, Johns argues that the Kennedy, Johnson, and Nixon administrations failed to achieve victory on both fronts of the Vietnam War - military and political - because of their preoccupation with domestic politics. Johns details the machinations and political dexterity required of all three presidents and of members of Congress to maneuver between the countervailing forces of escalation and negotiation, offering a provocative account of the ramifications of their decisions. With clear, incisive prose and extensive archival research, Johns' analysis covers the broad range of the Republican Party's impact on the Vietnam War, offers a compelling reassessment of responsibility for the conflict, and challenges assumptions about the roles of Congress and the president in U.S. foreign relations. This title presents a fascinating look at the Republican Party's impact on the Vietnam War.
Publisher: The University Press of Kentucky
ISBN: 9780813125725
Weight: 810 g
Dimensions: 229 x 152 x 28 mm
---
MEDIA REVIEWS
""Splendidly researched and insightful in its analysis, this important and timely book makes clear the influence of domestic politics on foreign policy and the impact of foreign policy on domestic politics. A major contribution to the historical literature on the Vietnam War."--George C. Herring, author of From Colony to Superpower: U.S. Foreign Relations since 1776" --
""An excellent addition to the literature on American politics in the Vietnam era. Johns explains in graceful prose how the war fractured the bipartisan Cold War foreign policy consensus. This book carries many implications for understanding the partisan divisions over foreign policy in the twenty-first century."--Robert D. Schulzinger, author of A Time for War: The United States and Vietnam, 1941--1975" --
""Basing this excellent book on exhaustive primary research, Johns has written a cogent and compelling account of the Republican Party and the Vietnam War. Since there is no comparable book for either major U.S. party, this volume fills a yawning gap in the literature and significantly enhances our understanding of the influence of domestic politics on American policymakers."--Joseph A. Fry, author of Debating Vietnam: Fulbright, Stennis, and Their Senate Hearings" --
""It clearly will become the best book on the topic and a much-needed addition to the literature. The book is meticulously researched and well written and argued.... Scholars of the Vietnam War will find this a must read."--Kyle Longley, author of Senator Albert Gore, Sr.: Tennessee Maverick" --
""Johns came up with a unique way to look at the politics of that most political of wars."-- Vietnam Magazine" --
""Offers a unique look at the politics of the war... [a] well-written, exhaustively researched book."-- VVA Veteran" --
""His wonderfully written examination explores how domestic political considerations, especially those posed by hawkish Republican conservatives, made it highly unlikely, if not impossible, for Kennedy, Johnson, and Nixon to disengage in Vietnam by deescalating or negotiating an end to the war with North Vietnam.... The author is insightful about hawkish congressional Republicans supporting Johnson more than congressional Democrats, as long as Americanization of the war was not too gradual.... recommended"-- Choice" --
""Andrew Johns' highly sophisticated and richly documented account of the Republican Party's actions during the Vietnam is enormously welcome. A.... Vietnam's Second Front makes an importantcontribution to our understanding of the Vietnam War, Cold War foreign policy, and executive-legislative relations in the foreign policy arena."-- H-Diplo" --
""Johns does a comprehensive and commendable job in analyzing Republican commentary on Southeast Asia and tracking the personal shifts of some in the party who gave up on the war and others who redoubled the efforts to win the stuggle."-- Journal of American History" --
""Vietnam's Second Front challenges historical accounts of the Vietnam War that focus exclusively on national security considerations and demonstrates the continuous role of domestic politics in defining the context in which policy was formulated." --Cold War History" --
""Prodigiously researched, convincingly argued, and engagingly written (with plenty of mythological allusions to please the classicists), Vietnam's Second Front will be of enormous interest to scholars of American politics, foreign policy, and the war in Indochina." --The Review of Politics" --
""If instructors teaching Vietnam history seek to highlight American domestic politics during the Vietnam era, they will find no better resource."-- Teaching History" --
""A cogent examination of the Republican Party's roiling contribution to the tragic progression of the Vietnam War.... Powerfully demonstrates the Vietnam War's political complexities and price, all of which was paid for by generations of Americans and Vietnamese."-- On Point" --
""Deftly explains how Nixon mastered -- and Romney mishandled -- the war as a campaign issue. Prodigiously researched, convincingly argued, and engagingly written."-- Review of Politics" --
""[A] splendid, deeply researched account of the war and its partisan components. It is a powerful reminder, if one still needed it in this day and age, that politics do not stop at the water's edge."-- American Historical Review" --
""Johns' book is well-written and carefully researched. It dereves a place on the Vietnam bookshelf alongside studies such as David Kaiser's American Tragedy and Fredrik Logevall's Choosing War." -- APSA Legislative Studies Section Newsletter" -- APSA Legislative Studies Section Newsletter
""Countless numbers of books have dissected just about every imaginable aspect of how American domestic politics influenced the way Presidents Truman, Eisenhower, Kennedy, Johnson, Nixon and Ford waged war in Vietnam. Could there possibly be anything new to add to that voluminous analytical list? With Andrew L. Johns' Vietnam's Second Front, the answer, surprisingly, is yes. Johns came up with a unique way to look at the politics of that most political of wars."" -- History Net
You may also be interested in...
Simply reserve online and pay at the counter when you collect. Available in shop from just two hours, subject to availability.
Thank you for your reservation
Your order is now being processed and we have sent a confirmation email to you at
When will my order be ready to collect?
Following the initial email, you will be contacted by the shop to confirm that your item is available for collection.
Call us on or send us an email at
Unfortunately there has been a problem with your order
Please try again or alternatively you can contact your chosen shop on or send us an email at