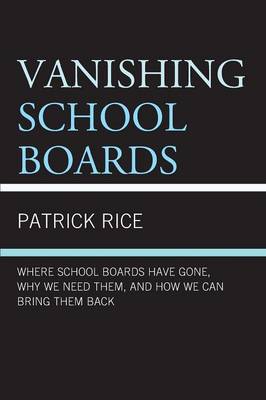 Vanishing School Boards: Where School Boards Have Gone, Why We Need Them, and How We Can Bring Them Back (Paperback)
Patrick Rice
(author)
Paperback
298

Pages / Published: 11/12/2013
Since Nation at Risk, NCLB and RTT, the once thought sacred institution of school boards as catalysts to ensure local control of schools is being redefined and are under heavy attack. Increasingly, school boards are disappearing from the discussion of promoting student achievement and their role as educational decision-makers have significantly declined. The aims of public education are gradually being federalized and privatized. In Vanishing School Boards, author Patrick Rice give various reasons for the descent of school boards, reasons why school boards are vital, the importance of board training and how the superintendent can assist the board in their mission of delivering a quality education to all students.
Publisher: Rowman & Littlefield
ISBN: 9781475808155
Number of pages: 298
Weight: 404 g
Dimensions: 224 x 152 x 19 mm
---
MEDIA REVIEWS
School boards have a historical origin that is strongly based in representing the needs of the local constituents in assuring that, through local control and quality decision making, a positive directional vision for schools will be secured. Dr. Rice is to be commended for pulling a summary of research, along with some excellent suggestions on how to strengthen and enhance the operation of our local school boards in his book. He indeed has provided a contribution to the strong argument for the continued existence of this very important local institution. -- Dr. Nick Osborne, Professor, Department of Educational Leadership, Eastern Illinois University
Coming from a former school board, this book definitely focuses on current educational trends as well as reforms....I would recommend this book as part of any school board's arsenal and required reading for any up and coming leader in the educational system! -- Jeff Campbell, BS, MPA, PMP, JRC Strategic Planning, Former Board Member, Mt. Vernon SD 80
This book provides a clear and compelling case for the resurgence of public school boards [and] their crucial role in student achievement, why they alone can provide the strong, community-based governance that is so vitally needed, why they are under attack, and what can be done about it. Dr. Rice presents a well-defined road map for school board excellence that is grounded in extensive research and written in plain English. It is a must-read for everyone who recognizes the critical need for top-notch public schools. -- Diane M. Cape, director, Education Association
Great read! Dr. Rice's book serves as a catalyst for parents' understanding and takes an in-depth look at the "real" functional purpose of school boards: community representatives. -- Daimon Jones, community volunteer and financial advisor, Merrill Lynch Securities
As a superintendent of two rural districts in Central Illinois, this book has provided a greater understanding of the relationship between the superintendent and board of education. Board governance is a critical piece in the success of public school districts, and Dr. Rice presents very compelling information on how boards of education are key to student achievement. I would highly recommend this book to all superintendents, board members, and to anyone interested in the mechanisms of school board governance. -- Bill Mulvaney, superintendent, Armstrong Township High School District #225 and Armstrong-Ellis Consolidated School District #61, Illinois
Dr. Rice provides readers with a thoughtful analysis of the critical role public school boards play in our society and what we must do to ensure their success in meeting the future challenges of P-12 education. This book contains important lessons for everyone interested in preserving and advancing our public schools. -- John A. Dively, Jr. J.D., Ed.D., associate professor, Eastern Illinois University
Dr. Rice has created a navigation tool that will assist a school board/superintendent team to address the political landscape of school reform and to equip this team to create a cohesive school board governance team that will impact student achievement. This book will give you best practices to employ, guide you when governing obstacles occur, and provide a comprehensive explanation of why school boards matter. -- Deborah L. Keys, director, Council of Urban Boards of Education
In the world of constantly changing issues, school board leadership is more challenging today than ever. In too many cases there are no easy solutions to those challenges. The list continues to grow as the complexities of running a non-revenue generating school: long meetings, information overload or insufficient disclosures, communally voiced frustrations and fears, media frenzies over closing buildings or reductions in staff. It is not surprising that Patrick Rice's book Vanishing School Boards is an important read. Fundamental to local control of a community's children is the elected and supported board structure. Sitting board members will find this enlightening and supportive, superintendents will discover vital information, college courses on local governances or board relationships will have found a much needed textbook. -- Donna McCaw, Ed.D., professor emeritus, Western Illinois University, author, educational consultant, and national professional development trainer
This is one of the few books that educators will find that is based upon research from an individual, Dr. Patrick Rice, who clearly understands the importance of school board governance. His background in education validates his expertise in the dynamics of local school boards, [shows] the current threat to their ability to drive academic achievement of students, and shares how superintendents can effectively foster and nurture the appropriate training that will make school boards [transform from] good to great. -- Jean Chrostoski, superintendent, Goshen County School District #1, Torrington, WY
As a public school administrator for over 20 years, I have found that federal and state agencies, along with corporations and their privately funded think tanks, are enacting "educational reforms" that systematically strip away local decision making and undermine the very existence of public education. Dr. Rice does a great job at using extensive research to discuss issues concerning current education reforms, why school boards are necessary more now than possibly ever, and how we as representatives of the public should stand together to support more local control and less intervention from those who profit from the constant scrutiny we face in the global market today. People who read this book will better understand the politics of education and why we must continue to promote local decision making and the work of local boards of education. -- Dr. Steve Webb, president, Illinois Association of School Administrators; associate professor in educational administration and leadership, McKendree University; and superintendent, Goreville, Illinois C.U.S.D. #1
Dr. Rice has written one of the most thought provoking books of our century for the board of education. His book provides board members with an in-depth examination of how local school boards' and their governance has been under constant fire in the handling of education issues facing our times. This masterpiece provides a litany of solutions on how board members can take our school districts to the next highest level of academic greatness by having a laser-like focus on student achievement through their own participation in professional development, establishing on-going positive relationships with their CEO and embracing transparency and continuous community engagement. -- Dr. Valorie M. Moore, superintendent, Brookwood School District 167, Illinois
What an awesome read! This book outlines the framework of where public schools have been and where they are headed. Dr. Rice has eloquently compiled research on everything from school governance, educational reforms, need for school boards, relativity of school board governance, to student achievement and so much more. Anyone who believes education is the cornerstone of our democracy and must be preserved will want to read this book. I wish I had had a book such as this when I began my service as a school board member in 1995. -- Carolyne D. Brooks, president pro-tem, West Richland Community Unity School District #2, Noble, Illinois
In this timely book, Dr. Rice thoughtfully describes the role of school boards in education and carefully defends their historic and contemporary relevance at a time when school boards are under increasing attack. He offers a number of important strategies for strengthening school boards through professional development, systemic evaluation, and enhanced relationships with school personnel, especially administrators. Vanishing School Boards is an important read for anyone who values community involvement in education and wants to keep the public, democratic mission of schools alive. -- Kathy Hytten, professor of educational leadership and cultural foundations, University of North Carolina at Greensboro
The role of the school board in the governance of America's schools is a long standing tradition and one that ensures that local values and interests are incorporated into local schools. This book identifies and explores the forces and trends that are slowly putting state and national interests ahead of local control. One can grieve these developments and watch our schools become nothing but big government schools, or take steps to actively strengthen the viability of local boards of education. At risk is the very nature of the type education our children will receive and perhaps even the preservation of our democracy. -- Michael A. Jacoby, Ed.D., CAE, SFO, executive director/CEO, Illinois Association of School Business Officials
The relevance of today's school boards is questioned by many. Communities are concerned that "local control" is a thing of the past because school boards appear to be powerless. Vanishing School Boards emerges as a viable piece of literature to study and share the evolution of the school board and to address its current role in the public school reform movement. This book will prove to be a great resource to those seeking answers and wanting direction to improve the effectiveness of their school board. Dr. Rice's experience and perspective perfectly lend themselves to offering practical suggestions to school board members, superintendents, and parents that desire to build a school leadership team that brings "effective control" back into their community. For those that work with, on, or care about schools, this is a must read. -- Dr. Elizabeth I. Lewin, former superintendent, Carbondale Elem Dist 95, Illinois and clinical professor, Southern Illinois University, Carbondale
Rice writes about today's local school boards and their enormous responsibilities in an ever-changing educational environment. His research is extensive; he has pulled together a number of insights and perspectives about a variety of needs today's school boards face. These needs range from training board members adequately to developing appropriate communication between boards and sitting superintendents. He argues that state and federal involvement is tending toward more control over school finances and curricular decision making. Rice believes that because of a move toward uniform standards and national assessment tests, 'we'll have a national curriculum for the first time ever.' . . . .Rice points out that lawmakers are supporting the creation of charter schools based on 'the premise that charter schools need to be exempt from much of the state and federal bureaucracy in order to increase student achievement.' He is right on target here, asking 'why not give all public schools these options?' Summing Up: Recommended. All readership levels. * CHOICE *
School boards and public schools are under siege. In Vanishing School Boards, author Patrick Rice describes the forces and pressures impacting today's school boards. He sets forth an argument for why school boards are best positioned to provide the leadership our communities want from their public schools and outlines the steps necessary to regain public trust. . . .Board member survey results from across the nation are presented: useful insights for any superintendent or board leader interested in the range of school board thought on a variety of important topics. This book illustrates how effectively governed school boards can have a positive impact on student achievement. * School Administrator *
You may also be interested in...
Simply reserve online and pay at the counter when you collect. Available in shop from just two hours, subject to availability.
Thank you for your reservation
Your order is now being processed and we have sent a confirmation email to you at
When will my order be ready to collect?
Following the initial email, you will be contacted by the shop to confirm that your item is available for collection.
Call us on or send us an email at
Unfortunately there has been a problem with your order
Please try again or alternatively you can contact your chosen shop on or send us an email at