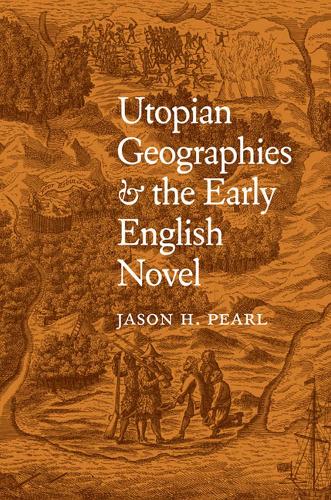 Utopian Geographies and the Early English Novel (Hardback)
Jason H. Pearl
(author)
Hardback
277

Pages / Published: 01/10/2014
Historians of the Enlightenment have studied the period's substantial advances in world cartography, as well as the decline of utopia imagined in geographic terms. Literary critics, meanwhile, have assessed the emerging novel's realism and in particular the genre's awareness of the wider world beyond Europe. Jason Pearl unites these lines of inquiry in Utopian Geographies and the Early English Novel, arguing that prose fiction from 1660 to 1740 helped demystify blank spaces on the map and make utopia available anywhere. This literature incorporated, debunked, and reformulated utopian conceptions of geography.

Reports of ideal societies have always prompted skepticism, and it is now common to imagine them in the future, rather than on some undiscovered island or continent. At precisely the time when novels began turning from the fabulous settings of romance to the actual locations described in contemporaneous travel accounts, a number of writers nevertheless tried to preserve and reconfigure utopia by giving it new coordinates and parameters.

Margaret Cavendish, Aphra Behn, Daniel Defoe, Jonathan Swift, and others told of adventurous voyages and extraordinary worlds. They engaged critically and creatively with the idea of utopia. If these writers ultimately concede that utopian geographies were nowhere to be found, they also reimagine the essential ideals as new forms of interiority and sociability that could be brought back to England. Questions about geography and utopia drove many of the formal innovations of the early novel. As this book shows, what resulted were new ways of representing both world geography and utopian possibility.
Publisher: University of Virginia Press
ISBN: 9780813936239
Number of pages: 277
Weight: 449 g
Dimensions: 229 x 152 x 18 mm
---
MEDIA REVIEWS
Pearl's clearly written work is based on wide reading and careful research; it offers admirable contextualization and sheds new light on the place of utopian thought and utopian writing within the history of the novel.
--Alessa Johns, University of California, Davis, author of
Women's Utopias of the Eighteenth Century
A well-written and well-researched study that offers a new and intriguing take on the much-studied origins of the British novel in the late seventeenth and early eighteenth centuries.
--Robert Markley, University of Illinois, author of
The Far East and the English Imagination, 1600-1730
Utopian Geographies is going to be read, and not only because the writing is almost everywhere as clear as it is precise and engaging, although that is far more important than we sometimes consider. It is also because the work functions to both connect and differentiate, in substantial and illuminating ways, a number of crucial literary developments in the period it covers, including not only the births and transformations of genres but also the senescence of the geography-based utopia, a major literary form in several national literatures for two centuries--indeed for longer still, depending on your definition of 'utopia.'
--Mary Baine Campbell, Brandeis University, author of
Wonder and Science: Imagining Worlds in Early Modern Europe
Pearl's style is precise and engaging, and he presents his arguments with crispness without falling victim to the temptations of oversimplification.... The book succeeds admirably. Readers of this slim but convincing volume will find themselves thinking differently about the history of the novel.
--Studies in the Novel
Pearl shows how the novel performs a kind of phenomenal reduction on both history and geography, time and space. In the process, he breathes some new philosophical life into the old question of the rise of the novel.
--Journal of Historical Geography
In discussing the fate of the utopia located in distant seas in the period of its senescence, then, Pearl has isolated a narrative structure with important and wide-ranging implications for the history of British literature and the British empire
--NOVEL: A Forum on Fiction
In Jason Pearl's eminently readable Utopian Geographies, wonder becomes intrinsic to travel fiction even as fiction itself becomes more credible and quotidian.... Utopian Geographies centralizes a rather charming paradox in which fiction disproves, at least on a cerebral register, the fantastic geographies that in the late seventeenth and early eighteenth centuries remained theoretically possible in the cartographic sense.
--Huntington Library Quarterly
[I] find extremely insightful how he describes these novels of cultural and colonial encounter as deeply engaged in a discourse of friendship, a discourse that has begun receiving much more attention both in contemporary theory and scholarship.
--Eighteenth-Century Life
Pearl's commendably unpretentious and direct prose style is not incompatible with a striking degree of scholarly ambition: his study deploys an extremely broad literary, historical, and theoretical apparatus... In this respect, it is likely to serve as a very important resource for those interested in the intersections between utopia and the early novel and their mediation by specific generic strands such as the pirate narrative, the desert island narrative, or the lunar voyage. The book's fundamental insights are of great significance in enabling a fertile dialogue between scholars of the early novel, even beyond the English paradigm, and scholars concerned with the literary history and critical theory of utopia.
--Utopian Studies
One of this study's resonant conclusions is that the utopian remainder persists as the dream or actuality of private fulfillment and mutually supportive community within the early novel long after all traces of the geographical utopia disappear.
--The Scriblerian and the Kit-Cats.
A more na ve historiography of utopian fiction would posit that Cavendish's The Blazing World (1666), too zany and self-conscious to be mainstream, is a final hurrah for the veritable line of works originating with Thomas More's 1516 Utopia, and that the realistic spaces, marked by colonial violence, of Behn's and Defoe's travel fictions, plus the skepticism of Swift, mark a terminus ad quem for utopia in the novel, at least until the rise of speculative future fiction. Utopia is boring enough for Rasselas to want out of it. It is therefore to Pearl's credit that he shows that strains of utopianism predicated on exotic locations persist in the Restoration and early eighteenth century. Pearl approaches utopia as a genre rather than a concept and therefore sensibly tackles it as a contingent, flexible, and heuristic category.
--Modern Philology
This exemplary work very much accomplishes its mission: the provision of a better understanding of utopia.
--Jesse Tyler Lobbs "The Eighteenth-Century Intelligencer "
Pearl's study is a timely and valuable contribution to conversations about how the novel reflected and shaped competing ideas about global and national identities during the seventeenth and eighteenth centuries. Adding to work by Ros Ballaster, Srinivas Aravamudan, and others, Pearl makes a case for thinking of fiction as a framework by which writers navigated geographical and cultural difference and, by doing so, conceptualized England's place in a changing world. Pearl does so with a keen attention to the ambivalence attending the early modern utopian vision and illumines, in the process, tensions between self and other, individual and community that remain at the heart of "cosmopolitanism" and of our own thinking about the ethics and practice of global citizenship.
--The Eighteenth Century: Theory and Interpretation
Utopian Geographies and the Early English Novel is a cogent and impressive study of the nexus between the geographical imagination and fiction in the late seventeenth and early eighteenth centuries which deserves a wide interdisciplinary audience in geography, history and literary studies.
--Journal for Eighteenth Century Studies
You may also be interested in...
Simply reserve online and pay at the counter when you collect. Available in shop from just two hours, subject to availability.
Thank you for your reservation
Your order is now being processed and we have sent a confirmation email to you at
When will my order be ready to collect?
Following the initial email, you will be contacted by the shop to confirm that your item is available for collection.
Call us on or send us an email at
Unfortunately there has been a problem with your order
Please try again or alternatively you can contact your chosen shop on or send us an email at