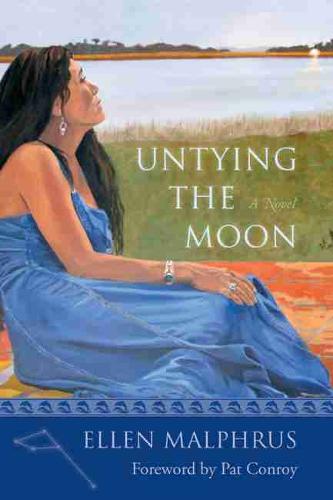 Hardback
184

Pages / Published: 30/11/2015
Bailey Martin is in perpetual motion--a child of the South Carolina lowcountry tides, being pulled to and from a reckoning with destiny. A marine biologist by training and an artist by dedication and talent, Bailey is a woman of contradictions, at once a free-spirited adventurer giving deeply of herself to environmental causes and familial loyalties but also consumed by primal, isolating appetites and dangerous attractions. Restless and troubled, Bailey chafes at her existence, becoming uneasy in her success, her life, and her own skin. Untying the Moon, the debut novel from southern storyteller Ellen Malphrus, is a vibrant tale of self-discovery, approaching the realms of myth and lore as readers ride shotgun with Bailey in Blue Ruby, her '67 Skylark convertible, from Manhattan down the eastern seaboard, from coastal Carolina to the Alaskan wilderness and back again, all in search of the embrace of love and--finally--of home.

When Bailey trades the freedom of the road for a relationship with Padgett Turner, a Vietnam veteran haunted by his past, she finds the compelling possibility of settling into one place and one relationship. But the weight of Padgett's emotional scars is too much for either to bear, even together. As Padgett's darkness escalates, a moment of horrific violence pulls Bailey homeward to the Jericho River of Kirk's Bluff, South Carolina--a river of dolphins, dreams, and portents. In her lifelong friendship with neighbour Ben Simmons and under the sheltering gaze of her fisherman father, Cecil, and Ben's parents, George and Retta, Bailey uncovers the healing connections she had been seeking elsewhere and earns her chance at the truest prize of all--a balance between her dedication to her inner life and responsibilities to the outer world.

Recalling the writings of James Dickey, Jack Kerouac, Jack London, Pat Conroy, Mary Alice Monroe, and Lee Smith, Untying the Moon explores the redemptive powers of home, nature, creation, and storytelling itself. With prose that ebbs and flows from the lyrical and lush to the staccato and sparse, Malphrus's novel is rich with classical allusions and regional folklore, the enrapturing beauty of its settings, a racially and geographically diverse charismatic cast, and all the mystery and magic of fate.

New York Times best-selling writer and Story River Books editor at large Pat Conroy provides a foreword to the novel.
Publisher: University of South Carolina Press
ISBN: 9781611176100
Number of pages: 184
Weight: 825 g
Dimensions: 229 x 152 x 23 mm
---
MEDIA REVIEWS
"Untying the Moon introduces an exciting new voice in Southern fiction. Ellen Malphrus's kinetic heroine Bailey Martin takes the reader on an eventful, at times bumpy, ride across the continent in a search, ultimately, for the road that leads home."--Ron Rash
"It's a delight to make the literary acquaintance of Ellen Malphrus. Her writing is both assured and fresh, grounded in the rich traditions of Southern literature and yet utterly contemporary. Her language is exuberant, her contemplations moving. She's a great observer of women's lives and no slouch with portraits of men either. Untying the Moon predicts the start of a long, rich career."--Valerie Sayers, author of Due East and The Powers
"Ellen Malphrus' enchanting Bailey Martin was conceived and born in water, and she carries the birthmark of the South Carolina lowlands with her wherever she goes. Bailey, like memorable American literary characters before her, is in motion, lighting out for the territory ahead. As she follows the twists and turns of rivers and ocean shorelines, Bailey must also navigate the convoluted and changing course of her heart. This is a novel about the incomprehensible contradictions and consequences of love and violence. Malphrus' lush, lyrical language is wedded to her witty yet generous and wise sensibility that hovers over every page. Untying the Moon shapes a sensuous world both magical and very real, a geographical and emotional environment that the reader will never forget."--Allen Wier, author of Tehano: A Novel
"This wonderful novel builds beautifully as a young woman, Bailey, makes her way down the East Coast in her beloved car Blue Ruby. The imagery is vividly alive and the ever-changing setting becomes a character, setting the tone for the book's journeys of distance and spirit. The ebb and flow of Ellen Malphrus's lyrical language resembles the movement of the ocean and rivers in Bailey's life. The story is wonderfully layered and masterfully crafted, making for a fine literary novel and truly a treasure to read."--Ann Hite, author of Where the Souls Go and Lowcountry Spirit
"The dolphin-haunted Carolina coast of Ellen Malphrus's masterful, lyrical novel Untying the Moon brings us deeply into the natural wonders of the Lowcountry. Like the adventurous and near-mythical wandering heroine Bailey Martin, readers will not be able to resist the magnetic pull of Malphrus's loving depictions of the landscape, its marvelous inhabitants--both human and animal alike--and its welcoming embrace that always and truly feels like coming home."--New York Times best-selling author Mary Alice Monroe
"This is a book in which the writing and the writer are one. Ellen Malphrus is in full control of her craft. Her story is sound, her voice clear and melodic, her perceptions keen, and her characters sharply defined and vital. Untying the Moon is a literary experience of considerable merit, one to be savored and remembered."--N. Scott Momaday, Pulitzer Prize-winning author of House Made of Dawn
"[Malphrus] is in full control of her craft, offering the reader a sound story, told by a voice poetically clear.... A masterful first novel."--Southern Literary Review
"Rare are those works that breathe and exhale a Southern air with a naturalness neither contrived nor necessarily even conscious. Lowcountry poet Ellen Malphrus has gifted the reader...[with this in] her debut novel, Untying the Moon. and its mesmeric, bafflingly honest, and frustratingly contradictory center, Bailey Martin."--Charleston (S.C.) Post & Courier
"Untying the Moon is a beautifully written first novel, with settings that feel lived in, a nice eye for detail, and a story that's simple but evocative. Ellen Malphrus describes herself as a 'southern storyteller, ' and her work is a fine example of that literary tradition."--Foreword Reviews
You may also be interested in...
Simply reserve online and pay at the counter when you collect. Available in shop from just two hours, subject to availability.
Thank you for your reservation
Your order is now being processed and we have sent a confirmation email to you at
When will my order be ready to collect?
Following the initial email, you will be contacted by the shop to confirm that your item is available for collection.
Call us on or send us an email at
Unfortunately there has been a problem with your order
Please try again or alternatively you can contact your chosen shop on or send us an email at