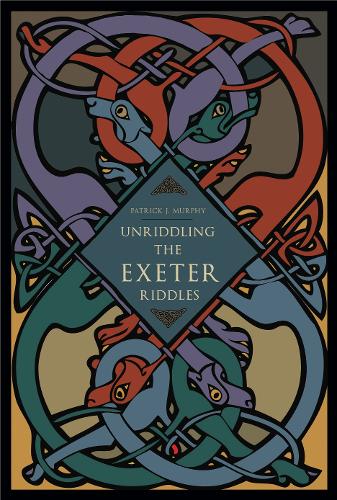 Paperback
272

Pages / Published: 15/11/2015
The vibrant and enigmatic Exeter Riddles (ca. 960-980) are among the most compelling texts in the field of medieval studies, in part because they lack textually supplied solutions. Indeed, these ninety-five Old English riddles have become so popular that they have even been featured on posters for the London Underground and have inspired a sculpture in downtown Exeter. Modern scholars have responded enthusiastically to the challenge of solving the Riddles, but have generally examined them individually. Few have considered the collection as a whole or in a broader context. In this book, Patrick Murphy takes an innovative approach, arguing that in order to understand the Riddles more fully, we must step back from the individual puzzles and consider the group in light of the textual and oral traditions from which they emerged. He offers fresh insights into the nature of the Exeter Riddles' complexity, their intellectual foundations, and their lively use of metaphor.
Publisher: Pennsylvania State University Press
ISBN: 9780271048420
Number of pages: 272
Weight: 408 g
Dimensions: 229 x 152 x 19 mm
---
MEDIA REVIEWS
"[Unriddling the Exeter Riddles] is a stimulating and engaging study that is sure to be invaluable in the study of the enigmatic Exeter riddles. It provides both an excellent foundation for undergraduates (and non-specialists in the Old English) to study these murky texts, and an important (if rousing) contribution to scholarly analysis of them in situating them within the riddling tradition. Murphy's unriddling of the Exeter riddles sheds some light on these dark texts by unraveling the intricate relationship between their form and meaning and will make a significant impact on how scholars and students alike understand their form and genre."
--Eric Lacey, English Studies
"[Murphy] successfully integrates folklore scholarship on contemporary riddles with literary and medievalist scholarship on early Medieval riddling to show that the Exeter riddles grew out of a vibrant tradition and were not created in isolation. Folklorists will find value in the way the book highlights the constant interplay between elite, popular, and vernacular culture. Most importantly, this book demonstrates why intertextual analysis of such texts is essential to understanding their surface answers and deeper cultural meaning."
--Kristina Downs, Journal of Folklore Research
"Unriddling the Exeter Riddles is a dense and provocative read, saturated with ingenuity, offering new solutions for many riddles considered to have been properly 'solved.' . . . The book's greatest contribution (and proof of its author's profound knowledge of riddling in general) is its comparative strategy, which urges us to look to other riddles from different eras and cultures. Seeing how medieval folk riddles with similar subject matter have been transformed by these writeras into literate and nuanced statements is enlightening and much needed."
--Sarah L. Higley, Speculum
"Positioning his study in response to both popular and learned riddling, Patrick J. Murphy brings a new theory to bear. He argues that the coherence of many of the Old English riddles is shaped by extended implicit metaphors, and he calls this shaping 'focus.' As he applies this theory to individual riddles, adding depth to old solutions and offering some new ones, he both advances the study of enigmatics and makes the task of unriddling more engaging and intriguing than ever."
--Marijane Osborn, University of California, Davis
"This is a dazzling book, sparkling with easy erudition and wit, and very well written. Patrick Murphy offers a fresh approach to a much-studied group of poems in Old English literature. Taking issue with the view that the riddles come from an entirely bookish tradition, Unriddling the Exeter Riddles demonstrates that these poems, though deeply imbued with monastic learning, also draw richly upon other traditions, most significantly those of popular oral culture. It will likely be seen as the most significant publication on the Old English riddles since Craig Williamson's edition of 1977."
--Hugh Magennis, Queen's University, Belfast
"This is a wonderful new study of the Exeter Book riddles, packed full of insight. Its greatest strength lies in its innovative readings, which draw on an impressive knowledge of the range of analogues and insist that these riddles should be read both in the long folk tradition of oral riddling and through the literary tradition that was available in late Anglo-Saxon England. The whole study is presented in a lively style, illustrated by useful translations of the Old English that go some way to match the appeal of the subject matter."
--Jonathan Wilcox, University of Iowa
"Most studies of the Exeter Book riddles treat them singly in order to offer a particular solution, playing the riddler's game in modern terms. In one of the few studies since Williamson's watershed edition that addresses this group of riddles as a whole, Patrick J. Murphy brings a new theory to bear. Positioning his study in response to both popular and learned riddling, he argues that the coherence of many of the Old English riddles is shaped by extended implicit metaphors; he calls this shaping 'focus.' After providing a lively summary of previous practice in his introduction, and laying the groundwork there for his new theory, in chapter 1, he explains the theory in lucid detail, with much attention to oral forms of riddling. He uses the focus idea in chapter 2 to propose a new metonymic meaning for the 'dark swarms' of Riddle 57, and in chapter 3 he shows how his method enriches even those riddle solutions that scholars generally agree about. Chapter 4 argues that the underlying focus of Riddle 17 (about bees) is a well-known biblical story, and chapter 5 addresses the 'sex riddles, ' making the point that focus is not necessarily fixed; a riddle may drift in and out of its focus. Chapter 6 demonstrates this by peeling the layers off Riddle 25, in which a fluidly gendered onion takes its 'caustic revenge.'
"The author has clearly enjoyed following the dark tracks of these riddles (with far more complexity than suggested above), as will readers both new and old in the study of enigmatics and Old English poetry. The approach offered here, specific to the construction of the Exeter Book riddles, makes the task of unriddling them more engaging and intriguing than ever."
--Marijane Osborn, University of California, Davis
You may also be interested in...
Simply reserve online and pay at the counter when you collect. Available in shop from just two hours, subject to availability.
Thank you for your reservation
Your order is now being processed and we have sent a confirmation email to you at
When will my order be ready to collect?
Following the initial email, you will be contacted by the shop to confirm that your item is available for collection.
Call us on or send us an email at
Unfortunately there has been a problem with your order
Please try again or alternatively you can contact your chosen shop on or send us an email at