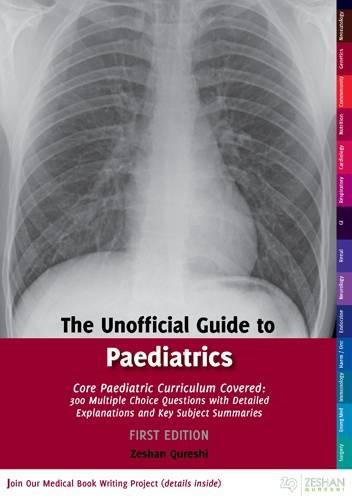 Unofficial Guide to Paediatrics - Unofficial Guides (Paperback)
Zeshan Qureshi
(author)
Paperback
700

Pages
Published: 02/05/2017
The Unofficial Guide to Paediatrics is unique in that it is the only textbook that covers core subject summaries, examination practice, practical skills, career opportunities and clinical cases all in one place. It does this through 1000+ colour images and illustrations, 200+ multiple choice questions, and 60+ real life clinical cases to bring paediatrics to life. The contributors range from Professors of Paediatrics, to medical students, to teachers, nurses, and midwifes, meaning the book has influences from a truly multidisiplinary team at all stages of training. This book has relevance beyond examinations, for post graduate further education and as a day-to-day reference for professionals. With extensive collaboration from renowned academics and specialists, the content is reliable and based on up-to-date evidence.
Publisher: Zeshan Qureshi
ISBN: 9780957149953
Number of pages: 700
Weight: 2220 g
Dimensions: 286 x 216 x 30 mm
---
MEDIA REVIEWS
"The layout and attention to detail in this unofficial guide is a tremendous asset for aspiring paediatricians as well as for those professionals interested in community child health." Professor Anthony Costello FMedSci. Director, Department of Maternal, Newborn, Child and Adolescent Health, World Health Organisation. "There cannot be many places where the `Sustainable Development Goals' nestle comfortably between `Acute Kidney Injury' and `Osgood-Schlatter Disease' however this is the beauty of this excitingly novel publication. It will prove of value to established paediatricians, doctors in training from many backgrounds as well as to aspiring paediatricians. `The Unofficial Guide to Paediatrics' is a wonderful compilation of a systems-based approach to a challenging subject matter, with something of interest for everyone. From the `sharp end' of the complexities of adolescent medicine to the pragmatism of pursuing a career in paediatrics this volume is beautifully illustrated and well-referenced and contains a wealth of knowledge and experience from a range of contributors who clearly appreciate what life is like on the front line of paediatric practice. This book will complement the current drive towards peer learning, encompassing the ability to embed evidence-based practice in real life context as part of a wider community of learners. Zeshan and his team have delivered something which will act as a catalyst for learning and a wonderful aide memoire which puts knowledge back in the hands of those who aspire to deliver the best care to children and their families. Many congratulations on this first edition - it certainly will not be the last!" Dr Andrew Long MA FRCP FRCPCH FHEA FAcadMEd. Vice President (Education), RCPCH. Consultant Paediatrician and Associate Medical Director, Great Ormond Street Hospital "Unofficial Guide to Paediatrics" is a textbook that in format and content emphases key concepts in background knowledge and clinical care, targeted at medical students and early career paediatric trainees. In an age where it seems easier to "just google" information, this book makes it simple to find key information, enhanced by graphics and tables that promote meaningful learning." Elizabeth Cotterell MBBS FRACP MPH. Associate Professor, Paediatrics. University of New England, Australia. "Easy to read, practical and sensible" Dr CVE Powell MB ChB DCH MRCP(UK) FRACP FRCPCH MD. Honorary Consultant Paediatrician. Deputy Dean of Research, School of Medicine, Cardiff University. 'Zeshan and colleagues have constructed a superb book, written by those actually have contemporary experience of relevant exams and who have recently undergone/are undergoing `training.' The authors represent the new generation of child health professionals who are in effect delivering huge amounts of paediatric care, together with their colleagues, in increasingly challenging circumstances. The reviews from current practicing senior clinicians clearly support this wonderful approach by the future leaders of our speciality, who have all taken this chance to shine - if you want to, are, or used to work in paediatrics and child health then get a copy!' Dr Joe Brierley. Consultant Critical Care & Bioethics. Great Ormond St Hospital for Children, London. Medical President European Society of Paediatric & Neonatal Intensive Care "It's always difficult to grasp what's important when you're approaching a subject like paediatrics. The Unofficial Guide to Paediatrics is smart because it tries to combine speciality-specific knowledge with the experience of practitioners at all levels and - most importantly - the duty of care and advocacy for children. Throughout the book, the emphasis is on how one might best approach children and adolescents presenting for care, and in the involvement of the paediatrician in a team." Professor David Osrin. Professor of Global Health, UCL Institute for Global Health, UK. Honorary Consultant Paediatrician, Great Ormond Street Hospital, UK. "Congratulations to Zeshan and his colleagues on producing `The Unofficial Guide to Paediatrics', it is a huge piece of work by trainees and experts for anybody who has an interest in paediatrics, from medical students to established consultants and anybody interested in caring for children. Being a Paediatrician is an absolute privilege, caring for children and young people and their families at very difficult times in their lives is an unbelievably rewarding challenge. One of the challenges that busy paediatricians struggle with, is keeping themselves up to date in all areas of paediatrics. The Unofficial Guide to Paediatrics will help with that, providing guidance to paediatricians of the future and assist in providing excellent care to children, young people and their families. Dr Simon Broughton PhD FRCPCH. Consultant Paediatrician, Kings College NHS Foundation Trust, Senior Lecturer Kings College London (Course Director, MSc in Advanced Paediatrics), Training Programme Director "Paediatrics is a `big' topic about `little' people. It is intellectually challenging and an exciting field for research and learning, but it can also be daunting when medical school is often set up to focus on adult medicine. Caring for children is different - both in a purely scientific sense, but also the way a sick child and their family should be approached, the dynamic of the hospital and multidisciplinary team, the ethical and sociocultural considerations involved, and even the career pathways that present are unique - all of which are covered in this book. `The Unofficial Guide to Paediatrics' features an easy-to-read overview of paediatrics, broken down by systems. Each chapter describes core conditions by beginning with aetiology and clinical features, and progresses through investigations, differential diagnoses, management, complications, and finally prognosis. Furthermore, this book covers history taking, examination, communication, and practical skills - all supplemented with clinical cases, labelled diagrams, and information about common examinations and assessment criteria. The authors have also provided illustrations of common procedures and medical devices in clinical practice. In the wonderful world of paediatrics, this is a wonderful resource for students, junior doctors, and paediatric trainees alike - or anyone looking for a simple and reliable complement to learning from the literature and clinical encounter. The development and success of this has been no child's play - one might even say, it's a milestone of an achievement! " Beryl Lin. President University of New South Wales Medical Society. Co-chair University of New South Wales Paediatrics Special Interest Group. "The first edition of the 'Unofficial Guide to Paediatrics' is a delight. It is a new kind of paediatrics textbook for a new generation of students and professionals learning about child health and clinical paediatrics. Its quality will ensure its position alongside the very best resources available for supporting those trying to improve health care for children worldwide." Dr Dan Magnus. Consultant Paediatric Emergency Medicine, Bristol Royal Hospital for Children International Child Health Group Convenor, RCPCH "A thorough and beautifully written textbook, covering a broad range of topics on child health without compromising on detail, evidence and nuance. Highly recommended for anyone who works in healthcare for children and young people." Dr Ronny Cheung. Consultant in General Paediatrics. Evelina Children's Hospital, UK "The unofficial guide to paediatrics is a fantastic resource for medical students and paediatric health professionals. It is system-based, clear and easy to follow, beautifully illustrated and incredibly practical. Its a great resource for front-line paediatricians, with chapters on practical skills, communicating with children and families and becoming a paediatrician. It also contains a wealth of real-life clinical cases and multiple-choice examinations that will be useful to those studying for undergraduate and postgraduate examinations. Congratulations to the team that wrote it." Dr Benita Morrissey. Consultant Paediatrician. Undergraduate Lead for Paediatrics, Queen Mary University, London. "Paediatrics is meant to be fun and so is this book. It is beautifully illustrated and both succinct and practical . It should help the early postgraduate to navigate their way through the early years of paediatric practice with confidence and joy" Professor Mitch Blair. Professor of Paediatrics and Child Public Health. Imperial College London (Northwick Park Hospital Campus) "This excellent and thorough cover of what any able undergraduate in Paediatrics would need to know is well presented and pleasure to read" Professor Alastair G Sutcliffe MB ChB MD PhD FRCP FRCPCH PG Dip CT. Professor of General Paediatrics, UCL Great Ormond Street Institute of Child Health. "This book is concise and accurate. Extensive use of tables and Figures facilitates rapid learning and provides an excellent quick reference particularly for students. The sections on clinical examination, diagnosis and practical skills provide additional invaluable support for trainees. The editors and authors are to be commended on producing an interesting, comprehensive, contemporary paediatric textbook." Karen Simmer AO PhD FRACP FRCPCH FAICD. Professor of Newborn Medicine. Co-Director NHMRC Centre of Research Excellence for Preterm Infants. Director Neonatal Intensive Care Units. King Edward Memorial and Perth Children's Hospitals "The Unofficial Guide to Paediatrics" is a superbly laid out, excellently put together and illustrated Paediatric text. This book is suitable for practising paediatricians, those training in paediatrics and undergraduates as well as primary care physicians involved in paediatric care. This text is new to our Recommended Reading List but is quickly making its way to the top!" Dr Sinead Murphy, Director of Paediatric Education UCD, Consultant Paediatrician, Children's University Hospital,Dublin "The Unofficial Guide to Paediatrics is one of the top textbooks out there for students because it actually has student contributors, who know what students need to know, as well as a wide range of other authors from consultants, registrars, nurses and midwives. Excellent for practical skills, clinical examinations and cases, as well as core knowledge, it's a worthy addition to any student's bookshelf, and can be yours today!" Adam Truelove. President. Cambridge University Paediatrics Society
You may also be interested in...
×
Download the Waterstones App
Would you like to proceed to the App store to download the Waterstones App?
Reserve online, pay on collection


Thank you for your reservation
Your order is now being processed and we have sent a confirmation email to you at
When will my order be ready to collect?
Following the initial email, you will be contacted by the shop to confirm that your item is available for collection.
Call us on or send us an email at
Unfortunately there has been a problem with your order
Please try again or alternatively you can contact your chosen shop on or send us an email at