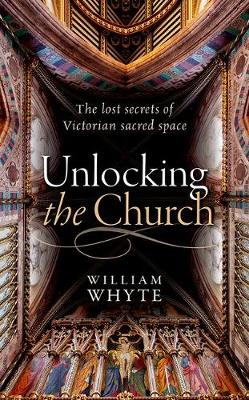 Unlocking the Church: The lost secrets of Victorian sacred space (Hardback)
William Whyte
(author)
Hardback
272

Pages / Published: 12/10/2017
The Victorians built tens of thousands of churches in the hundred years between 1800 and 1900. Wherever you might be in the English-speaking world, you will be close to a Victorian built or remodelled ecclesiastical building. Contemporary experience of church buildings is almost entirely down to the zeal of Victorians such as John Henry Newman, Samuel Wilberforce and Augustus Pugin, and their ideas about the role of architecture in our spiritual life and well-being. In Unlocking the Church, William Whyte explores a forgotten revolution in social and architectural history and in the history of the Church. He details the architectural and theological debates of the day, explaining how the Tractarians of Oxford and the Ecclesiologists of Cambridge were embroiled in the aesthetics of architecture, and how the Victorians profoundly changed the ways in which buildings were understood and experienced. No longer mere receptacles for worship, churches became active agents in their own rights, capable of conveying theological ideas and designed to shape people's emotions. These church buildings are now a challenge: their maintenance, repair or repurposing are pressing problems for parishes in age of declining attendance and dwindling funds. By understanding their past, unlocking the secrets of their space, there might be answers in how to deal with the legacy of the Victorians now and into the future.
Publisher: Oxford University Press
ISBN: 9780198796152
Number of pages: 272
Weight: 404 g
Dimensions: 223 x 165 x 25 mm
---
MEDIA REVIEWS
Scholarly, witty and thought-provoking. * Stella Fletcher, The Times Literary Supplement *
Unlocking the Church deserves to be considered not only by historians of church buildings, but more widely as a refreshing model of architectural history writing that dispenses with dry technicalities and connoisseurship in favour of an engaging and lucidly historical approach. * Robert Proctor, Architectural History *
In this engaging, eloquently written book, the distinguished historian William Whyte explores the symbolism and sacred space that informed the large-scale movement of church building and restoration in Victorian Britain. * Stewart Brown, The Expository Times *
Impeccably researched, thoroughly explored, and expertly argued... the depth of the research and attention to detail make Unlocking the Church an invaluable resource. * Derek R. Davenport, Reviews in Religion and Theology *
With a dazzling and witty range of reference to the literature of Victorian religion, be it sermons, controversial pamphlets or three-decker novels , [Whyte] retells the story of the rebirth of the church building as sacred object from J.H. Newmans St Mary, Littlemore, onwards. * Andrew Saint, Burlington Magazine *
Whyte is a genial guide and writes with wit and humour... One of the great virtues of the book is that it encourages further reflection... We may not look for answers in the same place as the Victorians did, but we may at least now learn from them, thanks to this book, to face the challenge with the same seriousness of purpose. * Colin Thompson, Oxford Magazine *
A thoroughly engrossing book [which cites] a wonderful range of sermons, clerical literature and polemical writing. * Simon Bradley, History Today *
I found Whyte's appreciation of the sight-lines and acoustics necessary in a preaching house and explanations of the Victorian rediscovery of the symbolism of mediaeval churches both fascinating and useful. His perspectives reach back before Victorian times and project forward to the challenge and questions of church design today. * The Rev John D Walker, Methodist Recorder *
There is much to learn and enjoy in this book. * Peter Howell, Art Newspaper *
Fascinating and meticulously-researched. * Andrew Kleissner, Baptist Times *
A very important book that deserves careful consideration. * Paul Richardson, Church of England Newspaper *
An eloquent plea for an understanding of the past through built fabric ... William Whyte has raised important issues, with much on which to ponder regarding the future of ecclesiastical buildings. * James Stevens Curl, Times Higher Education *
A revealing way of looking at Victorian churches... Unlocking the Church is a necessary corrective to the tendency to look at Victorian churches in purely architectural terms. * Philip Wilkinson, English Buildings *
This accessible page-turner... is essential reading for anyone who ever looked at a Victorian spire and wondered how it got there, or what it meant to those who paid for it, and the worshippers across a century and a half who have called it their spiritual home. * Ayla Lepine, Church Times *
Masterful... fascinating and useful. * Methodist Recorder *
The polymathic verve and spry wit of William Whytes Unlocking the Church: The lost secrets of Victorian space (Oxford) is an exemplary model of a short, comprehensible history covering diverse, delicate and complex themes. * Times Literary Supplement, TLS Books of the Year 2017 *
Alarmingly learned and constantly entertaining. * Peter Mullen, Catholic Herald *
A splendid book, thoughtful, insightful, informative and suffused with a sense of religion. * Paul Costello, Irish Catholic *
A country mile distant from the heavy prose of the Victorian churchmen, Whyte writes nimbly and wittily about the resacralisation of Britain through the vast church building of the 19th century. * Oxford Today *
Whyte does an excellent job of bringing to the fore the disproportionate focus that today's architectural historians (much like Victorian antiquaries) place on form rather than religious function. * Kristi W. Bain, Marginalia Review *
This is an engaging book, written in a lively, accessible and sometimes humorous way. * 01/11/2018 *
This is a highly readable and informative account of its subject, packed with well-chosen examples, apposite and often unfamiliar quotations, and some droll asides. It could be read with profit and pleasure by anyone... * John Maddison, Context *
This beautifully written book is an erudite yet very accessible and entertaining study of the relationship between Victorian church architecture and faith. The Victorians built and restored tens of thousands of churches. Understanding more about them and, through them, the faith that inspired them, is to gain invaluable insights into our national history and identity. This book enables just that. * The Rt Reverend Dr John Inge, Bishop of Worcester *
In this erudite, engaging and witty book, William Whyte gives us a brilliantly original account of how the Victorians profoundly reshaped church buildings and their use, and demonstrates how much the Victorians continue to influence our ideas about churches today - often in surprising ways. * Jane Shaw, Professor of Religious Studies, Stanford University *
You will never look at your local church in the same way again. With an eye for the telling detail, William Whyte has become a master at reading church buildings. Elegantly written, it must be impossible to read this book without pleasure or profit. * Canon Dr Giles Fraser *
You may also be interested in...
Simply reserve online and pay at the counter when you collect. Available in shop from just two hours, subject to availability.
Thank you for your reservation
Your order is now being processed and we have sent a confirmation email to you at
When will my order be ready to collect?
Following the initial email, you will be contacted by the shop to confirm that your item is available for collection.
Call us on or send us an email at
Unfortunately there has been a problem with your order
Please try again or alternatively you can contact your chosen shop on or send us an email at