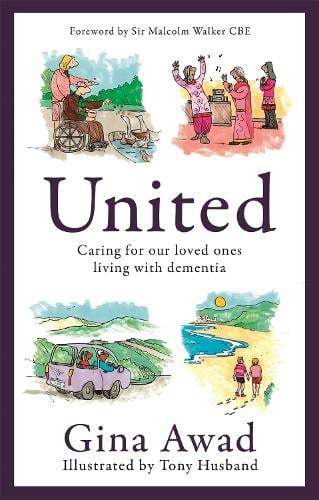 United: Caring for our loved ones living with dementia (Paperback)
Tony Husband

(illustrator)

,

Gina Awad

(author)
Paperback
128

Pages / Published: 02/06/2022
'A beautiful and moving book that vividly brings home the challenges faced by those with dementia and their carers' Sir Tony Robinson

A moving and beautifully illustrated book that captures the real life tales of people living with dementia, as told by their loved ones caring for them.

This humorous, heartwarming and often heartbreaking collection will be relatable and supportive for anyone touched by dementia in their lives, and provides insight and information for anyone wanting to know more.

The stories reflect on: the impact of receiving a diagnosis, the importance of person-centred care and social inclusion; the power of meaningful engagement, partnerships, peer support and much, much more.
Publisher: Little, Brown Book Group
ISBN: 9781472146519
Number of pages: 128
Weight: 120 g
Dimensions: 196 x 126 x 26 mm
---
MEDIA REVIEWS
A beautiful and moving book that vividly brings home the challenges faced by those with dementia and their carers -- Sir Tony Robinson
I would highly recommend this book ... Beautiful illustrations and moving stories -- Vicky McClure
I know of no other book in the dementia field ... In seven deftly distilled life stories, each vividly illustrated to animate key moments in the narrative, Awad identifies the essential, take-home lessons of caring for a person with cognitive impairments in a variety of unique circumstances ... This book simultaneously instructs and inspires. In one sitting, one can gain a lifetime of insights -- Michael Verde, founder of Memory Bridge USA
From the devastating moment of diagnosis to the years of isolation, grief and frustration, Gina Awad's book is a must-read for all those caring for someone with dementia. Wonderfully illustrated by renowned cartoonist Tony Husband, it is easy to read yet exceptionally informative. Both Awad and Husband have personal experience of this cruel condition and it shows. United is a book written with love, gentle humour and fathomless insight. I can't recommend it highly enough -- Pippa Kelly, award-winning dementia campaigner, journalist and podcaster
What a compelling read, so skilfully written and with a deep understanding of the condition. The insight and 'tips' were invaluable and many chimed with me as challenges (and opportunities!) I faced with my own mum. An excellent piece of work -- Kate Lee, Chief Executive Officer, Alzheimer's Society
A beautiful, stunning way to communicate the complexity of dementia while offering subtle tips on how we can understand how a person experiences the world and what we can do to help. United shows how life doesn't stop when someone has dementia but also stresses the importance of relationships and what has helped people, such as connecting with dementia-related charities and communities. The diversity of experience is beautifully illustrated, leaving the reader immersed in the worlds of the individuals in the book. Highly emotive, memorable and informative; a very much needed book -- Dr Jane Mullins, dementia nurse specialist, author of 'Finding the Light in Dementia'
United is THE most beautiful and impactful piece of work. I read it with tears in my eyes, not due to sadness, but due to overwhelming relief that finally all our journeys are now clearly and lovingly explained. Gina Awad has masterly woven the stories together and it makes for a very powerful read. She is a magician and I hope that those who find this book will extract the sense of hope from it at a time when all seems quite overwhelming -- Nicola Baker, daughter of Michael and Pam who both lived with dementia
This lovely book brings to life the lived experiences of people with dementia and carers. These personal stories portray the reality of living with dementia but each situation is peppered with hope, optimism and love -- Rachael Litherland, director of Innovations in Dementia
When dementia comes into your family, it changes life forever. This book, with its wonderful illustrations, is a helpful reminder that we are not alone. There are so many stories of people struggling along, trying to find some light even in the darkest of times. We should be proud as carers and people living with dementia that we are somehow muddling though. I hope this book raises awareness of all our journeys, all different but somehow connected -- Suzy Webster, daughter and carer of her mum Barbara, diagnosed with Alzheimer's in 2012
We make sense of our lives using interlocking stories. In this book, Gina Awad has captured a series of vignettes, sharing stories of the lives of people living with dementia and their families. Sympathetically and extensively supported with illustrations by Tony Husband, United all too clearly demonstrates the hopes, fears, frustrations and disappointments and alerts us so clearly to the impact dementia has on the lives of so many people -- Dr David Kernick, GP
As a former carer myself, I know that nothing impacts quite as much as reading about the lived experience of those caring for a loved one with dementia. The fact that all the stories not only showcase, sensitively, the challenges and issues surrounding a dementia diagnosis, but that they also highlight positive outcomes and illustrate practical solutions, with love, care and commitment running as a common thread through all of them, is heartwarming -- Sarah Merriman, head of TIDE (Together In Dementia Everyday) delivery
While this book does not skirt the difficulties of living with a diagnosis of dementia, it reminds us of what is most important in all relationships: empathy; caring; understanding; love and, for our carers, support and resilience. In this short but poignant book, Gina's words and Tony's illustrations beautifully and sweetly convey all of the above. This is a moving and highly effective format for raising awareness of some of the most difficult and painful issues while constantly affirming and nurturing the personhood of the people living with dementia and their carers -- Lynda Everman and Don Wendorf, PsyD, former caregivers, Alzheimer's activists, senior editors of 'Dementia-Friendly Worship' and co-authors of 'Stolen Memories'
This delightful and empowering book highlights how each person with dementia and their loved ones experience their own individual dementia encounter. It is a thought-provoking read and offers readers with no experience of dementia the opportunity to enter into the dementia world. For those that may have experience but struggle in a caring role, it offers hope and reassurance by providing practical tips and coping strategies ... A mesmerising read around the realities and challenges for all those affected by dementia and illustrated beautifully in cartoon form by the brilliant Tony Husband -- Lorraine Burgess, Macmillan dementia nurse consultant
This beautiful book ... helps to give a slice of life for carers, families and those living with the disease ... By reading stories of others with warm, light illustrations to accompany them, we get an insight into real people and real situations. It will help elucidate to those who feel isolated dealing with dementia whilst reassuring them that there are others in the same boat. It hints at what is to come but it reminds us that, for the most part, dementia doesn't rob us of everything. There is hope and unity in shared memories and experiences -- Denise Wilton, daughter and carer for her father living with dementia
United is a must read for any one who has a connection with someone living with dementia and for any one who hasn't, because the more information we know, the better our world can become more inclusive. This book is written with gentleness and honesty and the illustrations are super. Humility and humour go hand in hand in this book. It is wonderful -- Philippa Hodge, dementia trainer and carer
This book is beautiful to read; it is light, informative and through its narrative and pictures, it manages to encompass so many different experiences and challenges for the person living with dementia and for the carer ... This book is a brilliant resource and a reminder of the need for person-centred support - whether that's for the needs of the person with dementia or their carer. It's a book you can pick up again and again and be reminded of new ways of doing things and ways to adapt to an everchanging situation -- Sue Hinds, head of services, Dementia Carers Count
The word or feeling that most strongly comes across from the book is 'heart'; there are moments of anguish and sadness, alongside stories of deep love and compassion ... The stories are expressed with such sensitivity, warmth and humanity through a combination of word and image. They capture some of the issues that, as an occupational therapist, I saw time and time again ... I think this book will be an immensely helpful source of support to those caring for loved ones living with dementia. It has such universal appeal; I'd like to see it being made available to carers of those recently diagnosed with dementia, to schoolchildren, health and care students - everyone should read it! -- Carrie Clarke, retired NHS occupational therapist (dementia services)
This is a must read book for anyone connected with dementia in any way. Beautifully illustrating the stories of people with dementia, their families and carers, the book is full of thoughtful insights into the opportunities and challenges of living with dementia. ... The many different perspectives in the individual stories chimed in so many ways for me. It is an incredibly special book that will be of great help and comfort to many -- Jennie Stephens MBE
I can totally relate to every story in [United] and to the hardships that carers go through ... I am so impressed how it kept my attention and was transfixed throughout with humour and heartache, because that is exactly what dementia is all about, highs and lows. Everyone that has dementia and those who have yet to be diagnosed, as well as their carers, need to read this book to give them hope and inspiration -- Tommy Dunne BEM, dementia activist and campaigner diagnosed with young onset dementia in 2011, aged 58
A wonderful book full of powerful stories that are engaging and insightful. A must-read for families and carers impacted by dementia -- Alex Winstanley, award-winning children's author of 'My Grandma Has Dementia'
United is a wonderful little book about dementia, containing real stories about the condition and how it impacts relationships, all beautifully illustrated with care and empathy. The book is heart-breaking and poignant, revealing the devastation that this progressive, neurodegenerative and incurable condition brings to families. It is also informative and uplifting, with tips on how to help those with dementia and those who provide care, from medication to music to respite care, bringing hope and sometimes moments of joy. Overall, it is a moving book about love, care and connection -- Professor Victoria Tischler, University of Exeter
The beauty of this book is in part due to the illustrations, which capture your interest and imagination effortlessly, and in part due to the very real, very honest and heart-touching stories shared within the pages. Each story offers the reader so much: a different window through which to view the realities of life with dementia, from the highs to the lows, from the creative use of technology and the evident love to the struggles and challenges that are all too familiar. This book really does illustrate perfectly how if you love someone living with dementia, you are living with it too -- Vic Lyons, Dementia UK
[United] is a delight, showing the lengths that families go to protecting their loved ones as the disease progresses. The beautiful illustrations bring it to life! Dementia has no boundaries and the book deals with sporting injury, ethnicity, problems of caring and mindful techniques to alleviate stress. It also highlights the difficult lives of carers who are giving their all in a world recently shattered by the diagnosis and the devastating change that brings ... United gives a balanced look into the lives of families dealing with dementia and shows that, if you learn about dementia, take advice and find your own unique ways to respond to situations, there is much joy to be found -- Jane Moore, co-founder, Purple Angel Global Dementia Awareness
A really well thought-through marriage of narratives with supporting illustration ... I can see how this book could provide a non-threatening but still very informative and insightful introduction for anyone who may be just beginning their journey as a care partner, family or friend to a person with dementia ... At the heart of the book is a very welcome emphasis on diversity and a message about the importance of inclusivity when it comes to care and support. All too often in dementia care policy and practice we talk of 'people with dementia' as a singular category and this book challenges that thinking and approach while reminding us of some of the shared and even universal aspects to living with dementia -- Dr Richard Ward, senior lecturer in dementia studies, University of Stirling
Gives poignant insights into the lives of people affected by dementia. The short stories capture some of the challenges, difficult decisions, rewards and happy memories, while providing useful knowledge for others embarking on this journey. The experience of caring for someone living with dementia can be isolating. These sensitively illustrated personal accounts demonstrate that you're not on your own -- Julia Powell, former carer of mum, June
Turns a poignant, sad subject into an emotional, encompassing journey of love and, dare I say, hope ... United shows that hope to the world and to those who need that bit of reminding that they are not alone -- Ann Smith, caring for Maureen Smith
Movingly told and illustrated stories of caring and dementia experience. This heartfelt sharing opens up space for compassion and connection; so important for carers and people living with dementia -- Dr Martha Pollard, dementia/care researcher, counsellor, and daughter in family affected by dementia
What a delightful and touching experience ... United is such an accessible window into the lived experience ... not only for carers but for those living with dementia as well -- Ryan Harrison, Executive Director, Center for Older Adult Community Health, California
You may also be interested in...
×
Download the Waterstones App
Would you like to proceed to the App store to download the Waterstones App?
Reserve online, pay on collection
Alternatively, for multiple items you may find it easier to
add to basket
, then pay online and collect in as little as 2 hours, subject to availability.
Thank you for your reservation
Your order is now being processed and we have sent a confirmation email to you at
When will my order be ready to collect?
Following the initial email, you will be contacted by the shop to confirm that your item is available for collection.
Call us on or send us an email at
Unfortunately there has been a problem with your order
Please try again or alternatively you can contact your chosen shop on or send us an email at